Google Search Console is known to track activity generated from local results. However, the Search Console cannot report on activity from the local results as they are not segmented automatically. And recent tracking reports have also suggested that Search Console is not able to track clicks and impressions from the local pack.
While this issue first came up in September, brought forward by Joy Hawkins, a local SEO Expert, it did not receive a serious response from Google on this matter.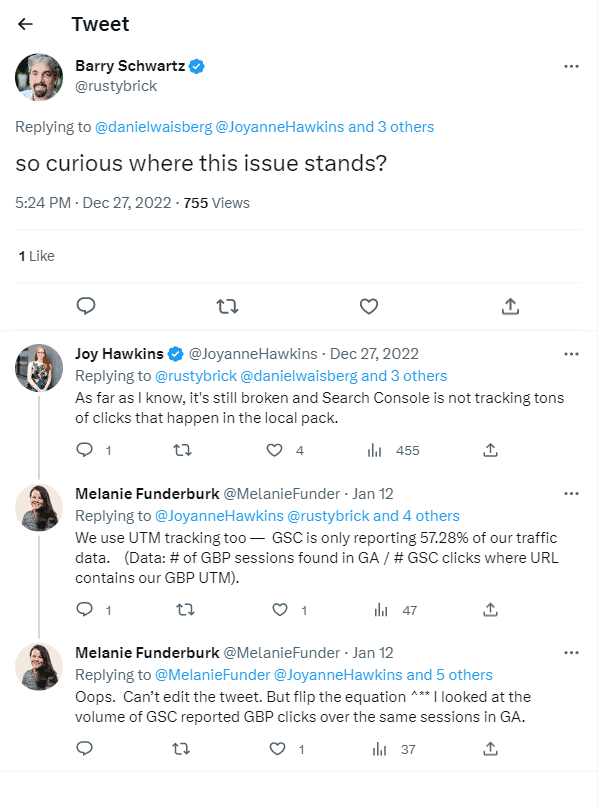 *Image Reference: Tweet Link
We hope this article will offer some clarity on different questions that arose when the issue came to light.
As we stated earlier, the issue is yet to be resolved. We are sharing another tweet that verifies this observation.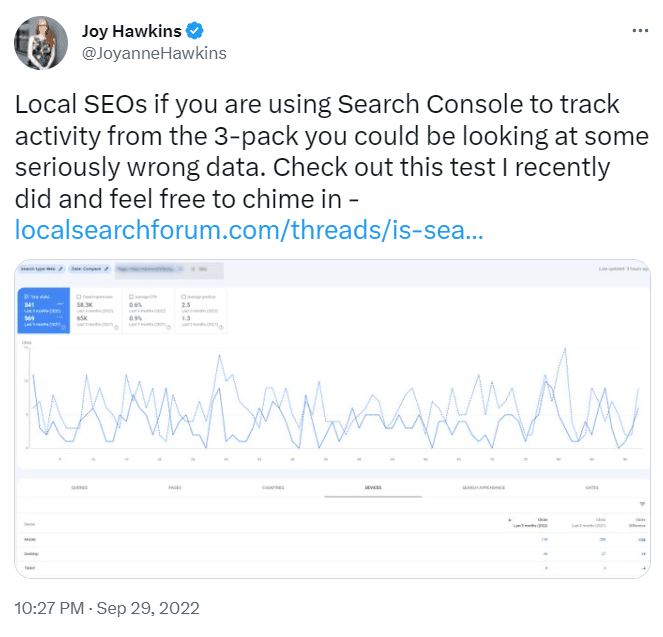 *Image Reference: Tweet Link
Let's discuss what's actually going on and how the inaccuracy in analytics can affect businesses and individuals relying on google search console to guide them.
Inaccurate Data Tracking:
The organic traffic to a website includes traffic from Google's local pack as well as from traditional search results.
If the user or business opts for a traditional 3-pack, the first organic position will actually be counted as position 4 in the Search Console of Google.
If local SEOs are employing Google Search Console to track activities from the 3-pack, they could be looking at some wrong data as the Search Console is missing the right data.
Marketers have identified that a huge amount of traffic from the Google Business Profile from mobile goes missing in Search Console.
Some data from the desktop often goes missing as well.
And one possible reason for this is that when the user clicks on a listing in the 3-pack on mobile, they get a URL string that displays Google/local services/profile whereas, on a computer, it displays Google/search.
Businesses often integrate UTM codes in their Google My Business (GMB) listing to separate incoming traffic from the local results. A majority of mobile impressions on the GMB listing are often not tracked in Search Console. If the user is searching in the Search Console at the URL that includes the UTM codes, businesses may wonder why the numbers for a mobile look so odd. It is therefore important to understand that many 3-packs on mobile do not have website fields. This indicated that the business is likely to witness way fewer impressions from mobile devices when compared to desktop.
If a user clicks on the listing, the website field will open on the next screen. Due to this reason, it often results in a number of clicks but few impressions. Also, the clicks that drive directions are tracked in the Google My Business dashboard but they are not presented in Search Console.
We can only wait and see if this issue continues to persist or if google team will take measures to resolve it in near future.