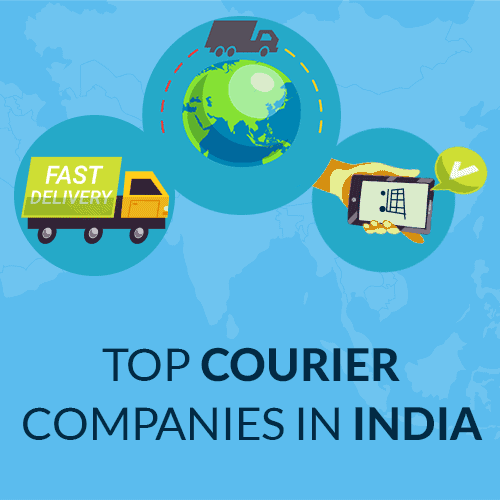 Ever since eCommerce carved a place for itself in the business world, it has shown continuous growth in revenue. In the beginning, due to fraudulent online shopping websites, people were hesitant to trust eCommerce websites. That changed with the introduction of the Cash on Delivery payment method. The collect on delivery, either via cash or electronic medium, instilled faith in the customers. When the customers were comfortable with a brand's delivery, they would graduate to online payment.
We have created a curated list of top 10 courier companies in India. These companies are authentic and have been providing services for decades, if not years. Most provide affordable as well as customized solutions to their customers. While we would like to believe there is a one-size-fits-all solution, each company has a USP that is better suited for a particular eCommerce website.
Let us help you guide through the process of choosing the best eCommerce shipping solutions in India.
How to Choose the Best Courier Companies in India For eCommerce Websites?
eCommerce businesses should choose the best courier companies suitable for their websites by keeping the following factors in mind. Choose a company whose features and services provide you with the answers to the following questions.
Does the courier company provide shipping insurance?


It rarely happens, but sometimes packages are damaged, some are lost or stolen. To build a strong bond with customers, you need to provide them with reliable delivery services. Shipping insurance should be the number one factor in your choice of the courier company.

Is the company capable of keeping up with your deliveries?


Check the availability of the company's resources, speak with the sales team or customer care, and find out whether the company can handle the number of shipments required for the eCommerce business.

Can our business afford the prices of this courier company?


Some of the top courier companies we'll take a look at today are quite expensive for startups. Sometimes, you have to look at the bigger picture. Can your business survive without those funds?

Does the company deliver parcels/documents to international locations?


Not all Indian eCommerce businesses deal with international customers. But for those who do, this is a deal-breaker.

Does the courier company cover all the desired locations?


Most of the companies in this list cover the majority of delivery locations in India. Choose the one that covers the majority of locations like Blue Dart or India Post Service. Before choosing a courier company, make sure that you have a conversation with their team. Find out if they delivered to all locations of your target customers.

Does the courier company offer tracking in any form?


Majority of courier companies have embraced real-time tracking, but some rely on normal electronic tracking means. Regardless of the form of tracking, this is an important feature in today's world. When the customer is apprised of the location of the package, it makes the delivery smoother.

Is this courier company authentic?


Let the company's experience speak for it. Take a look at what the existing customers are saying. While experienced rich courier companies can benefit a lot of enterprises, some eCommerce businesses require dedicated services. This list covers all such courier companies.
Top Courier Companies In India
Top Courier Companies in India For eCommerce Websites
1. iThink Logistics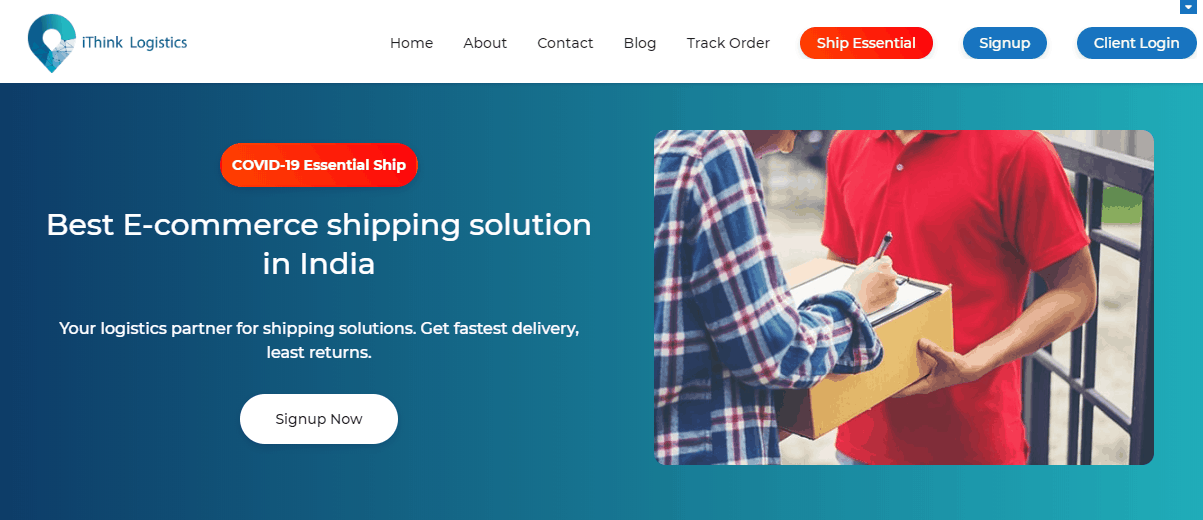 As an emerging third-party logistic service provider, iThink Logistics has made quite a name for itself. As a free to use platform, it allows businesses to choose multiple carriers such as FedEx and XpressBees. FedEx is one of the top courier companies on the list. Only in their third year, they have grown quickly and turned into a renowned name in the logistics sector. To start with iThink Logistics, the user has to sign up on their website. There are no hidden costs, just a commission on every parcel delivered. iThink Logistics isn't old enough to start franchising, but they are on a lookout for partners.
| Active Since | 2017 |
| --- | --- |
| Number of employees | 30+ |
| Daily Shipments | 10,000+ |
| Delivery Areas (Locations) | 14,000+ |
| Delivery Pin Codes | 26,000+ |
| International Deliveries | Not Available |
| Contact Details | support@ithinklogistics.com, sales@ithinklogistics.com |
| Support Timings | Monday to Sunday( 9 am to 9 pm) |
Features:
Cash on Delivery processed at the lowest industry rates.
Build stronger customer relationship with real-time tracking.
Manage multiple orders in one click with bulk order uploads.
Auto Syncing of eCommerce store orders with our system.
A dedicated point of contact to resolve your issues.
Generate Daily reports for shipping and order information.
Customer Ratings: 3.4 Stars

2. India Post Service

India Post Services has a wealth of experience since they have been around for more than a century. As one of the oldest courier service providers in this list, none of the companies can compare with the sheer amount of locations and pin codes the India Post covers. Over the years, they have refined their services and branched out into the banking sector. To open a corporate account, a person has to fill and submit the application for entering into an agreement with the department of posts.
Active Since
1854
Speed Post Services
Introduced in 1986
Total Post Offices
1,55,015
International Deliveries
Available
Contact Details
Tel: 91-11-23096110.
Phone: 1800 266 6868
Twitter: @indiapostoffice
Facebook: @postoffice.IN
Parcel Dimensions:
Max weight of unregistered parcel: 4 kg
Max weight of registered parcel: 20 kg
Max Length: 1 meter
Max Length+Girth: 1.80 meter
Features:
Cash on delivery rates is among the lowest in the industry.
Discounted rates for customers based on their monthly revenue.
Customers who generate more than ₹10,000 in a month are eligible for 'book now-pay later'.
Offers customized solutions with monthly billings, volume discounts, corporate tracking facilities.
Lets users calculate postage prices for both domestic and international couriers.
Allows users to track couriers, find appropriate pin codes for postal offices, and also find the nearest post office.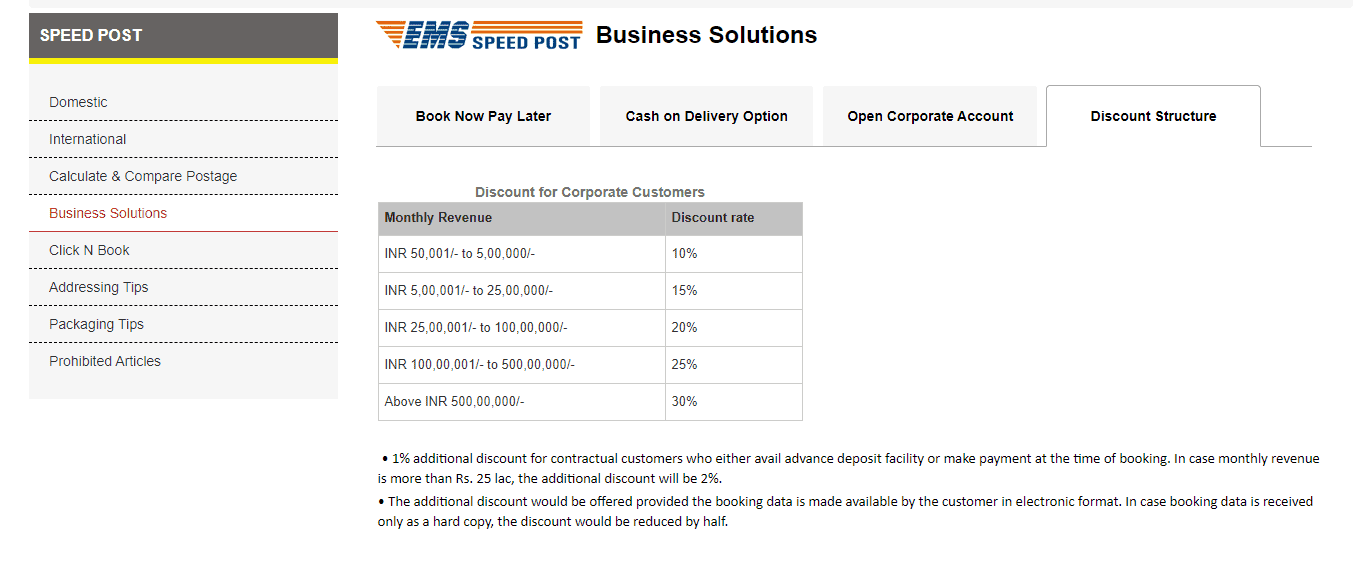 Phone Apps from India Post Service
Merchants
Mobile Banking
Customer Ratings: 3 Stars

3. FedEx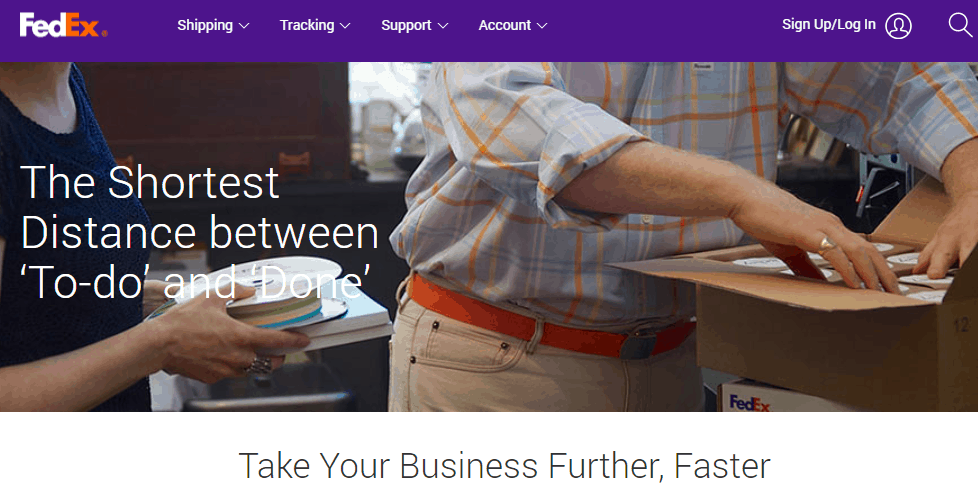 FedEx is a top-rated and one of the most popular courier companies in India. While FedEx was founded in 1971 in Little Rock, United States, it took an additional decade and two years to reach India. It has headquarters in all the major cities in India. With its refined technology, FedEx has successfully implemented advanced shipping and tracking methods. FedEx also has a specialized division that helps Small business services grow into a renowned brand.
Active Since
1984
Delivery Pin Codes
19,000+
International Deliveries
Economy and Priority services.
FedEx Economy Tariff
24-46 per kg varying across 6 zones.
Contact Details
Domestic services: 1800 419 4343
International services: 1800 209 6161 / 1800 22 6161
Phone: 022 25714444
Support Timings
Monday to Saturday (9 am to 9 pm.)
Doesn't Deliver on holidays
Republic Day, Independence Day, and Gandhi Jayanti.
Features:
Advanced real-time tracking with barcode and auto alerts.
Provides free packaging and shipping supplies.
Provides Global Trade manager for international shipping.
Daily shipping reports via thorough documentation, which includes end of the day transaction, courier, customer invoice, and shipment.
Opportunity to design a customized shipment manager interface.
Fluid integration with your existing business software and systems.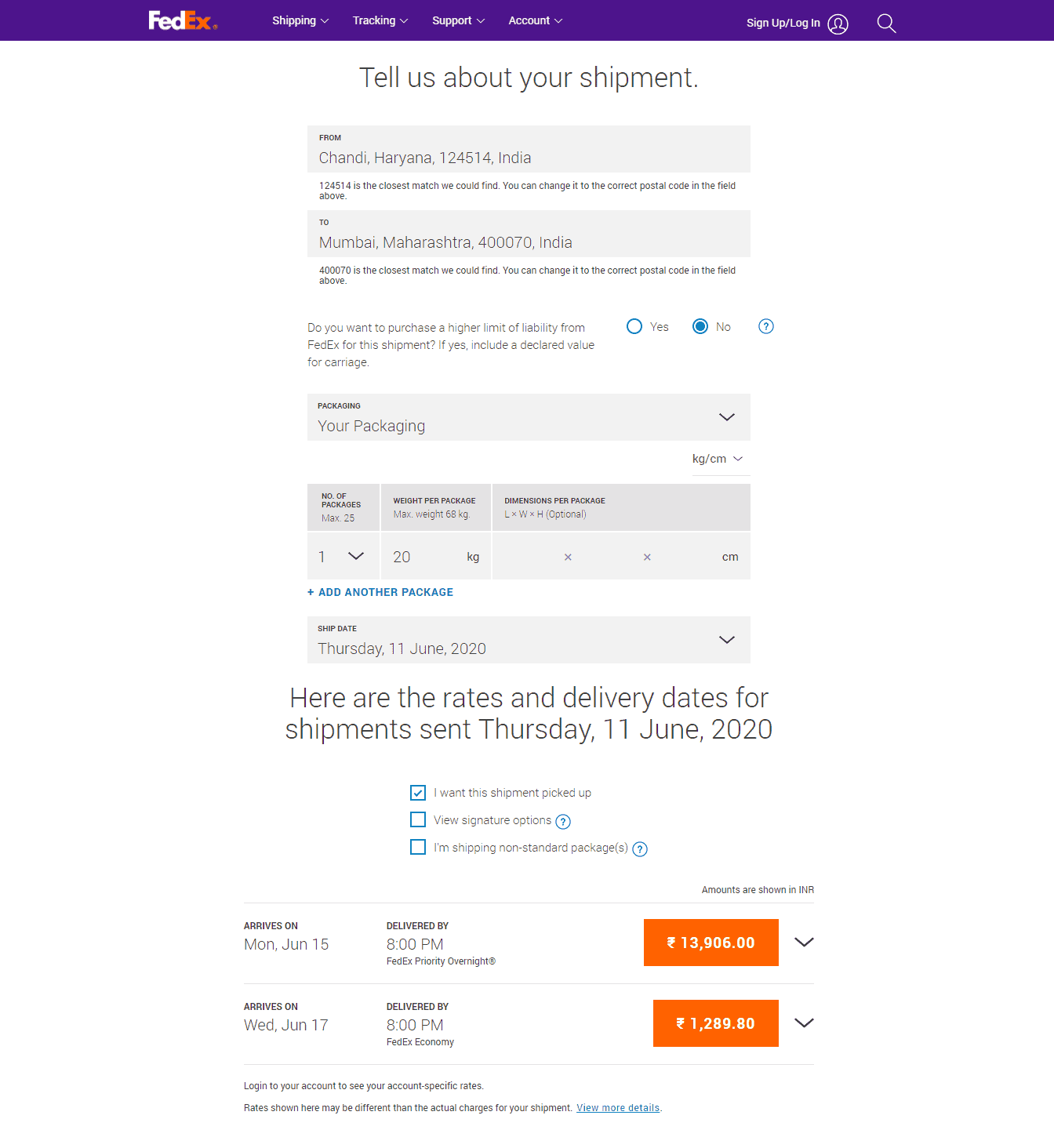 Customer Ratings: 3.9 Stars

Phone Apps from FedEx
Google Play
App Store
4. First Flight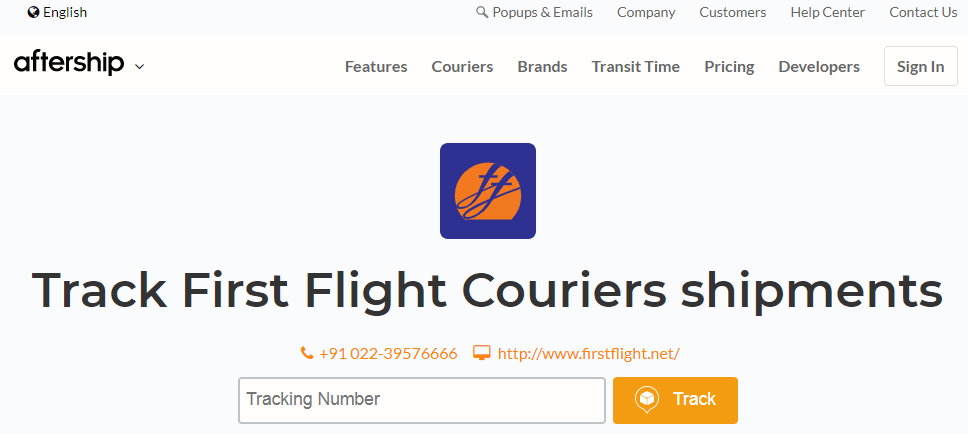 As one of the largest courier companies in India, First Flight specializes in delivering packages on time. Its advanced tracking feature gives it an edge over the other courier companies, making it one of the best courier services in India. First Flight courier company has implemented the latest technologies to provide premium services.
Active Since
1986
Number Of Employees
17,000+
Delivery Pin Codes
6,700+
International Deliveries
Covers 220 Countries
Offices:
1200+
Franchises:
452
Contact Details
Phone: +91 022-39576666
Email: ffcl@firstflight.net
Features:
An innovative bulk tracking feature for your CSV, marketplaces, and shopping carts.
Offers customers automatic updates and notifications via a track button on the website.
Effective and easy integration of the tracking API.
It allows you to engage customers with timely delivery updates.
Customer Ratings: 3.5 Stars

Phone Apps from FedEx
Google Play
App Store
5. DTDC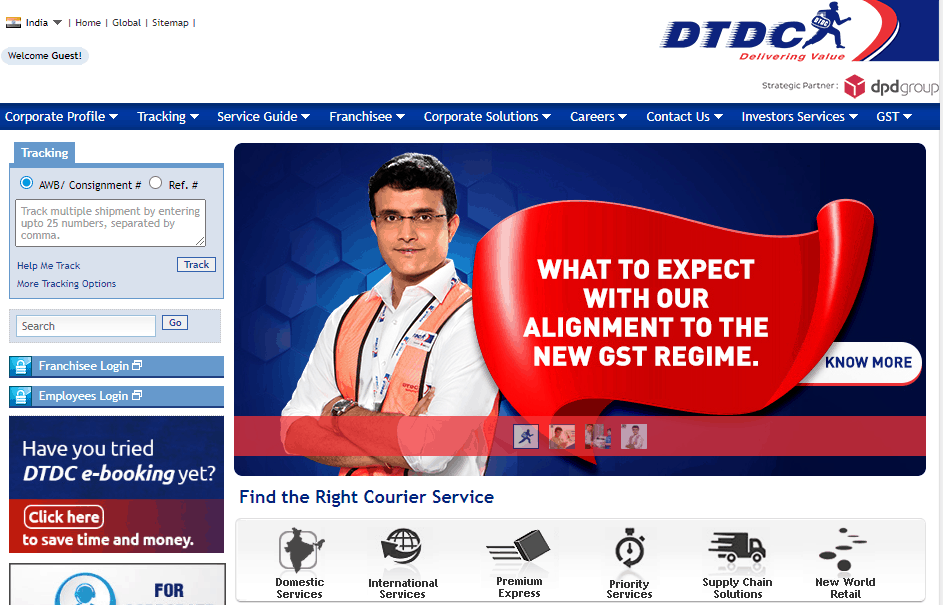 DTDC happens to be the first Indian company to have made international acquisitions with the purchase of majority stake in the UAE's Eurostar Express. Most of the courier companies, like DTDC, on this top 10 courier companies in India list have been around for a long time. Over the years, DTDC has expanded its courier services by implementing customized solutions and serving businesses at all levels, including eCommerce websites. DTDC offers emerging entrepreneurs an opportunity in terms of owning a DTDC franchise.
| Active Since | 1990 |
| --- | --- |
| District Headquarters | 500+ |
| Employees | 35,000 |
| Monthly Shipments | 12 million |
| Delivery Pin Codes | 10,500+ |
| International Deliveries | 240 locations covered |
| Franchises | 10,500 |
| Contact Details | Phone: 7305770577 |
Features:
Hassle-free easy to use interface for both web and applications.
Highly secure services with on-time delivery.
Remarkably efficient tracking of packages through DTDC's vast network.
One of the lowest pricing in the courier and logistics sector.
Customized products for student exports, excess baggage, and import services.
Affordable collect on delivery services for both international and domestic couriers.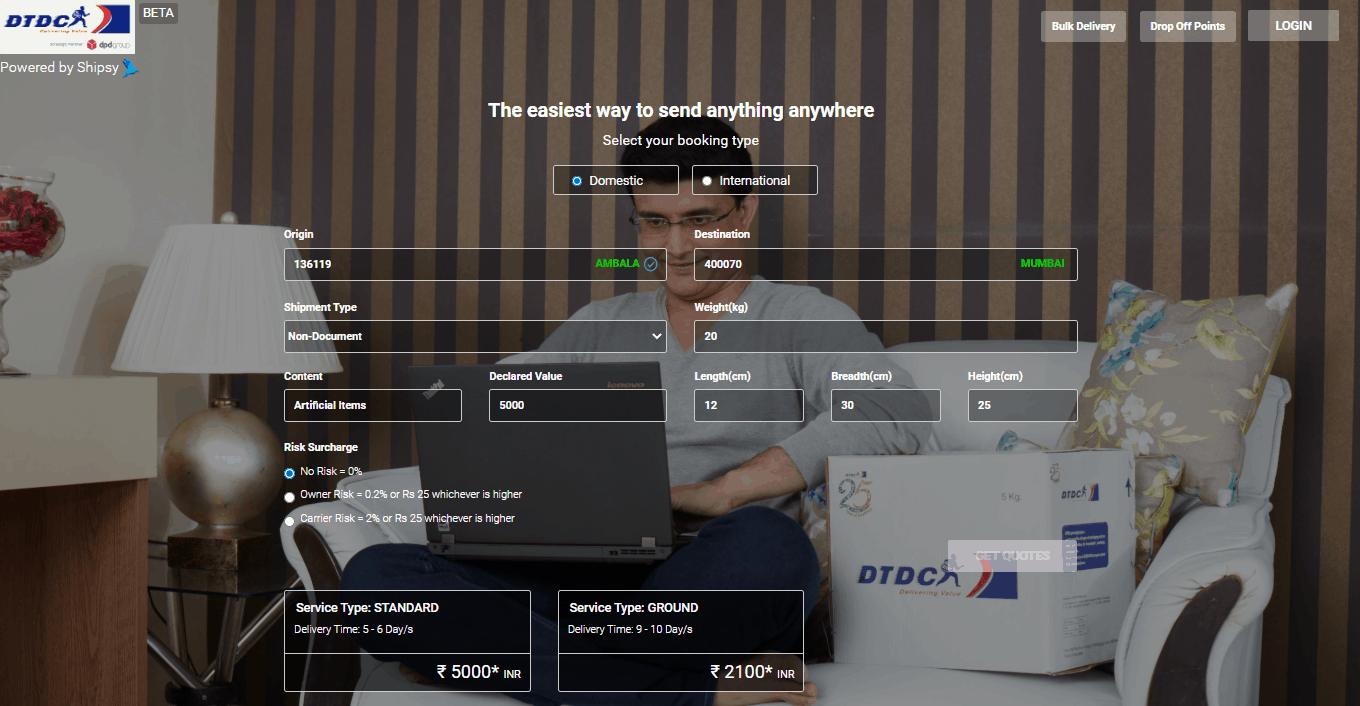 Customer Ratings: 3.4 Stars

Phone Apps from DTDC
Google Play
App Store
6. Aramex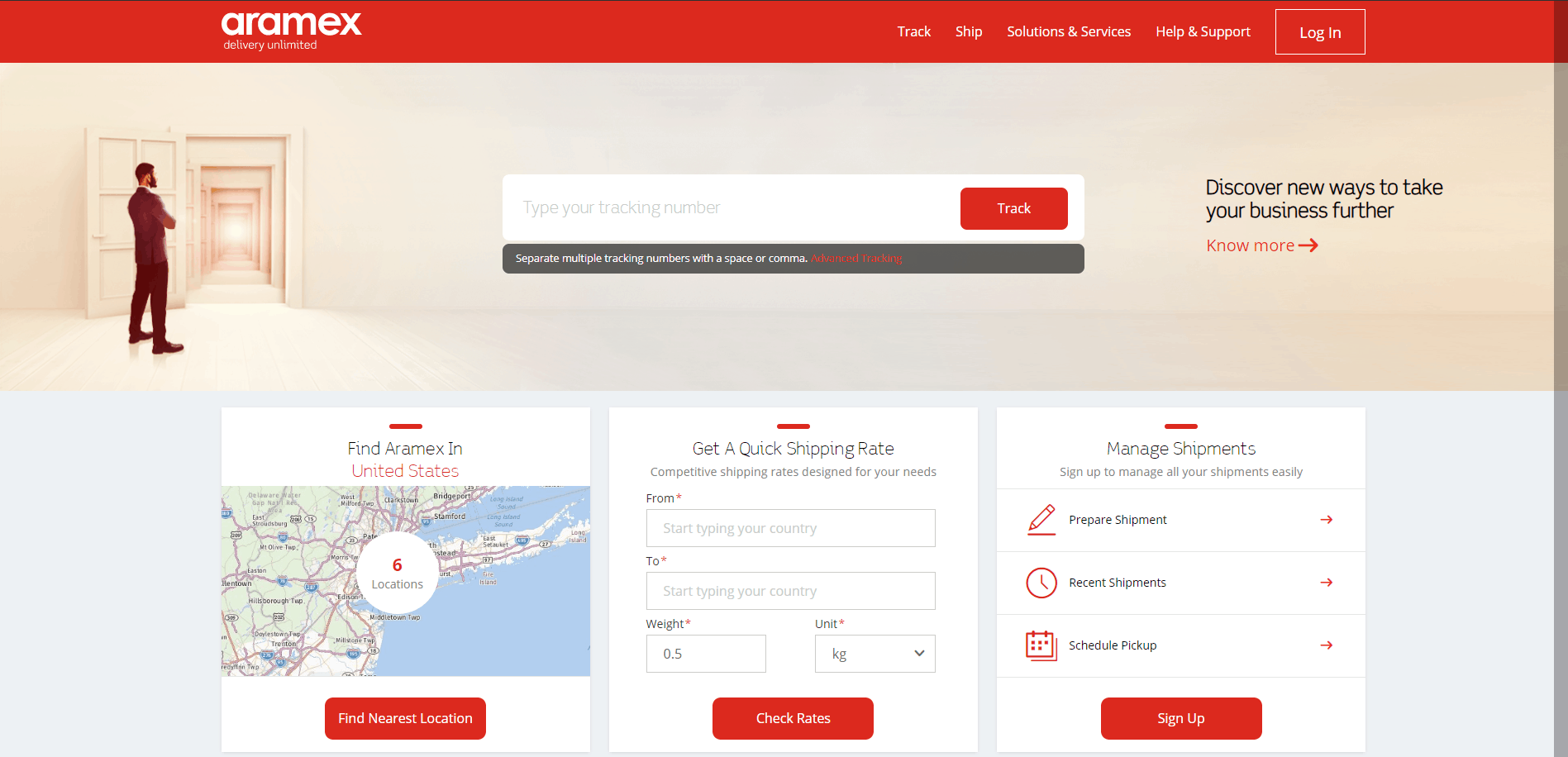 Aramex has recently started exploring its way into the Indian logistics sector. It is one of the budding courier companies in India. With the help of a stellar international network, Aramex provides superior services. Apart from courier delivery for eCommerce, Aramex also provides services such as supply chain management,eCommerce, freight management, and record management services.
Active Since
1982
Number of Employees
66,000+
Offices
353
Franchises
1000+
International Deliveries
240 locations covered
Contact Details:
Mumbai Main Office: +91 (22) 39419900
Gurgaon Main Office: +91 9953742845
Features:
Dedicated ClickToShip software to simplify the shipping process such as the printing of waybills, managing the address books, and shipment preparation.
A separate storage location/warehouse for dangerous items/goods.
Free registration for all public. After registration, a person can gain access to send support requests to customer care, and also start shipping or scheduling pickups.
Fully-equipped Android and iOS application for complete access.
Real-time tracking with mobile number, detailed payment breakdown, and an option to view estimated transit time.
Customer Ratings: 3.7 Stars

Phone Apps from Aramex
Google Play
App Store
7. Gojavas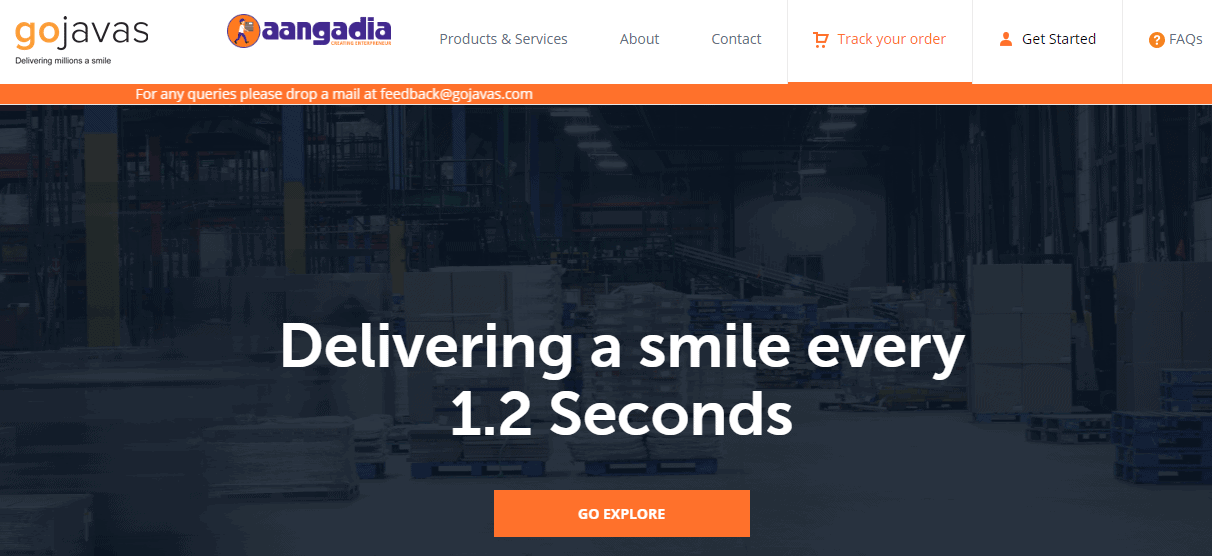 A fairly new addition to the industry, Gojavas is ideal for eCommerce businesses looking for dedicated services. Gojavas is thorough with their customer selection. To become a part of Gojavas, a merchant has to get in touch with them through email, phone, or personal visit. With quick and careful planning, they provide a customized plan suitable for your business needs. After signing the contract, the system integration gets done within 72 hours. While Gojavas is a complete solution, Aangadia – it's subsidiary, is a pick and drop platform.
Active Since
2013
Delivery Cities
100+ (India)
Delivery Pin Codes
2500+
International Services
Available
Contact Details
Email: feedback@gojavas.com.
Customer Care Number: 0124-4405730
Corporate Office Phone: +91 8100-888-666
Support Timings
Everyday (8 am to 8:30 pm)
Features:
GoJavas
Seamless integration to get your business up and running without a hitch.
Real-time tracking with Google Maps to keep your customers happy.
Timely software updates to keep up with the latest technology.


Aangadia

Covers deliveries at all levels, B2C, B2B, as well as Last-Mile delivery services.
Effective logistics services such as cross-border logistics and reverse logistics.
Equipped with a Fleet management service based on GPS.
It also provides warehousing and inventory solutions at an affordable price.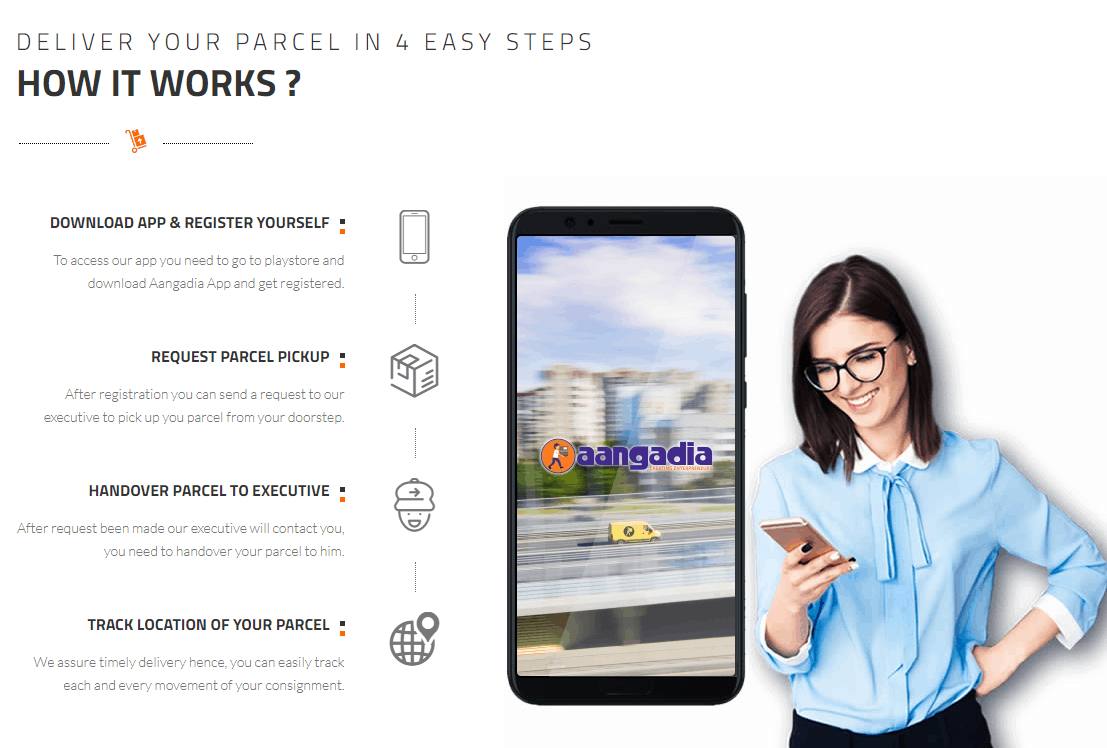 Customer Ratings: 3.5 Stars

Phone Apps from GoJavas's Aangadia
Merchants
Customers
8. DHL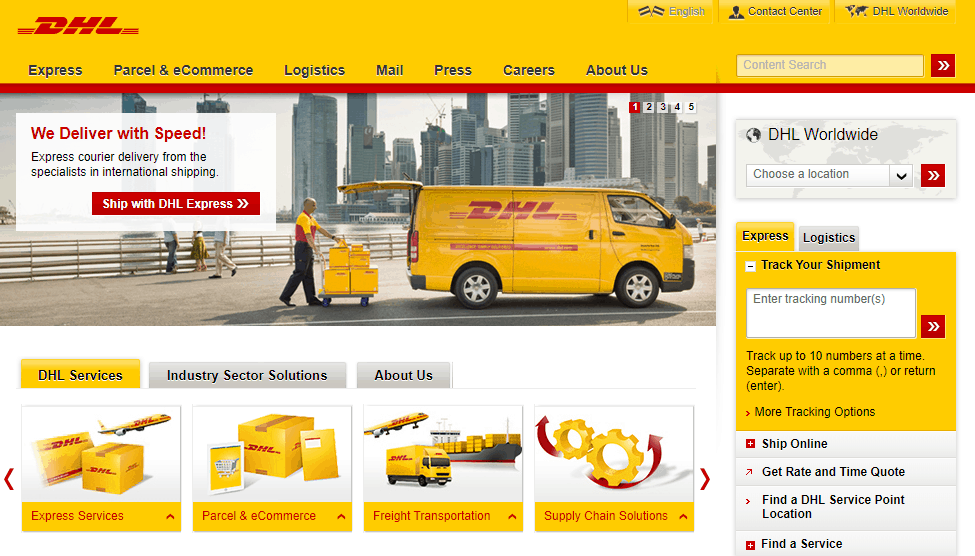 With an experience of 50 years in its favour, DHS has been delivering couriers internationally for a long time. DHL is a division of the German logistics company Deutsche Post DHL. It is a huge empire that has sprouted a lot of divisions and subsidiaries all over the world. A select few courier companies in India have taken measures to make the environment better by using vehicles that need alternative fuels. DHL is ideal for all businesses, from start-ups to large scale industries.
Active Since
1969
Number Of Employees
3,80,000
International Delivery
220+ countries covered
Annual parcel delivered
1,588,000,000
Contact Details
DHL Express Head office: +91 (22) 6678 9000
DHL Shipping: 1800 111 345/1800 209 1345, +91- 22-66789001
Support Timings
Available only on weekdays from 9:30 to 18:00 (closed on Holidays)
Features:
DHL takes responsibility for all shipments at both ends.
Affordable upfront prices cover everything from pickup to delivery with zero hidden costs.
It provides international courier services with tariffs in domestic currency.
It offers users easy payments with a detailed invoice for all imports.
Secure courier services with electronic tracking for both international and domestic deliveries.
State-of-the-art logistic services at an affordable price.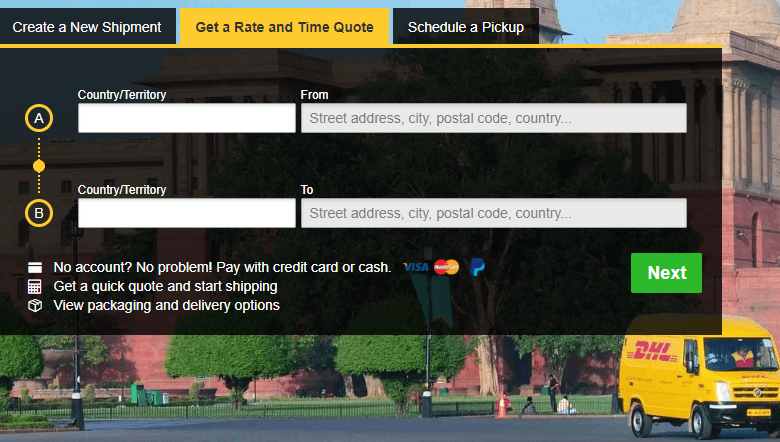 Customer Ratings: 4 Stars

Phone Apps from DHL
Google Play
App Store
9. ECOM Express

Ecom Express is one of the rapidly growing courier companies in India. Currently, it handles deliveries within India and has plans of expanding the business to cover all areas in India. Its zest for achieving that goal has led Ecom Express to become one of the leading courier companies in India. Ecom Express is already working with the top eCommerce websites in India to deliver parcels promptly.
Active Since
2013
Number of employees
19,000+
Delivery Areas (Cities)
2400
Delivery Pin Codes
25,000
International Deliveries
Not available
Delivery Branches
2500
Contact Details
Customer Care: +91-8376888888
customercare@ecomexpress.in
Sales: sales@ecomexperess.in
Support Timings
Available 24/7
Features:
Timely delivery of parcels by using GPS enabled fleet of vehicles.
Ecom Express delivers to the majority of cities and towns in India.
Dedicated fleet networks that deliver high volume parcels on -time.
Implementation of tech applications for a seamless experience.
Real-time tracking technology to keep up with the package.
Additional cash on delivery and real-time proof of delivery benefits.
Value-added services include try & buy, switch deliveries, and handling of valuable cargo.
Customer Ratings: 4 Star

10. Blue Dart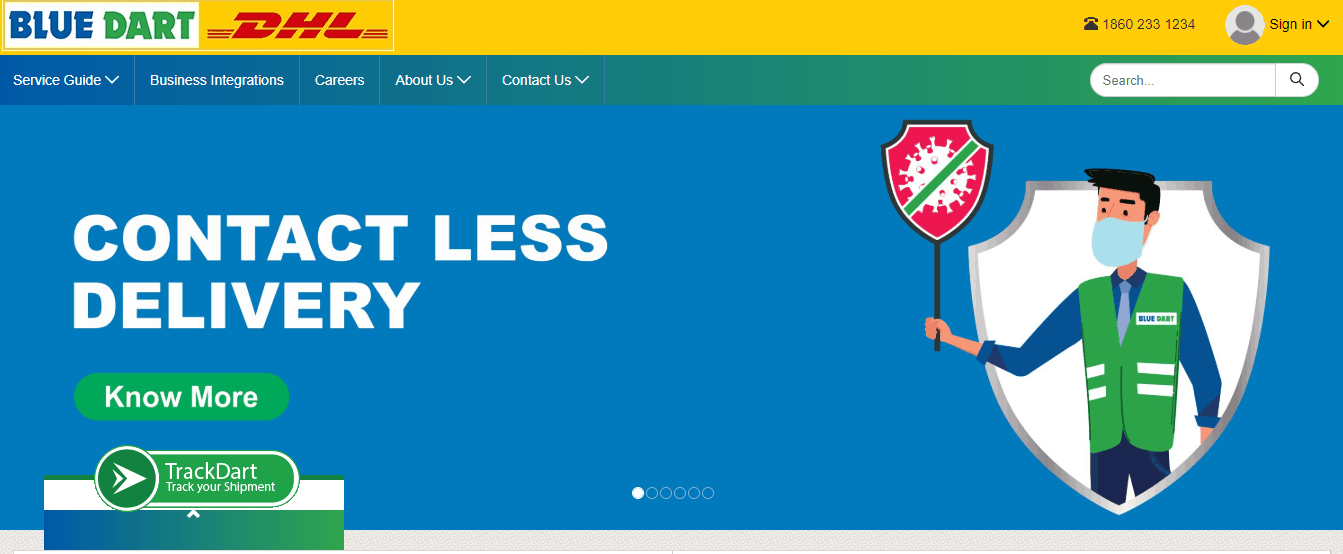 Blue Dart, another well-known name in the courier sector, has been in the picture for 30 years now. DHL, another courier company on this list, is currently a major shareholder in Blue Dart Express. Initially, Blue Dart formed a business alliance with DHL in 2002. DHL invested 120 million euros in Blue Dart in 2004. Blue Dart specializes in priority shipments, which is an aspect that can make or break a business.
Active Since
1983
Number of Employees
13,209+
Delivery Locations
35, 000
Delivery Pin codes
14,000+
International Deliveries
220+ countries covered
Contact Details
Numbers: 1860 233 1234 / 022 6260 1234 / 044 6634 4600

Email: customerservice@bluedart.com
Features:
Implementation of cutting-edge technology for tracking and report generation.
Time-definite deliveries with the help of Blue Dart Aviation.
Proactive drive to partner with eCommerce B2B and B2C companies.
A wide range of customized solutions from document to heavy shipments.
Registered Blue Dart users can benefit from tools such as InternetDart, ShopTrack, PackTrack, MobileDart, ShipDart, and Image Dart.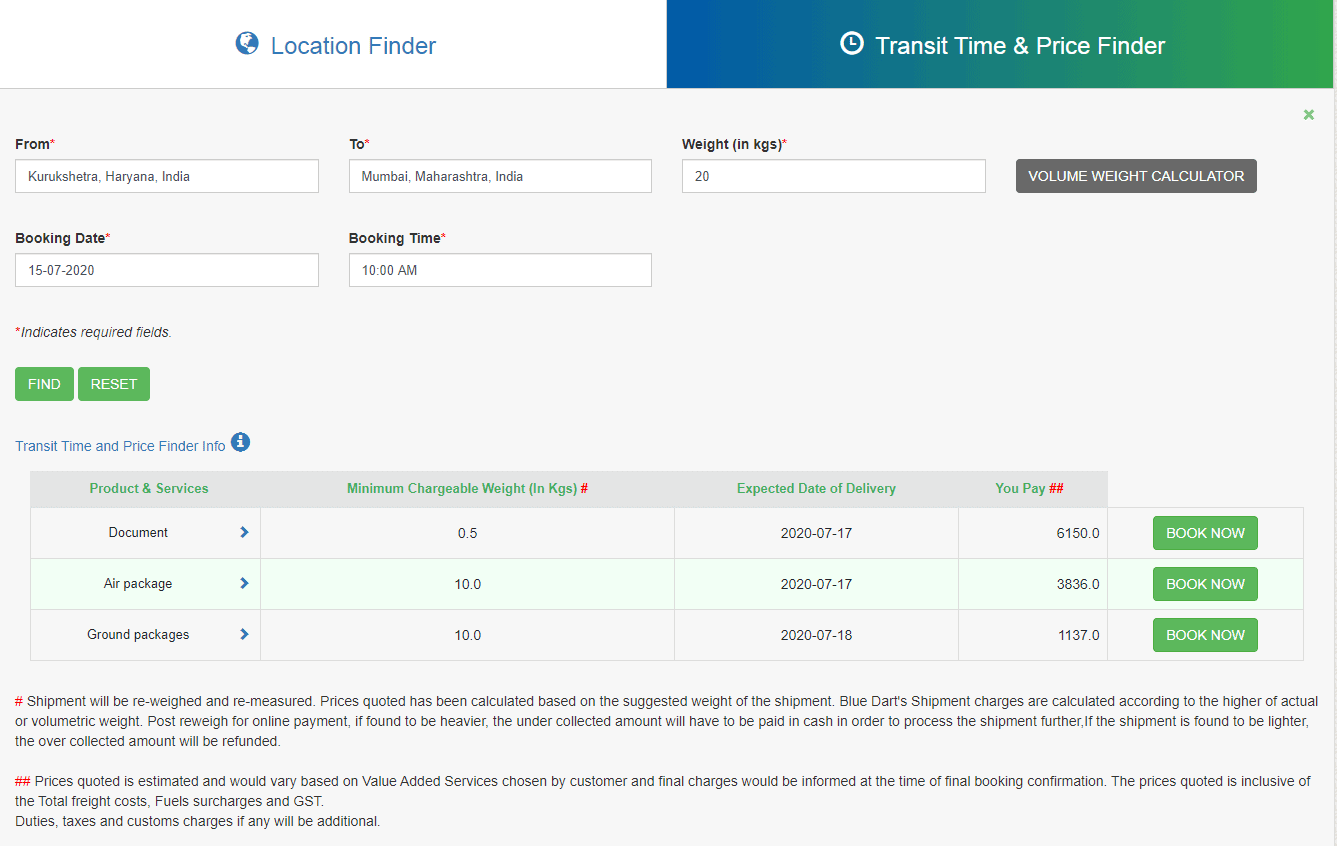 Customer Ratings: 3.9 Stars

11. XpressBees

XpressBees is another rapidly growing customer-centric courier company. In the first year, XpreeBees delivered 50,000 shipments per day. Since its launch, XpreeBees has graduated to 1.5 million shipments on the move per day. All this data points to XpressBees turning into a big name quite soon. Compared to its newly launched brethren, XpreeBees has done quite well. They are even open to franchising.
Active Since
2015
Number Of Employees
20,000+
Offices and Service Centers
2000+
Daily Deliveries
6,00,000
Delivery Cities
500+
International Deliveries
Available for Inter-Asia, China, Far East, Scandinavian countries, and Europe.
Contact Details
Customer Care: +91 (020) 4911 6100
Email: customercare@xpressbees.com
Support Timings
On weekdays (9 am to 8 pm)
On Saturday (9 am to 7 pm)
On Sunday (10 am to 7 pm)
Features:
Stellar logistics services which include cross-border and eCommerce logistics.
A courier organization focused on customer satisfaction.
A wide B2B network combined with secure and reliable warehouses.
Efficient integration of the marketplace with omnichannel operations.
Customer Ratings: 3.4 Stars

12. Delhivery

Delhivery has come a long way since it's launch. In 2011, it barely served 5 customers with a delivery of 500 products per day. Today, Delhivery is counted among the top courier companies. Delhivery is a familiar name in every household. In 2019, Delhivery and Aramex signed a strategic commercial partnership. Now, both of these work in harmony to deliver couriers all over the world.
Active Since
2011
Number Of Employees
40,000+
Delivery Pin Codes
18,000+
Delivery Cities
2500+
International Deliveries
Available
Contact Details
Phone: +91 (124) 6719500
Email: customer.support@delhivery.com / support_direct@delhivery.com
Features:
Apart from quickly processed COD services, Delhivery provides numerous payment methods.
Specialized delivery assistance for International parcel delivery services.
Offers customers state-of-the-art tracking services.
A successful track record of timely deliveries.
Complete transparency with payments, no hidden costs.
Customer Ratings: 3.4 Stars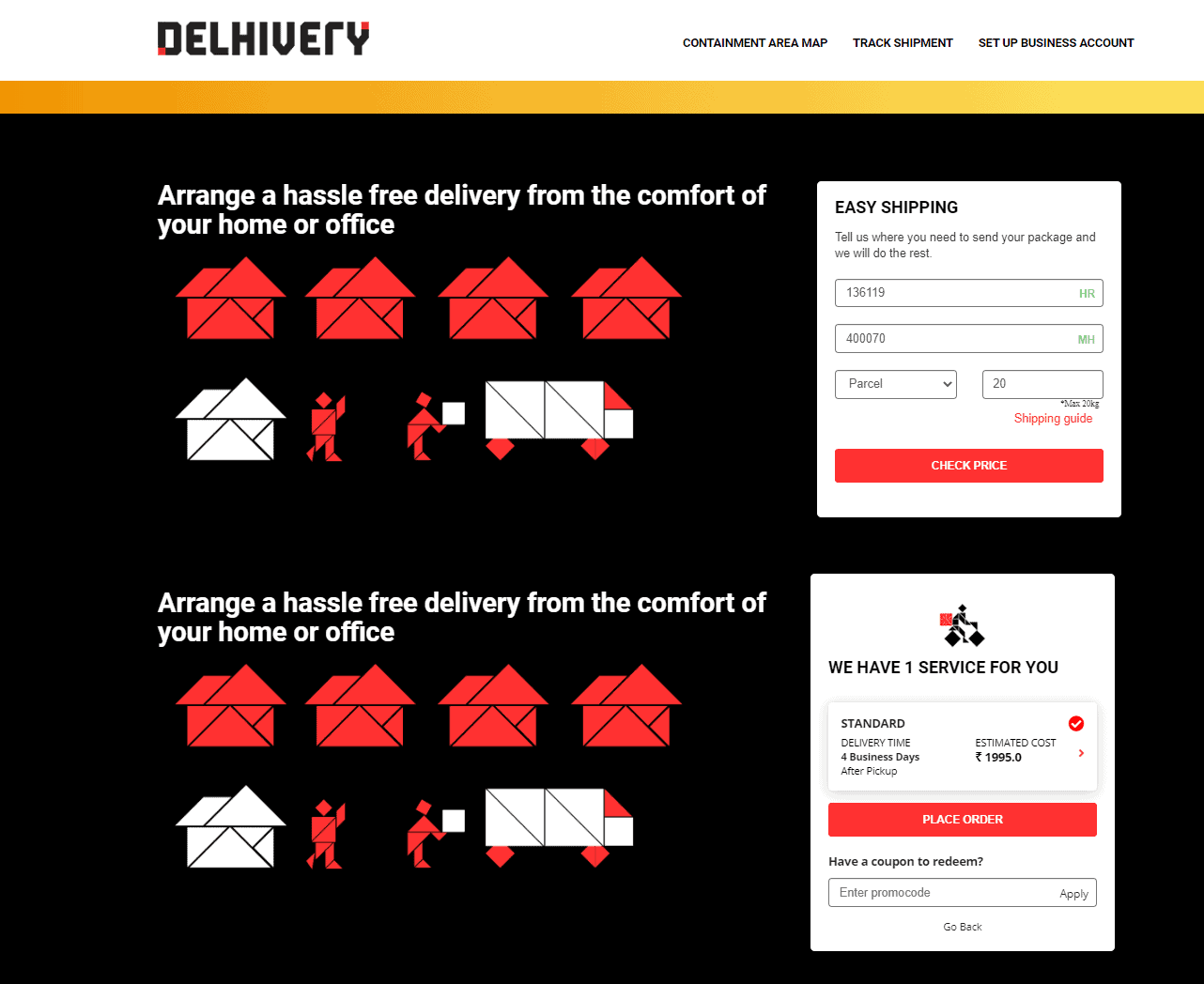 FAQs – Frequently Asked Questions
1. Which are the cheapest courier services in India?
Apart from the above ten courier companies, Delhivery, TNT India, Bombino Express, and XpressBees are some of the cheapest but reliable courier services in India.
2. How to get a quote for delivery by these courier companies?
Visit the company's website. Once there, find the price finder page or shipment calculator or pricing page. Click on that link.
Enter the pickup and drop locations to get a quote. Some of these also ask you to enter a declared value, dimensions of the item to be delivered, and
weight of the item.


Check out the Blue Dart, DTDC, and FedEx sections in this guide, you'll get an idea of how the price finders work. It can be done for one delivery at a time. Registered users can get access to bulk deliveries.
Shipping Calculators
3. What are the locations covered by the above courier companies? What are the shipping rates?
Not all companies provide information about all the locations they deliver to, but some companies also have a separate document for different delivery zones. It simplifies things and also lets people know about all the zones covered by the courier companies.
4. What is a declared value? What's the difference between shipping insurance and declared value?
Declared value is the price of the item being shipped. Many mistake it for shipping insurance, that's another aspect entirely. The information is required by some courier companies. It keeps the carrier aware of the contents of the parcel.
Shipping insurance is a service provided by a few courier companies that reimburse the customers whose parcels or documents have been stolen, lost, or damaged during transit.