Google has recently announced that their AI-powered search generative experience will be a part of the SERP. Google's search generative experience (SGE) is an experiment by Google to incorporate generative AI in Google's search engine result page (SERP).
Accessing Google SGE Via Search Labs
To access Google SGE, you need to first sign up for the Search Labs waitlist. You will be notified by email that you have been accepted and now can access the search lab. The email could take some time so be on the lookout.
Desktop users can access SGE from Google Chrome and iOS and Android users can access it through the Google app. Once you have accessed SGE from your Desktop Chrome, you will find an AI conversation prompt below the search bar. Android and iOS users can find the option "Converse" below the search bar. When the user taps on the button, they are taken to a screen with similar prompts to start an SGE conversation.
How Can Generative AI Improve Search Results?
Multiple new features are coming to the Google search engine with generative AI. Generative AI is meant to enhance the search experience on Google by providing detailed answers to the user's searches and queries with information compiled from multiple sources.
Google labels this text as "Generative AI is Experimental" and provides links to the sites from which it takes the information.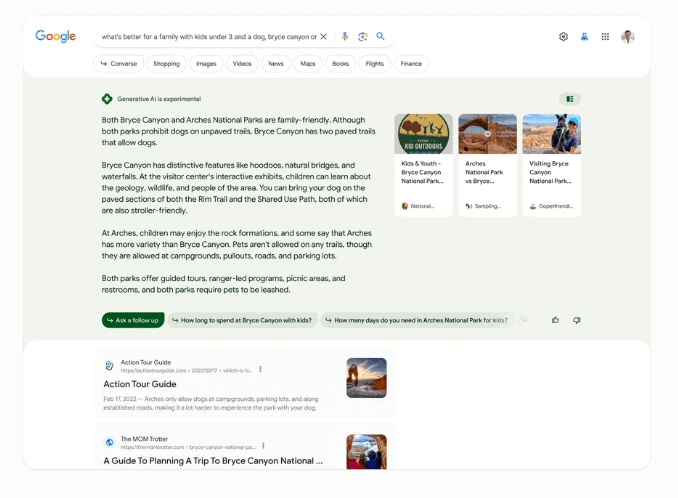 Image Source: Supercharging Search with Generative AI
1. AI-powered Snapshots
Google search generative feature aims to make it easier to find information for the user. SGE provides answers to queries that might not be answered by any single website, reducing the time taken by a multi-step process. The user can find a detailed summary of the information they searched for instead of looking into ten different websites. Google will also provide relevant links to the websites from which the data is sourced and also prompt for follow-up questions.
2. Chatbot
When the user clicks on suggested follow-up questions located below the snapshots, they are taken to conversation mode with a chatbot UI. The user can ask follow-up questions about the topic and the chatbot can answer within the context of the previous search. This makes searching for accurate information efficient and easy.
3. Easy Shopping
Google SGE aims to create an easy shopping experience where the shopper can compare and consider complex purchasing decisions with ease. SGE will show shopping matrics like reviews, prices, quality, etc from different websites. SGE will also provide a brief about what factors you should for the particular product and how it is important. SGE will show many suggestions of the product you are looking for before showing the organic search results which you can see on a regular SERP.
4. Code Tips
Certain queries regarding coding and development might be answered by code tips. Code tips contain information about a large number of coding languages that can help the coder write codes faster and easier. It can explain concepts related to various coding languages, tools and algorithms. 
5. Add To Sheets
Add to sheets is another new feature that streamlines data entry and management. With add to sheets feature you can add a link directly to a spreadsheet from the SERP. Users will see a pill-shaped button that contains the spreadsheet logo, by clicking on the logo the user can add the website's link to their desired spreadsheet.
Key Takeaways
Google search generative experience is still at an early experimental stage; however, if implemented on a broader scale it can bring many changes to the search engine ecosystem. 

AI overviews are created with information from multiple publishers' websites or social profiles. This can be beneficial for the publisher's traffic but decreases the traffic for brand-owned properties. 

Features like featured snippets, images, videos, people also ask, knowledge panels and organic search results are pushed below the page because of AI search. 

AI search has just begun its journey and there are a lot of changes and optimisations to come. So it is quite difficult to understand how much impact will SGE have on the SERP ecosystem.