The wordpress community is currently discussing how they can incorporate artificial intelligence into the wordpress environment.  Since they are still amidst discussion, the nature of AI integration is still unknown, it could be a core wordpress feature or even a plugin.
It is broadly accepted that incorporating AI into the WordPress core can change how people build and interact with websites. However, that's far into the future. WordPress contributors do not have they do not have any intentions of implementing AI at WordPress core.
At the same time, wordpress developers across the globe have already started using AI plugins to streamline their development processes, improve accessibility, and page experience. They can also incorporate AI chatbots that offer 24/7 customer support.
Listed below are some popular AI integrated WordPress Plugins that you can explore:
SEOPress: It integrates with OpenAI to generate SEO metadata for your website pages. It makes creating high quality metadata easier for hundreds of pages with its bulk action.
ContentBot AI writer: It is a content generator that uses GPT-3 from OpenAi to create natural sounding content. The plugin will use the prompt given to write complete content according to the page layout.
CodeWP: CodeWp plugin can be used by developers to accurate, high-quality snippets and complex queries without taking much time with the help of PHP and JS.
Tidio: This plugin can help you manage all communication channels from one panel. This plugin can improve your customer service experience by providing a customisable chat bot.
RankMath: It is another AI powered SEO plugin that helps with content indexing, and website optimization.
The ongoing discussion about WordPress API integrations included a suggestion from Ollie Jones, a skilled WordPress developer, who suggested that AI could be used as a developer tool to help them recognise errors in the website such as a plugin conflict or glitch. The AI can then suggest appropriate actions to solve the error.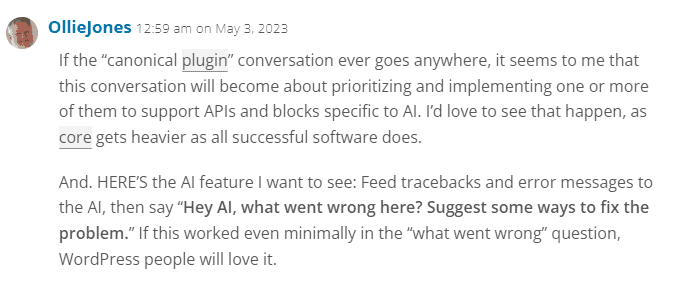 You can explore the WordPress AI Intelligence thread to learn what everyone else is contributing to this discussion.
While the AI technology is fairly new, its impact is huge. The technology is evolving and many developers have started to take advantage of the AI plugins to create innovative and advanced websites. The possibilities are endless for WordPress and Ai, however we need to see what the future holds and what changes are on the horizon.