Google's Search Liaison, Danny Sullivan released a statement on Twitter on 28th April 2023, which said that a website's page experience is not a ranking system, but rather a ranking signal for other systems. Page experience includes loading speed, mobile-friendliness, navigation and the presence of intrusive interstitials.
Google prioritises websites with high-quality content, so a website with relevant content will rank higher than a website with poor-quality content and better UX. The true ranking factor for a website depends on the quality and relevance of the content on the page, the website's overall authority and trustworthiness, and the relevance of the page to the user's search query among other factors.
You can self-access your content's page experience with the by ensuring the criteria listed in the following screenshot by Google Search Console on Twitter.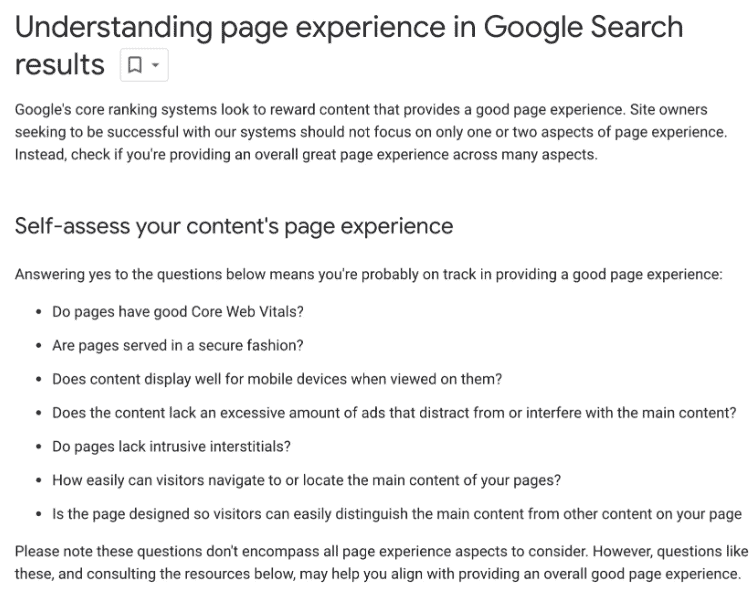 This does not mean that a website owner should completely neglect the page experience. Page experience is still a ranking signal, which means a page with good user experience can help you to rank higher by incorporating it into Google's broader search engine algorithm. Pages with good user experience can help the search engine find your website, so if it has quality content, it will be easier for your website to rank higher.
The above image helps an SEO professional to understand what to check for when optimising page experience. These questions can help you solve many issues with your site. Page experience is still an important factor for website owners and SEO professionals, however, it is not everything, It is simply a part of the larger process.
So what should SEO professionals and website owners do?
The simple answer to this question is that they should focus on providing relevant content for their target audience that has high authority and is easy to understand. Having a good page experience across all platforms is an added bonus. A good website page experience can help signal other systems to enlist the pages with both, good quality content and better page experience to rank on the SERP.