On 24th August 2022, Google Search Central's Twitter account announced that it will soon be removing the International Targeting report.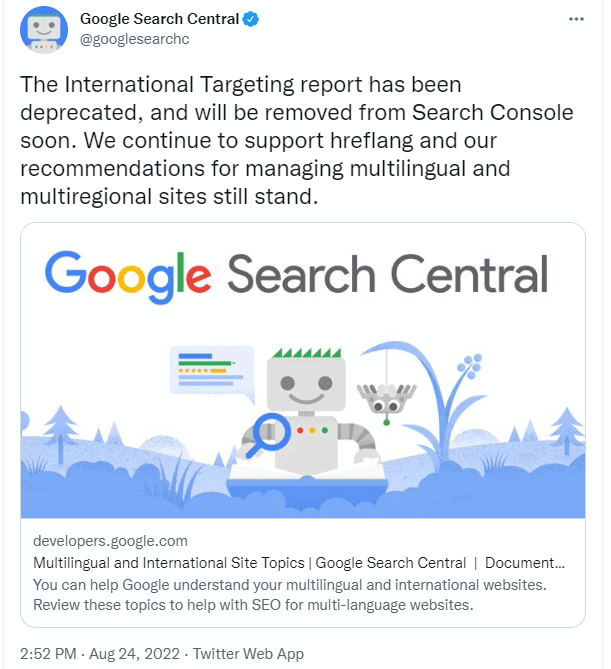 Twitter link: Google Search Central
What did the International Targeting Report entail?

Google typically offers detailed guidelines for any new updates and features. Google's international targeting report page helped users (especially those with International sites) understand common mistakes and how to fix them.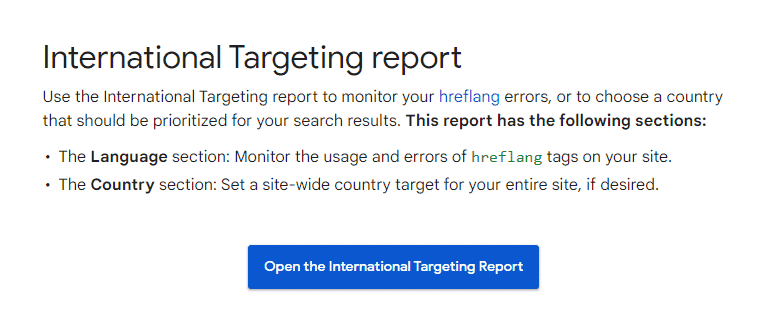 As you can summarise, the report has two sections or tabs, the Language tab and the Country tab.
With the language section or tab, the user can monitor the usage of hreflang tags on the website.
The country section or tab helps the users set a site-wide country target if the business decides to target a specific country.
Keep in mind that this international targeting report can only be used when the hreflang tag is used within your website code.
Why did Google decide to Remove the International Targeting Report?

According to Google, the international targeting report has ceased to offer any value and therefore will be removed from the Search Console. However, the support for hreflang tags is not removed, so users can continue to include those on their pages.

Based on the prompt from Search Console, the International targeting report will cease to exist after 22nd September 2022. This should give SEO company in Mumbai and digital marketers enough time to adjust their strategies.

How does this affect SEO and Digital Marketing Enterprises?

While Google may have concluded that the International Targeting report is no longer relevant, several businesses and digital marketing experts may have relied on this report for international SEO.
After 22nd September, these enterprises and individuals may have to look elsewhere for this data, which means adjusting their SEO campaigns and strategies to adapt to this latest update.
Multilingual websites that have an international presence can refer to Google's three dedicated guides: