Before we start, are you aware of any other PPC networks out there? Or do you think Google Ads is the only one? If you do, then you aren't in the minority.
A majority of Internet traffic today comes from Google, followed by Bing and other search engines. As many of us have surmised, Google is an evolving platform, which keeps updating its tools for providing its users with an optimum experience. That, in turn, has made people positively associate Google as a trustworthy brand.
While Google may Dominate a lot of sectors, there are still other popular PPC networks:
Some of these are leading social media networks, which you come in contact with daily, increasing their revenue with a simple click on the ad. Even the popularity of social media hasn't diminished the value of Google Ads, which is still considered amongst the best Google Ads Network.
Many of you, who have been using Ads for the last few years, must still slip up calling it Google Adwords. However, with the rebranding, came a new interface powered by new features. Thus, Google and it's conglomerate will continue to be the leading Internet Giants due to its continuous updates that keep up with the latest technology.
I] What Are Google Ads?
As a PPC services in Mumbai, we are often asked if Google Ads and Adsense are the same? So let us clear this up: No, Google Ads isn't Adsense!
It is a common misconception amongst the newbies. But they are quite distinct. As a business, you need to pay for Google Ads, make bids, and participate in Ad auctions. Whereas, Google Adsense pays a webmaster/publisher to display ads on their websites.
Does that clear it up? If not, here is a detailed guide for Google Ads vs AdSense.
Now that you have understood the significant difference, let's take a look at how Google Ads work.
II] How Does Google Ads Work?
In layman's terms: Let's assume that you own a wedding dress boutique ( WeddingDressExample.com), and you have a live Google ads campaign.
Now, your potential customers (someone from the bridal party or the bride herself) will go on Google and type in Wedding dress shopping or other similar keywords.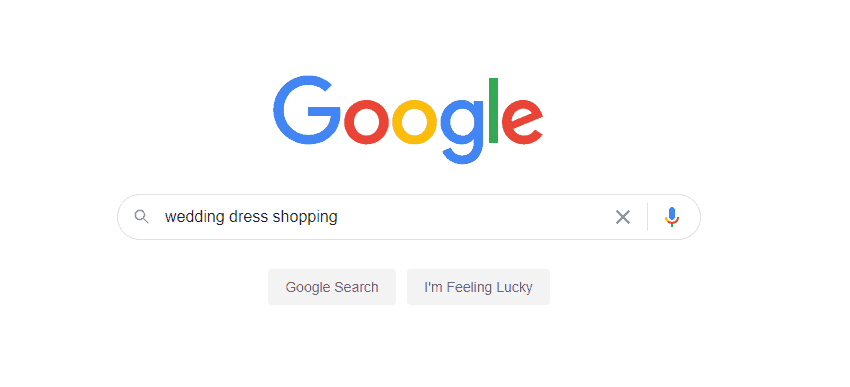 So, when your potential customer, suppose the bride enter the keywords Wedding dress shopping on Google, she'll find your ad for the boutique and head over to your website: WeddingDressExample.com
It seems simple, doesn't it?
It would have been if not for at least ten other wedding dress boutique owners with a live Google ad campaign all competing for the same keyword.
Now how does Google determine which boutique gets to be on the top?
There is a combination of things that leads to Google assigning your website an Ad Rank. Mainly, it is a combination of your CPC bid, Quality Score, and Impact of Google's Ad extensions. Low Ad rank can result in fewer ad appearances and lower positions on the paid Google results.
Now for those interested in starting a budget campaign, here's a step-by-step guide.
III] How To Create A Budget Google Ads Campaign?
Step 1: To set a Google advertising price, you first need to sign-up for a Google Ads Account. (If you don't have one.)

Step 2: Once you are logged in, you'll be asked to create a new campaign. There are two different ways to go about it.

Google offers two separate new campaign screens, one for a beginner and another for the experts (professional marketers). The Expert Mode contains a detailed process with multiple options you probably can't make sense of, so we'll take you through the creation of a (Beginner) Budget Google Ads Campaign.

Google Ads New Campaign Beginners

Step 3: Based on your goals, you can select either of the above options. We are going to select – Get More website Sales or Sign-ups. Now hit 'Next'.

Step 4: Enter your Business Name and URL (Website Address).

Step 5: Next, you have to set the potential audience – Where is your potential audience from? Do you want to sell your services to the whole world? Or a specific country or locally? For that, you need to select – Advertise In Specific Zip codes, Regions, and Areas option.
Step 6: Now enter the target location name in the +Add Location Field. You can choose to add more than one location.

Step 7: Selecting Targeted Keywords. You can choose a few, but after you exceed the limit, Google will make a recommendation to remove a few. Google advertising rates increase as you add more keywords.

Step 8: Describe your Ad by appealing to your audience's Psyche. Do your research and find words that will make your business credible in the eyes of your customers.

Step 9: Now, the gist of our Ad: setting a budget. Google offers some attractive Budget Plans (Google PPC cost) tailored to your keywords and audience, but you can also set up a Personal Budget. Google ads pricing, also known as Google Adwords pricing, is very flexible and can be moulded to suit your needs. If you aren't sure about the budget you need to set, follow Google's recommendation.

Now set up your Ad budget by selecting the Enter Your Own Budget option.

Google Ads pricing can be a bit tricky. You can go as low as you want, but with a lower budget comes low visibility.

Now, ideally, to stand out from your competitors, you should at least choose from the Typical competitor budge range, which makes for affordable Google Adwords price.

Higher budgets are more suitable for established organisations, which can get high ROI. These organizations pay huge Google PPC costs. Once you have set a budget, you can click on Set Budget.

Step 10: You will be taken to the Review your campaign settings page and review your choices. Hit next if everything meets your goals. Otherwise, go back and make necessary changes.

Step 11: You can add billing details and make your campaign go live.

Your Ads can be seen in various layouts. Here is an example:

Ads Based on How They Appear on Desktop Vs Mobile (Search Network)

Ads Based on How They Appear on Desktop Vs Mobile (Display Network)

Further reading: The Ultimate Google Analytics Guide
IV] Factors Affecting Google Advertising Costs
Want to know how much are you charged for a click on your Google Ads ad? It depends on a few factors, such as the way you set up your ads, the target keyword, the target location. Google Ads are tailored to suit every business needs. If you are interested in the average Google PPC costs, you can skip this part and move on to that section.
1. Tough Keyword Competition
Google Ads pretty much works like an Auction Bidding system. With the keywords being the main currency here. Here is a look at some of the top-ranking keywords and the websites that have claimed the top position.
Ad for the high CPC Keyword 'Insurance'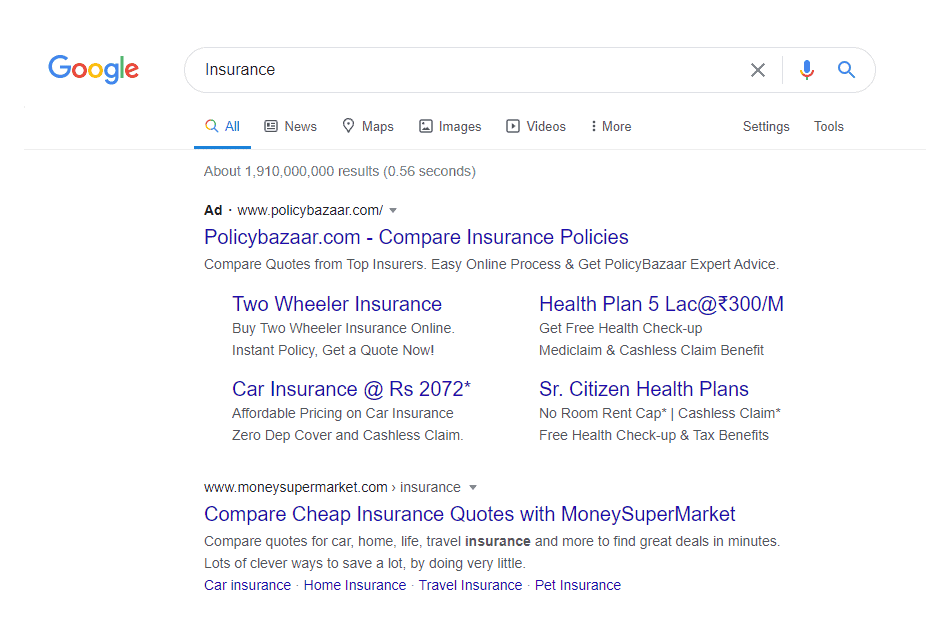 Ad for the high CPC Keyword 'Donate'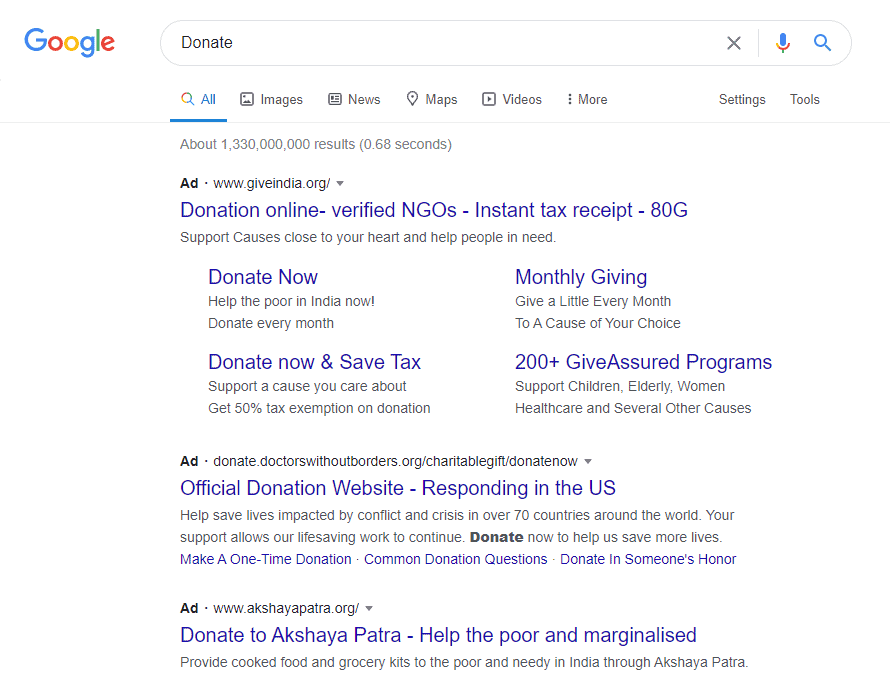 Ad for the high CPC Keyword 'Conference Call'

Ad for the high CPC Keyword 'Hosting'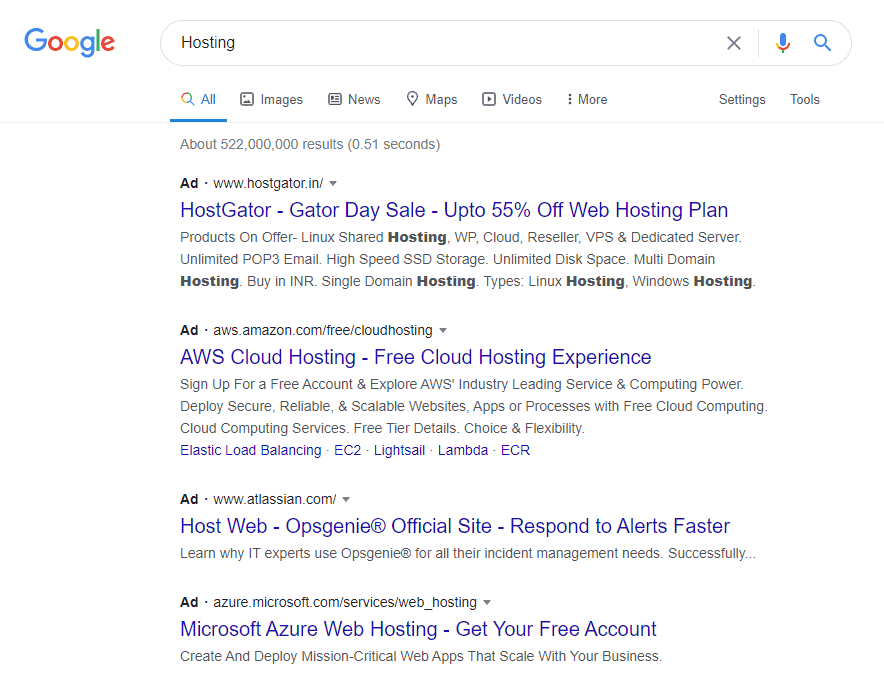 Ad for the high CPC Keyword 'Trading'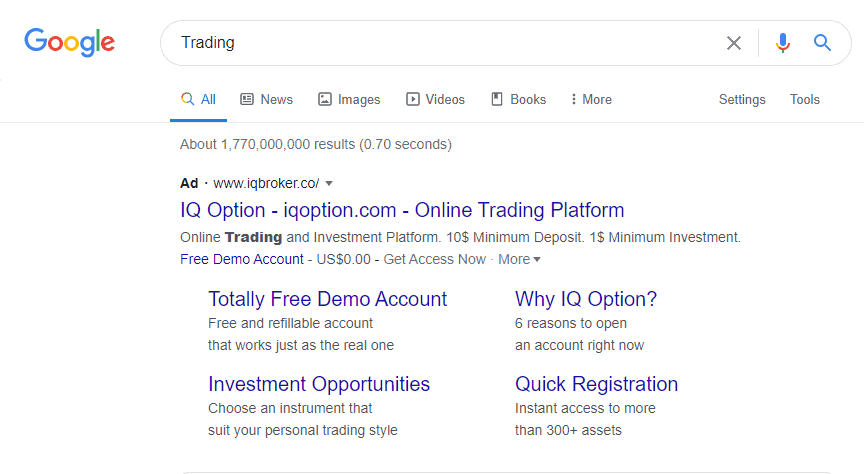 These are the industry giants who have to pay hundreds of thousands per click. To compete for these keywords, you have to bid higher than them. So, depending on your goal and budget, you'll have to pick less competitive keywords.
Now, how to bid for the Expensive Keywords at pay low CPC? Well, that's a conversation for another day!
2. Targeting Locations (Potential Customer Base)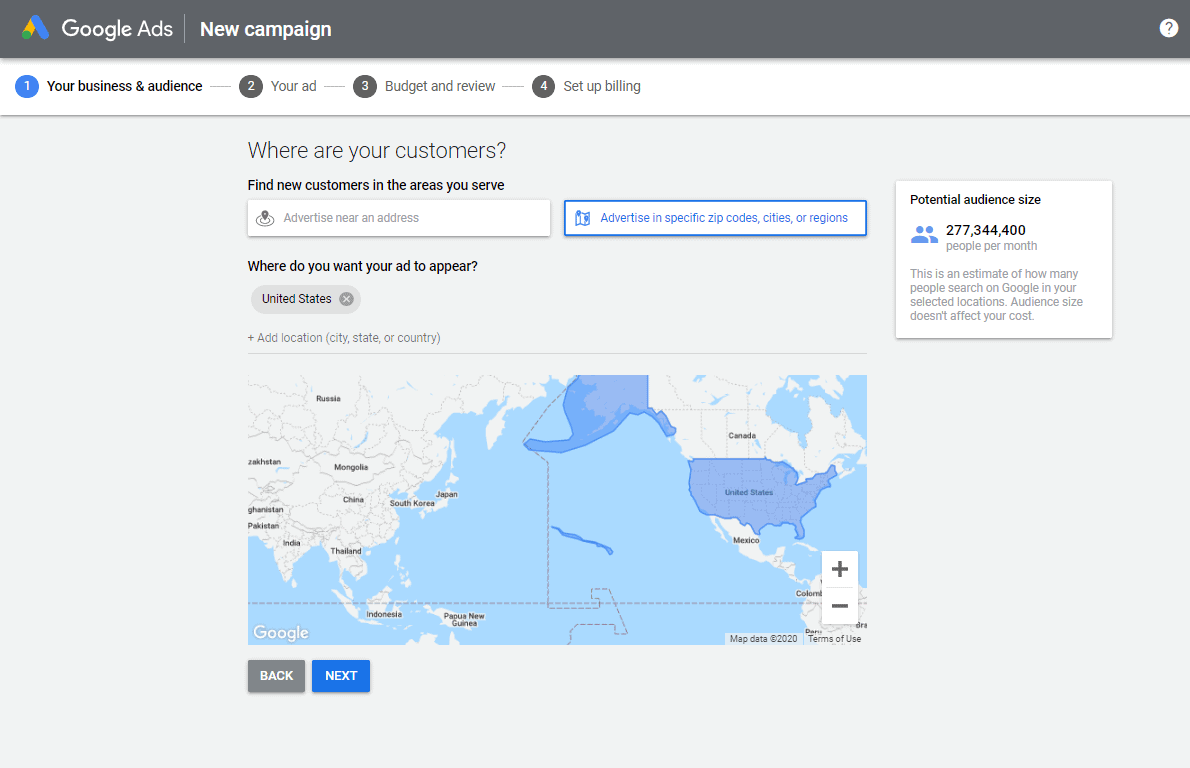 Countries such as the United States, Japan, Australia, France, the United Kingdom, and Germany are high tier advertising target locations that could lead to higher CPCs. So you might need to narrow down your Target locations based on your budget.
Before setting it up, ask yourself, which ones are essential for the growth of your business? Eliminate the remaining.
We definitely shouldn't overlook the tier-2 or tier-3 countries.The Google Ads cost India, a tier-3 advertising target location, might be cheaper than tier-1 or even tier-2. Some other countries on tier-3 are Kenya, Egypt, and Morocco.
3. Google Search Network Vs Google Display Network
Niel Patel accurately describes the difference between the search network and the Display Network. While Search Networks answers a Demand, Display Network creates a Demand.
The Google Search Networks displays your Ads on the top of the Google Search Engine in the paid section. Whereas, with Display Networks, the Ads are displayed on the websites in the form of banners, interstitial ads, rich media, or videos.
In the case of Google Display Networks, people don't seek out the products. They are just browsing, doing some research, and that's when the display Networks come into the picture, pun intended. These visually eye-catching advertisements can lead users to your websites. Don't jump into the sales. As a Display Network tactic, that might fail. Try to design compelling ads that will create awareness leading the user to take action.
Due to its identity, Display Networks generate less traffic and, in turn, costs less than the Search Network. If you have a low budget and a good content creator in your midst, consider investing in Display Network.
4. Google Ads' Quality Score
Google assigns a Quality Score to each Google Ads account. The score is between 1 to 10. It is calculated based on your ad campaign, targeted keywords, and the website's landing page.
Relevance is a major factor in determining the value of these elements. The greater the relevance, the higher the Quality Score. Quality Score is assigned, once your account is eligible to participate in a Google Ads auction. In the auction, all the above things are analyzed, leading to the allotment of the Google Ads Quality score until the next auction.
The following section gives us further insights into how much Google Adwords cost and what is the average CPC for Google AdWords.
V] Average Google Advertising Costs
Based on the latest Google Ads Data, here a quick look at the average CPC. These Google Ads prices are pretty reasonable. Some businesses who invest in expensive keywords have to pay $50 per click.
| PPC (Pay Per Click) Networks | Google Search Network | For Google Display Network |
| --- | --- | --- |
| CPC (Cost Per Click) | $1-$3 | $1 or less |
As a SEO Company in Mumbai that offers SEO services, we have collated below some data that should help you understand the average budget and CPC for the leading industries.
Here's the latest update on the Average Daily Budget for some of the Leading Industries. You can see the huge difference between the Search Network and Display Network budgets.
Average Daily Budget For Leading Industries
| Industry | Average Budget For Google Search Network | Average Budget For Google Display Network |
| --- | --- | --- |
| Automotive | $59.98 | $11.82 |
| Computer & Consumer Electronics | $68.84 | $13.66 |
| Education | $66.84 | $13.66 |
| Finance | $54.57 | $15.01 |
| Internet & Telecom | $65.05 | $11.48 |
| Legal | $53.09 | $8.22 |
Now, let's take a look at the click-through-rate for the leading industries. That's the Google Adwords cost of one-click on your ad. Again, compare the differences between the two Google Ads networks.
Average CPCs For Leading Industries
| Industry | Average CPC For Google Search Network | Average CPC For Google Display Network |
| --- | --- | --- |
| Automotive | $2.11 | $0.28 |
| Computer & Consumer Electronics | $3.15 | $0.37 |
| Education | $2.91 | $0.42 |
| Finance | $3.55 | $0.60 |
| Internet & Telecom | $4.81 | $0.32 |
| Legal | $10.96 | $0.45 |
To sum up:
We have given you a lot to think about!