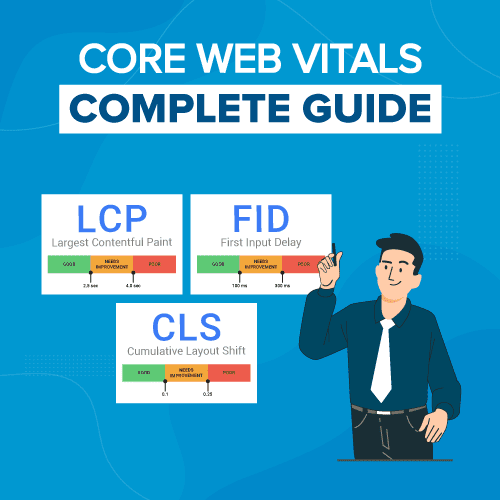 Google's new page experience metrics are now becoming a vital part of the Google Search core algorithm. Google's page experience updates are helping businesses understand the dire consequences of poorly-performing websites. Core Web Vitals (CWV) equips businesses with opportunities to divert traffic to websites that offer a great user experience.
By implementing technical SEO, businesses are able to elevate their websites and brand by scores, improving their websites with higher quality search results for Google. With good Core Web Vital scores, businesses can earn higher search rankings. The website's Core Web Vitals are governed by technical factors and therefore require expert developers skilled in the knowledge of tweaking the website to improve performance and meet webpage experience benchmarks.
Google named three user experience metrics as a part of new search ranking factors. These metrics enable businesses to measure loading speed, interactivity, and visual stability. These metrics are known as the Core Web Vitals. Apart from responsiveness, security, and an ad-free experience, core web vitals are additional metrics that can help determine a website's performance.
Quick Overview of Core Web Vitals
A] What are Core Web Vitals?
In May 2020, Google announced that webpage experience signals will evolve as an organic ranking factor.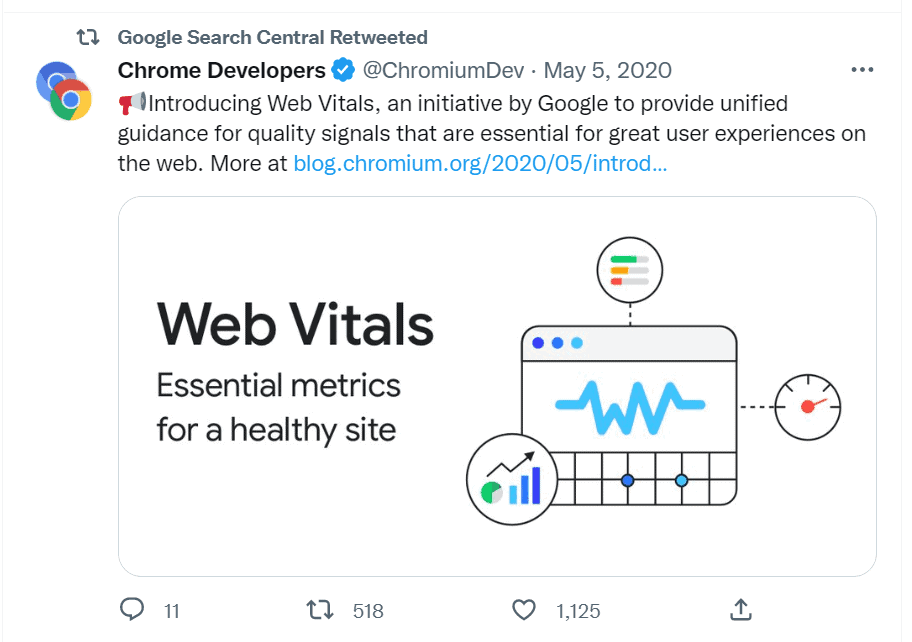 *Image Reference: May 2022 Web Vitals's Update
Core Web Vitals offer a measurable way to size up the overall user experience on website pages. Each Core Web Vital defines a distinct facet of the user experience.
Soon after its launch, the feature emerged as Google's Web Vitals project. They offer a set of specific factors that Google considers fundamental for a webpage's core user experience.
Core Web Vitals can be categorized in three specific measurements based on page speed, stability, and user interactivity:
First Input Delay or FID
Cumulative Layout Shift or CLS
Largest Contentful Paint or LCP
B] Why are Core Web Vitals Important for SEO?
In 2021, Google made its page experience an official Google Search ranking factor, referred to as Google Core Web Vitals. These components will play a vital role in measuring the quality of the UX and page experience of the website, along with obtaining Google's recommendations to enhance scores and optimize the site performance.
1. The three Core Web Vital metrics for SEO include:
Largest Contentful Paint (LCP): It is crucial to measure how long it will take for the web page to load the largest image or block of text in the viewport.
First Input Delay (FID): It helps in measuring the time it will take for the browser to respond to a query when a user engages with the page.
Cumulative Layout Shift (CLS): It assists in measuring the visual stability and determining whether there is a major shift in the content on-screen along with element loading time.
2. The most important takeaways for Core Web Vital are:
Core Web Vitals can be combined with other ranking signals in Google's page experience update to improve a website's SEO.
Core Web Vitals defines the biggest component of Google's page experience signals.
The page experience update assists in weeding out websites that have failed to meet Google's Core Web Vitals criteria.
Google will use page experience signals as a tie-breaker for several pages with great and relevant content. While it is definitely another thing to worry about, businesses should not prioritize optimization for the core vitals over other elements such as quality content, search intent, or even page authority. All three vital components will be integrated to identify the optimization score broken down by the weight of each component.
C] New Ranking Factors: Three Components
1. LCP: Largest Contentful Paint

*Image Reference: Web Dev LCP
The largest Contentful Paint assists in evaluating the loading performance of a website and is reported to utilize the following user experience benchmarks:
At the moment, the largest Contentful Paint or LCP is considered to be Google's best answer on how fast the page loads. But before LCP, there were other components including First Paint, First Contentful Paint, First Meaningful Paint, Time to Interactive, or First CPU Idle. However, each of those metrics came with their own set of limitations. While LCP is far from perfect, it is considered to be the best measurement to identify what and when the user believes the page is loaded.
To calculate Largest Contentful Paint or LCP, Google records the rendering of the largest content element i.e text/image/video on the screen. As the composition of the screen changes at the time of loading, Google assists in switching it to the new largest element. This process continues until either the page is loaded completely or the user starts interacting with the page.
There are many elements that can influence load speed, however, the main suggestions to enhance LCP involve faster server response times and resource loading, along with less render-blocking JavaScript and CSS. This helps in improving the client-side rendering.
2. FID: First Input Delay

*Image Reference: Web Dev FID
FID or First Input Delay assists businesses to evaluate page responsiveness and is reported using the following user experience benchmarks. It is the time required for a page to react to the first action picked by the user such as a click, tap, or a key press. Unlike the other two core vitals, FID can only measure in-field as it mandates the actual user to choose when to perform the first action.
The FID can be substituted for Total Blocking Time or TBT, which is referred to as the period between the first content appearing on the page and the page becoming responsive for the user to interact. It is correlated with FID and it reports larger values.
Longer input delays often occur when the webpage is still loading, or when some of the content is already visible but is not yet interactive as the browser is still loading the rest of the page. The main effort to optimize FID is to focus on faster page loading, and code splitting by using less JavaScript.
3. CLS: Cumulative Layout Shift
*Image Reference: Web Dev CLS
Cumulative Layout Shift helps in evaluating the visual stability of a webpage and is reported to use the following user experience benchmarks. Layout shift or Layout jank is an issue where the content on the page moves around even when it looks like the page has fully loaded.
While sometimes it can be annoying, other times it may cause the user to click on the wrong path or element, thus provoking even more unwanted changes to the webpage. The CLS or Cumulative Layout Shift score is calculated by multiplying the share of the screen that shifts unexpectedly when loading by the distance it traveled. To calculate the CLS score, the affected area is multiplied by the distance traveled and the obtained score within the benchmark is considered as the Cumulative Layout Shift score.
CLS optimization is considered to be the easiest of the Core Web Vitals. It boils down to incorporating the size attributes for the images as well as the videos. It never inserts new content above existing content.
D] Key Points
Core Web Vitals include three metrics in Google's page experience signals that improves the website experience for users.
Core Web Vitals assist in measuring how a page is visible, how long it takes for a user to interact with the page and the visual stability of the page.
The metrics that are included in the Core Web Vitals are – Largest Contentful Paint (LCP), First Input Delay (FID), and Cumulative Layout Shift (CLS).
Google has always been user-centric. From eliminating keyword stuffing to loading page time and mobile-first ranking, they are enabling businesses to offer a better user experience. Core Web Vitals are being considered as yet another push in that direction.
E] Final thoughts
The Core Web Vitals SEO impact will have a significant effect on websites with poor page experience. However, many websites that offer good user experience may not see any impact at all. That's because Google is still prioritizing other search ranking signals that matter more including the quality of the content on a page.
In terms of search engine optimization (SEO) priorities, businesses should focus first on creating high-quality content that aligns with the intent of search engines and covers the topic. Once that is done, the focus should be on optimizing pages for Core Web Vitals metrics.
The introduction of the Core Web Vitals is good news for many businesses. It is aimed at removing some of the most common UX pain points and offering a degree towards a more delightful web. It also offers a step towards increasing transparency between Google as well as the website owners. Google is now on the path to collecting reliable UX metrics, thereby offering more ranking opportunities for businesses that are willing to go the extra mile.
As a leading SEO agency in Mumbai, Capsicum Mediaworks does everything possible to ensure that your website performance is up to par. We also offer guidelines on how you can improve your website so that it will perform better and attract more visitors. We can help you run an SEO Audit, which can help us discover the issues present in your current website.
With our SEO checklist, we guide you through the entire process to generate quality traffic and growth through your website.
Core Web Vitals FAQ's