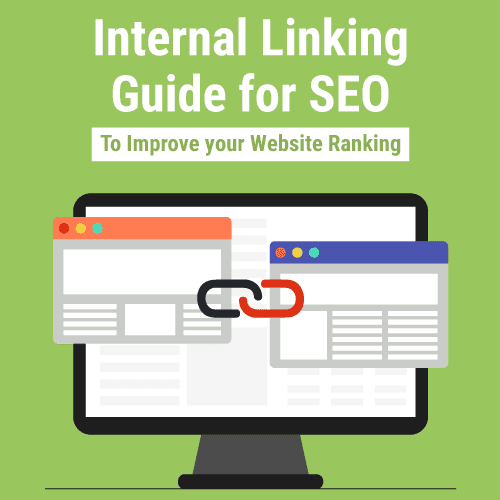 From an SEO perspective, backlinks are considered very valuable. But internal linking is even more important.
Internal links act as a powerful ranking factor for websites. While they may not be as powerful as backlinks from other domains, internal links are very much worth the effort. Similar to backlinks, internal links help pass the link juice and notify Google about the web pages that are more important.
An added benefit of internal links is that it contributes to better user engagement and experience, thus increasing the chances of conversion rate. This makes them an efficient tool for website crawling. When implemented properly, internal linking offers a legitimate way to enhance the rankings and the performance of the website in general.
Many SEO practitioners overinvest in backlinks when they have a ton of site authority, instead of developing a clear internal linking framework. And that is a huge mistake.
In this comprehensive internal linking article, we offer a brief overview of a strong internal linking strategy for businesses.
Quick Overview:- Understand Internal Linking in SEO
A. What Are Internal Links in SEO?
A hyperlink between two pages on the same website is referred to as an internal link. They pass PageRank as well as the context through anchor text & surrounding content. Many definitions of internal linking use the word domain instead of website. As a business, if a website has several subdomains, then links between them are considered internal to those sites.
An internal link links the webpage to a different page on the same website. As opposed to an external link, that leads to a page on a different website, internal links are most commonly used for navigation. However, there are multiple ways to employ internal links for search optimization purposes.
Internal links serve as a ranking signal for Google based on their concept of link equity or ranking power. Google's special PageRank algorithm helps in calculating how authoritative pages are. The more backlinks there are to a page, the more useful it is for Google. This is the reason why building links to a given page helps in adding up to the link equity and improves ranking potential.
B. Understanding the Difference: Internal links – External links – Backlinks
Internal linking in HTML is identical to a backlink as they both act as hyperlinks. These links contain an href attribute, anchor text, as well as an additional rel attribute.
Linking to high-authority websites helps with search engine optimization (SEO) efforts. It is important for businesses to link out when citing facts and sources, especially for sensitive data. However, each link serves a different purpose and offers value in different ways.
1. Internal links
Since internal links are linking back to the same website, they do not boost the website's authority. Instead, internal links help in funnelling the existing authority and relevance from the backlinks throughout the website.
2. External links
External links are simply hyperlinked from the owner's website to different domains. These are valuable if the website wants to cite a source or link a more in-depth piece of content.
3. Backlinks
Backlinks act as hyperlinks between two pages on different websites. They help in increasing the authority of the website to help it rank better in the Google SERP. Businesses can earn these links naturally to their websites or may acquire them through strategic outreach. Backlinks are vital for the success of SEO success as they are considered one of the top 3 Google ranking factors.
C. The Role of Internal Links
Internal linking helps in making the audience stay longer on the website. Other than that, they are mostly employed for website navigation as well as maintaining an easy-to-follow structure of the website.
While this is a primary user experience benefit, it also offers a logical website structure, thus aiding businesses to save up on their crawl budget as well as allowing the search engine to index more pages per visit.
1. Help build page authority
The most valuable element of internal links is that they can pass the link juice and notify Google which pages of the website are more significant. While internal links do not pass as much link juice as backlinks, they help elevate some pages by assisting in building page authority. The reality is with a smart internal linking strategy, businesses can build the most efficient hierarchy of their web pages within the website architecture.
2. Improves user experience
Internal links help in creating a hierarchy of data on this website. This further assists in establishing the website structure and allows users to navigate the site with ease. With the ease of navigation, they can spend more time on the site and discover new topics to read.
With a good internal linking strategy, it becomes easier to guide visitors to high-converting web pages, thus leading to more revenue generation for businesses. When users spend more time on the website, it increases page views, providing Google with a positive signal about the performance of the website, thus boosting its ranking.
3. Assists the search engines in crawling the site
Search engines use internal links to crawl web pages as well as websites. Links are the most influential way for Google to discover new content on a website. If a website URL does not have any internal links or backlinks, it is likely to take Google much longer to find the context that needs to be indexed. Googlebot and other web crawlers usually travel the web from one web link to another. The more links a new page has, the more the chances of Google encountering it successfully. And internal pages without any links are referred to as orphaned pages. It is always worth checking the website to make sure every web page has at least one internal link.
D. Internal linking: Best practices
As a significant part of on-page SEO, internal linking is beneficial for better ranking on Google as well as for the users to navigate. Now that you are aware of the importance and benefits of internal linking best practices for any website, it is important to identify the best practices to build internal linking activities on the website.
Internal backlinks help in:
Creating a lot of content.
Linking high authority pages to new ones for improved rankings.
Building links to the homepage of the website helps in attracting new users to the homepage. Integrating many links pointing towards the website,  makes it easier to point more links towards it, thereby strengthening their internal pages by interlinking them.
Internal linking is helpful in offering a good user experience as well as increasing the website's ranking.
Whenever creating an internal link, it is vital to link it smartly to ensure that the linked webpage is related to the content of the web page.
For example: When interlinking web pages for an online e-commerce medical store, it is important to link web pages that highlight the benefits of listed products.
The user can interlink the page with the link of the specified product page.
However, it is important to understand that the product page should not be linked with irrelevant pages.
Link-building Strategies:
As a business, it is important to be aware of the link-building strategies that can assist in enhancing the internal linking for SEO as well as for users. With the numerous strategies available out there, we have curated a list of the top five strategies that are likely to have the biggest effect on SEO and rankings.
You can use them in several combinations for better results:
1. Pointing internal links from the traffic webpages to conversion pages.
2. Redirecting high-authority pages to low-hanging fruit pages.
3. Ranking the main webpage for high-volume keywords.
4. Integrating internal links to support mid-volume keywords in the webpage.
5. Targeting low-volume keywords with internal links.
E. Key Takeaways
Internal links are considered to be more important than backlinks in many cases.
Backlinks act as wires from a power plant to the house whereas internal links are like the wires from the electric circuit breaker to the electrical outlets.
For businesses, some types of internal links are considered more valuable than others. However, they all work in unison to convey hierarchy, and authority to search engines.
F. Final Thoughts
Do internal links really help with SEO?
The answer is yes.
SEO is much more than just optimising the title tags, adding SEO-optimised keywords, and building some backlinks. It is also about creating the best user experience, being present through the funnel, and ensuring that the search engines see the value as much as users do.
To sum it up, it can be concluded that while internal links are vital for SEO, it is equally important to have an optimised internal linking structure. A strategic approach to internal linking is enabling businesses to accomplish their goals and amplify the efficiencies to boost their results.
In this article, we identified the must-haves of internal linking that businesses should employ, including strategies that are likely to have a major impact on the web page rankings if implemented in the right way.
As a leading SEO agency in Mumbai, Capsicum Mediaworks does everything possible to ensure that your website has the most unique content possible.
With our SEO checklist, we will expertly guide you through the entire process to attract quality traffic to your website.  If you are looking for an SEO Agency that specialises in local SEO in Mumbai,  then we are the right choice for you. Our expertise with local SEO can help you climb the ranks of local search engine page results.
G. Frequently Asked Questions
What is internal linking vs external linking?
Internal linking is the process of linking a page on the owner's website to another page on the same website. This helps the visitors navigate the site & search engines understand the structure and hierarchy of the site's content.
External linking is the process of linking the owner's website to another website. This can help to increase the visibility and credibility of the linking site, as well as provide additional information or resources for users.
How many internal links are too many?
Ideally, you should only add 4-5 internal links where they fit into the content naturally and can direct the readers to resources on your website that they'll find helpful. Unnecessary adding internal links may cause your website to appear spammy and less user-friendly. It will increase your website's bounce rate.
How do you find internal linking opportunities?
The first step is to find relevant content on your website and link it to the required piece of content. You can systematically go through your website, planning and linking relevant websites to create a user-friendly website structure.  Feel free to reach out to us, and we can help you structure your website with a methodical internal linking strategy.