The demand for blazing-fast webpage loading times has never been more pressing in a world where every second counts and information is at our fingertips. Users are not only irritated by slow-loading pages, but engagement and productivity are also negatively impacted, and Google aims to tackle it head-on.
It is rising to the challenge of meeting this demand for speed by introducing an experimental feature that has the potential to alter the web performance landscape completely.
In honor of Google Chrome's 15th birthday, Google is releasing a potentially game-changing update that promises a fast, safe, and user-friendly surfing experience. This experimental feature offers a glimpse into the future of web browsing and could completely change how we interact with the internet.
A] What are The Challenges of Web Performance? 
Web performance issues include slow-loading web pages, unreliable user interfaces, and bad user experiences. Large media files, excessive JavaScript execution, server latency, and network issues can all contribute to these difficulties. Meeting Core Web Vitals and optimising for mobile devices are equally important for providing a quick and efficient web experience. Furthermore, guaranteeing compatibility across several browsers and devices is a constant problem for web developers and designers.
B] How is Google Planning to Turbocharge Webpage Loading?
Google's strategy for speeding up page loading hinges around an experimental feature called scheduler.yield. This revolutionary feature was launched with the July 13 release of Chrome 115 (a new version of Google Chrome with several new features and 20 safety updates. The upgrade went live in stable on July 12, 2023, after being released in beta on May 31, 2023), marks a paradigm shift in JavaScript execution, with the goal of greatly enhancing web page responsiveness.
Image Source: Google's Blog
The main idea behind scheduler.yield is to address the issue of extended JavaScript tasks, sometimes known as "Long Tasks," which can substantially impair web page performance. These time-consuming operations are analogous to slow-moving vehicles in the fast lane of a motorway, causing bottlenecks and slowing down the entire web page.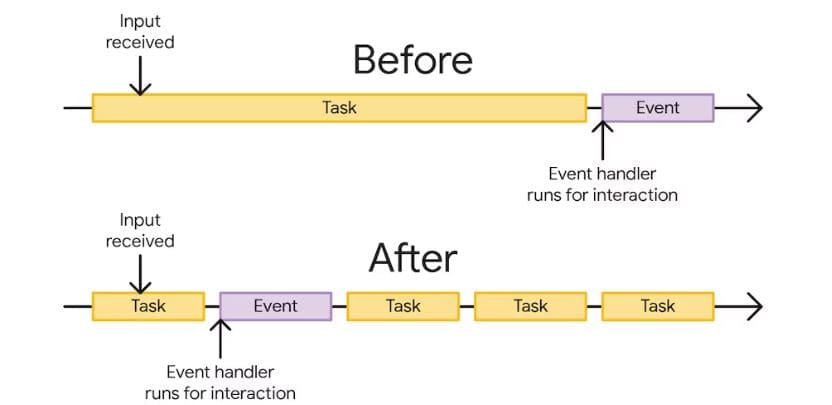 Image Source: Google's Blog
Google's solution is brilliant in its simplicity. The scheduler.yield briefly pauses a lengthy JavaScript task when it detects it. A responsive and flawless surfing experience is ensured by this pause, which enables critical user interaction scripts to run quickly. The paused task can be resumed without further delay when the user interaction script is finished.
It not only optimises homepage loading but also helps publishers who rely heavily on JavaScript outperform their competition in key online performance metrics. Google understands the importance of this functionality and is actively seeking volunteers for an "origin trial" to collect valuable input to ensure that scheduler.yield operates well in real-world circumstances before becoming an official feature. This commitment demonstrates Google's commitment to improving the entire web surfing experience for both consumers and publishers.