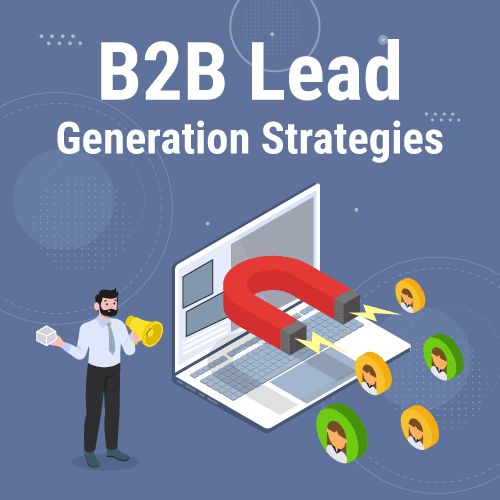 B2B Lead Generation focuses on capturing leads for businesses that sell services to other businesses, organisations, and entrepreneurs. For years now, Lead Generation, one of the crucial business processes, has been at the forefront of business dealings.
Entrepreneurs and businesses have used incentives such as sending promotional products and other incentives to woo their clients into signing up with them. Such favours directly state that the business values these clients personally and therefore have taken an interest in catering to their needs.
This B2B Lead Generation strategy can be hard to pull off on a large scale. To gain further visibility and quick results, businesses these days also use digital B2B lead generation strategies.
Consider the growing Google Search trend for the query: lead generation
The results show an upward trend since 2015, which continues to climb. It sheds light on how businesses continue to treat lead generation as a valuable asset.
These days a search for lead generation will return results for the digital B2B marketing solutions.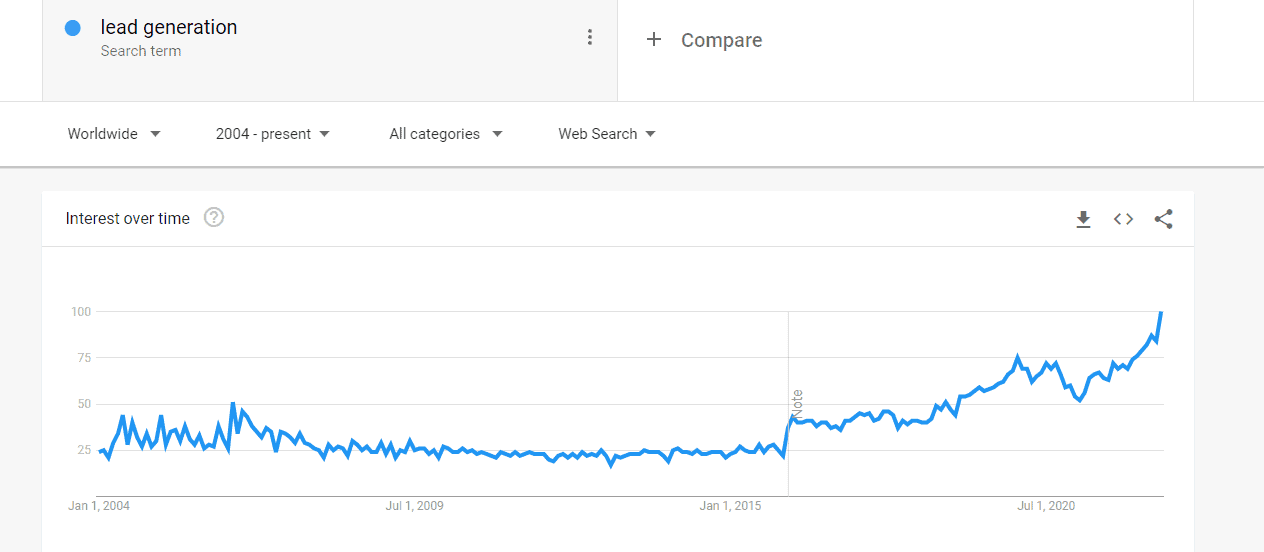 Let's take a look at some of the most effective digital B2B lead generation strategies and how they help generate more leads.
Quick Overview of B2B Lead Generation
Effective Digital B2B Lead Generation Strategies
1. Search Engine Optimization (SEO)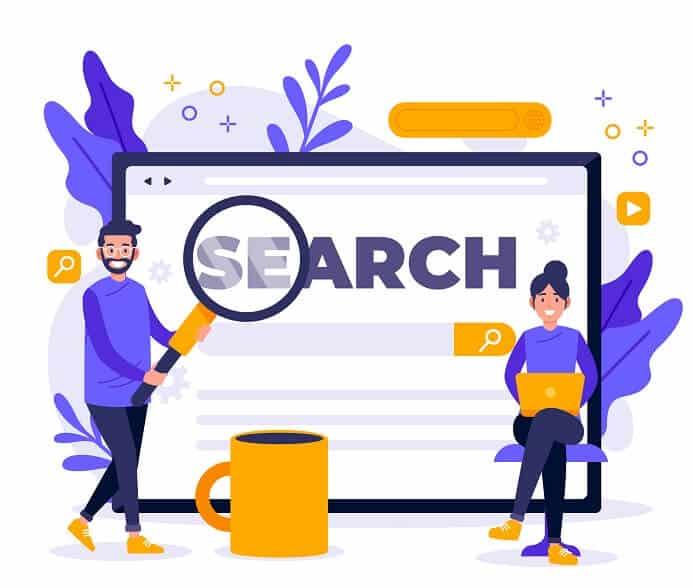 61% of marketers consider Lead Generation their most challenging adversary.  Therefore, a well-planned and data-driven SEO strategy should help ease their worries. It would lead to a significant improvement in their lead generation efforts.
Consider a few facts about the Search Engine:
Based on B2B Digital Marketers' Statistics, 75% of internet users will never scroll past the first page. Google has refined its results to a degree where the users mostly find their solutions on the first page.
On the first Google search page, the first five organic results lead to approximately 68% of all clicks.
These two further shed light on the importance of investing in a good SEO strategy. Building an SEO strategy that targets your clients will lead to long-term and high-conversion organic clicks. Higher the number of quality organic clicks, the higher the chances of a new lead.
However, you have to optimise your business website for high intent and high-value keywords for both SEO and PPC.
Click here to learn more about our premium SEO services in Mumbai.
2. Pay Per Click (PPC)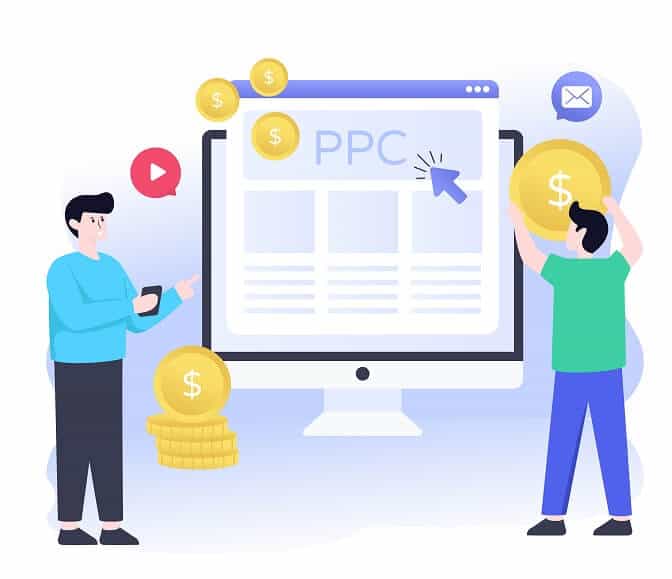 PPC, short for Pay Per Click, are advertisements that allow businesses to rank on the first page (at the top) for a limited period as long as the advertiser's budget lasts.
Digital marketers usually target their audiences using both organic SEO and PPC adverts. They have found that combining SEO and PPC results in 25% more clicks and 27% more profits than using a single technique.
One of the primary disadvantages of SEO is that it takes time to bring your business up to the mark. This is why PPC is invented as it gets the business off the ground and running. It also creates strong brand awareness.
Keep in mind that about 50% of visitors are more likely to click on your advert if they come across it more than once.
Pay Per Click (PPC) also has a scope for experimentation. It allows businesses to refine their advertisement strategy until they get it right and receive maximum returns on their investment.
3. Content Marketing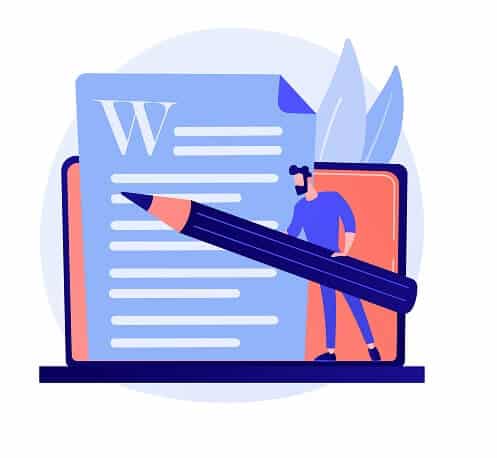 In order to build an impactful content marketing lead generation strategy, businesses have to focus on churning informative content that offers value to the readers.
For example: A person is looking for the best and most affordable hair dryer
Businesses can create a data-driven blog post focused on building a list of the best and most affordable hair dryers. This blog could be incorporated with genuine reviews from the customers. It will help build trust, which is a high-ranking factor for getting return customers who stay loyal to the brand.
The content on your business website powers SEO and PPC strategy. It also helps you create PPC adverts that stand out and attract clients. To be SEO-ready, your business needs to focus on building authoritative content through various means. At the initial stage, they'll have to concentrate on the following:
Conversion-focused blog: Fill your business blog with high conversion content instead of merely treating it as an afterthought. It is one of the most effective tools to capture users.
White Paper and other downloadable Freebies:These are powerful lead magnates and allow businesses to collect email ids and phone numbers in exchange for the free downloads.
Surveys powered by unique research:Build authority and trust by putting unique and useful content on your website. People are likely to share new information when they come across it.
Need help with content marketing? Check out the content marketing services in Mumbai that we offer.
4. Optimise Landing Pages
While the actual conversion rate highly depends on the business niche industry, the average conversion for a landing page is 9.7%. Although the conversion rate is higher than other b2b lead generation strategies, it requires a lot of effort to build an optimised landing page.
Remember that a landing page strategy can be waylaid by poor website speed. So, you have to ensure that the website speed isn't lagging. Apart from a quick load speed, a fully-optimised landing page requires a lot of essential factors such as:
Incorporating reviews and testimonials: These are social proofs that your clients trust your services and find them valuable, helping build trust between a business and clients.
Adding videos and images: A well-planned and expertly-made video can convey more than words and pictures in just a few seconds. It increased the conversion rate by 86%. Similar to videos, images also improve the visibility of your advert by 80%.
Embedding call-to-action: Call-to-Action is a necessity to create content that converts. Equip your landing page and website with effective, eye-popping and smartly-placed call-to-action that draw attention.
5. Email Marketing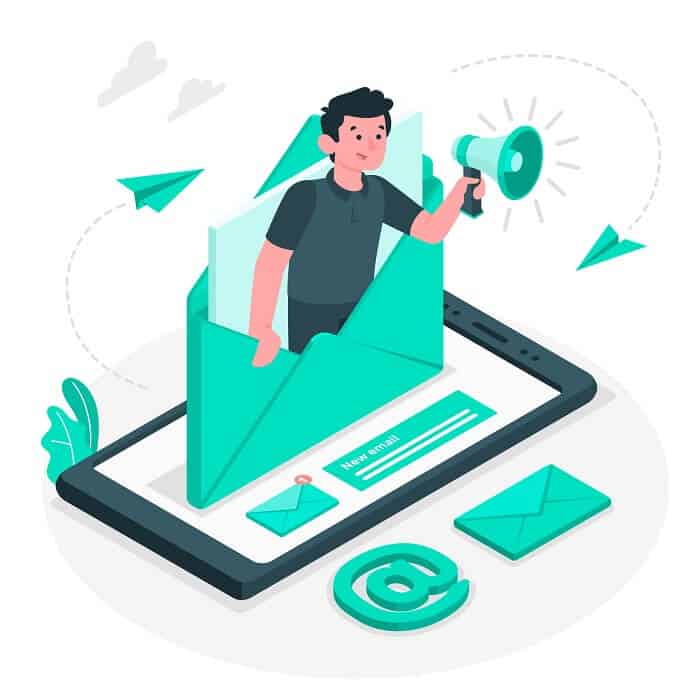 Based on Snov.io's email marketing statistics, the average click-to-open rate was 14.1%. That is your short window of opportunity to create a mark.
According to Statista, 306.4 billion emails were sent and received in 2020. The study predicts a rise in the numbers to 376.4 billion by 2025. Consider the number of emails a business receives daily. From subscription updates to promotional content and other emails pertaining to their business activities.
An email marketing campaign based on generalisation is bound to fail. The email will get lost in the high number of emails received by the businesses. This is why your email marketing campaign should offer incentives.
Offering your clients a free audit, free trials, a free consultation, or anything that results in minimum costs to your business is a win-win for generating new leads.
Furthermore, your emails should also be targeted to relevant audiences. Build a well-thought-out buyer persona before sending out those emails. It allows you to build multiple email campaigns targeting relevant people, leading to more emails being opened and leads being captured.
Around 29% of marketers still stand by the effectiveness of a competently built email marketing campaign targeting relevant businesses. It is considered to be more effective than SEO and Social Media.
6. Social Media Marketing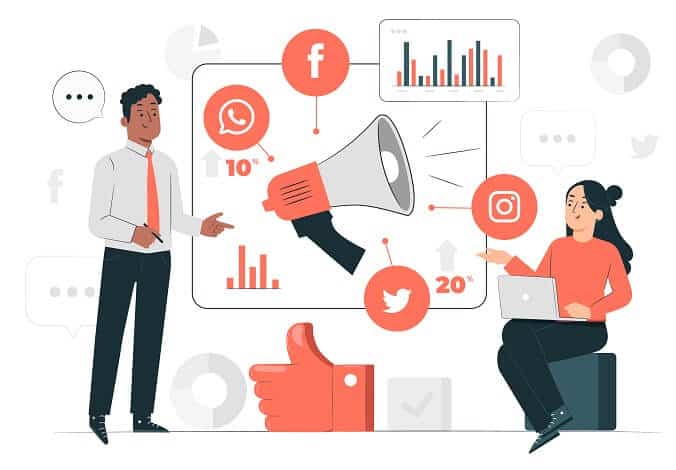 Social Media, especially Instagram, Facebook, LinkedIn and YouTube, now offer numerous opportunities to generate leads. Creating promotional content with a specific audience in mind allows businesses to achieve this goal. While LinkedIn remains the primary platform for B2B lead generation, it is not the only one.
Consider the small jewellery-making business on Instagram. These businesses are always looking for authentic suppliers that could help them cut their margins a bit.
These Suppliers selling products such as jewellery moulds, chains, clasps, clays, and other materials can create content targeting these businesses.
Social Media is a platform ruled by the people. The key is to be engaging and respectful when you display your services. Invest some time and money in social media research and identify what makes your target audience tick. Then creatively offer them services that they need.
Need help creating a social media presence for your business? View our social media agency in Mumbai page to know what we offer!
7. Retargeting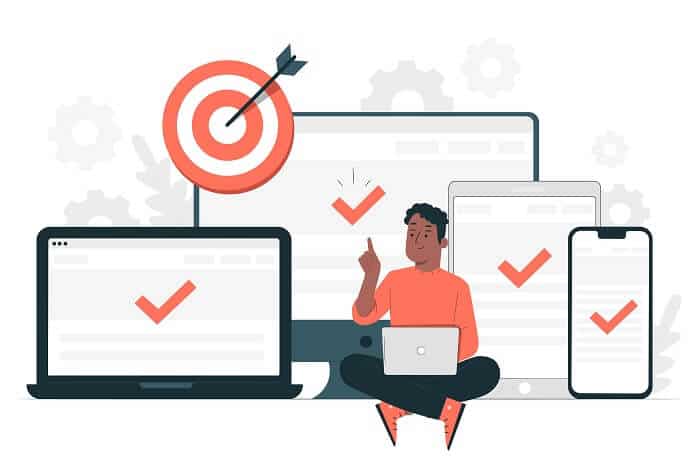 So far, we have seen six digital B2B lead generation strategies. These strategies ensure that visitors come across your business websites. While these B2B lead generation strategies may lead to higher conversion rates, not all visitors will be convinced the first time they see your name, either organically or through paid means.
Retargeting allows businesses the opportunity to capture these floundering interests by repeatedly targeting visitors who perform high-intent searches for the keywords targeted by your business.
These people are interested in procuring your services but might be unsure about their decision.
Retargeting ensures your brand is the first they think of when they finally decide to invest in your services. Social media and search engines are great platforms for retargeting.
8. Marketing Automation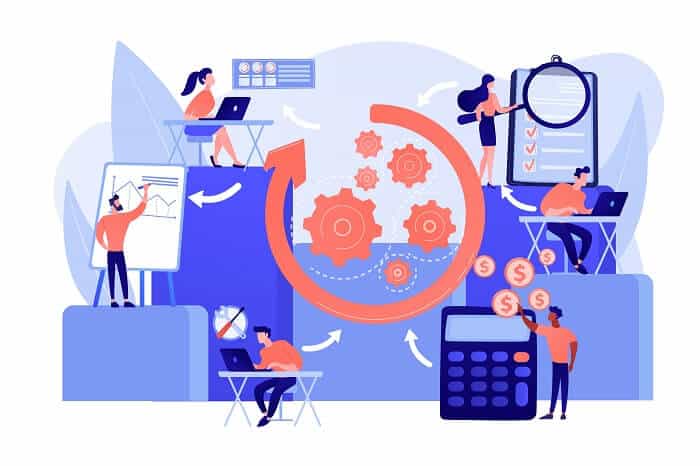 A marketing automation software can help you handle all your B2B digital marketing campaigns at each stage of the funnel, from setting up the campaign to tracking the results. However, not every business needs marketing automation.
Large-scale businesses typically have a dedicated marketing team that can handle all these tasks and may not need such tools.
On the other hand, start-ups and small businesses in their early days stand to benefit from marketing automation tools.
Before you invest in the marketing automation tool, you'll have to narrow down the B2B digital marketing strategies that borne results.
Keep in mind that marketing automation tools are not alternatives to proper digital marketing lead generation campaigns. They are tools that automate your established B2B lead generation process, saving your time and energy.
Once you have considered all these factors and determined the need for a marketing tool, you can invest in one of the following tools:
Which B2B Lead Generation Strategy Should You Pick?
SEO is a must if you intend to capture the interest of a client from the get-go. It helps build a client persona which can help businesses target the appropriate audience pool, consisting of businesses and entrepreneurs. Once you have built and implemented an intelligently crafted SEO campaign, it continues to work for you, passively achieving results.
For quicker results, businesses would have better luck relying on PPC and email m
PPC, SEO, and content marketing usually work in tandem to attract their target audience.
SEO and PPC use well-crafted content to appeal to their audiences.
Social media, on the other hand, offers a casual lead generation platform. It is a place where you can build entertaining content that speaks to your prospective clients.
With marketing automation, a business has to consider if the investment is required and worth the effort.