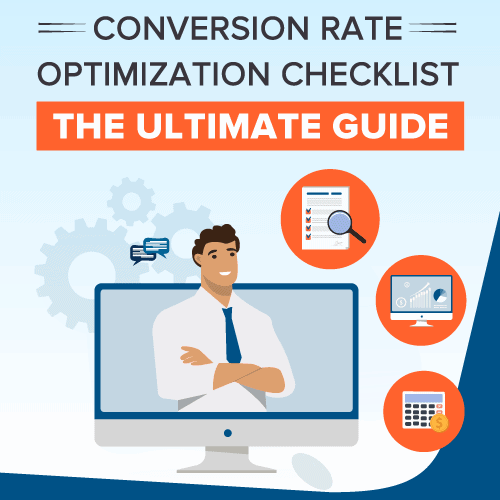 Conversion Rate Optimization is a methodical approach to making website visitors take a desired action, such as purchasing a product or signing up for a newsletter. The conversion rate optimization process includes an in-depth understanding of visitor behaviour. Businesses can gather insights and leverage such data to create a targeted CRO strategy.
Our CRO checklist focuses on the primary steps required to build a solid Conversion Rate Optimization campaign. Before we move on to those steps, let's understand why CRO is important.
Download: Click Here to Download The PDF of Conversion Rate Optimization Checklist (Infographic).

Want to share this on your site? Just copy the code below!
Conversion Rate Optimization Checklist
1. Importance of Conversion Rate Optimization
Higher conversion rates bring in more business. Often low conversion rates can be all that's standing between your business from reaching a success milestone. Marketing campaigns focusing on conversion rates are more powerful than those that forgo it. Therefore aiming for higher conversion rates will help your business save money on marketing campaigns.
According to Outgrow.co statistics, on average, businesses invest around 92 USD to acquire customers but only spend 1 USD to convert them. So, it shouldn't come as a surprise that only 22% of businesses are satisfied with the conversion rates on their investment.
This brings us to two common questions:
What is a good conversion rate?
Does your business or website need to be optimised for a higher conversion rate?
Conversion rates can vary from business to business. It also depends on the type of conversion campaign and the medium used. Higher conversion rates are always good for your business.
However, higher conversion rates should also lead to higher profits. It doesn't make sense to lower your prices and sell more products when you are taking a hit on your profits.
Consider the two studies. One focuses on conversion rates for online shopping, while the other brings us statistics about Google ads conversion rates.
Statista's 2022 study of online shopping conversion rates worldwide observed a 4.4% conversion rate for food & beverages as the highest. It was followed by Health & Beauty products with a 3.3% conversion rate. We have presented data from a Statista report to shed light on the current online shopping conversion rate for specific industries.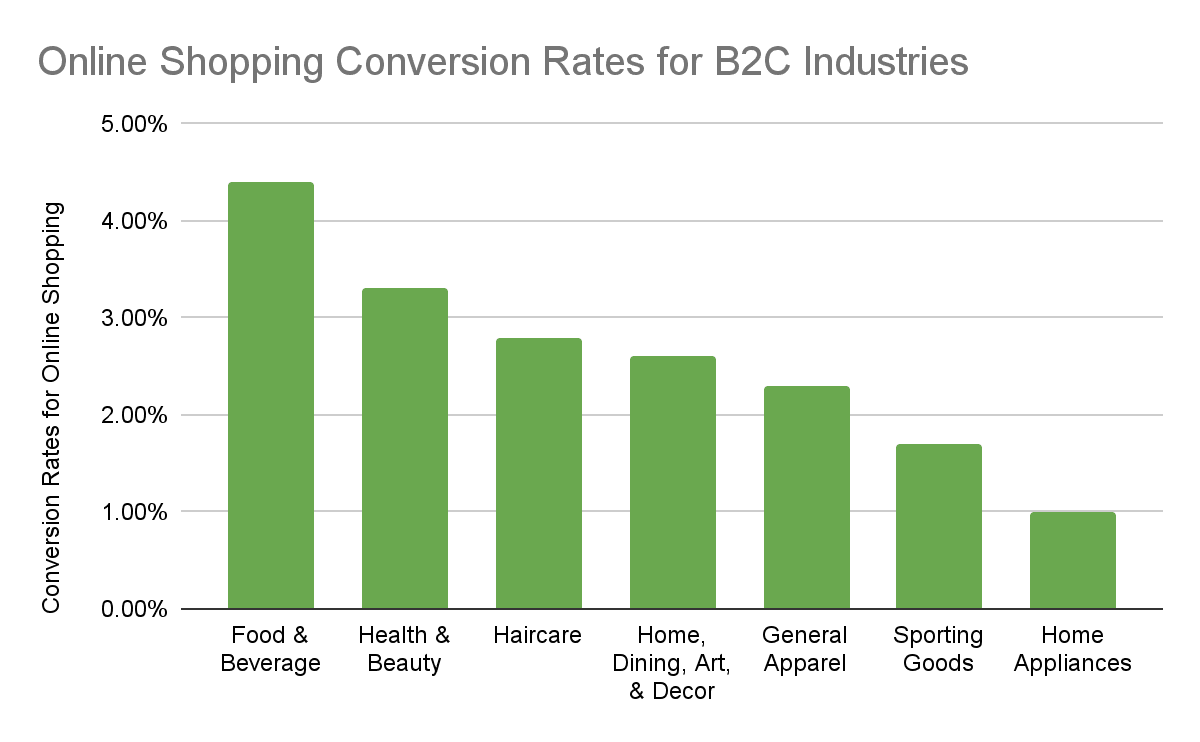 Now, let's see some Conversion rate statistics obtained from Google advertisements. Wordstream's 2022 statistic for Google Search Advertising Benchmarks gives us conversion rates for major industries. At 15%, the Google ads' average conversion rates are the highest for two industries: physicians & surgeons and animals at pets.
2. Calculating Conversion Rate
The formula for calculating conversion rate is pretty straightforward. You have to divide the number of conversions by the total number of website visitors and multiply the amount by 100 to get a percentage.
Number of Conversion
———————————X    100  =  Conversion Rate (%)
Number of Visitors
Suppose Fiesta Stationery Suppliers, a stationary provider, receives 200 visitors for June. In May, their online store sold around 30 products to different visitors.
We can use the Conversion Rate formula to determine the conversion rate for Fiesta Stationery Suppliers for June.
30
—— X 100 = 0.15 X 100 = 15%
200
Fiesta Stationery Suppliers' conversion rate for June is 15%.
There are a few other metrics that you have to consider while calculating conversion rates. Some of those metrics include:
Average session duration
Average page depth
Bounce rate
Exit rate
Click-through rate.
These metrics are just as essential for your CRO campaign.
3. Getting Started with Conversion Rate Optimization
1. Narrow down your business conversion objectives
Once you have calculated the conversion rate and made the decision to optimise it, it is time to figure out the current state of business conversion and your objectives for the future. In order to do that, you have to ask questions to help you determine these goals.
What are the business' current Conversion statistics?
Do you want to focus on the overall conversion or conversion for a particular product page?
What are the primary hurdles hindering your conversions?
What solutions do you need to fix these issues?
Do you see anything going wrong with these solutions?
2. Factor in the users' motive for visiting the website
After you have answered these questions, it's time to consider the users. These are the people who visit your website and can be converted into customers. Here are two questions to ask with your prospective customer in mind.
Why have these users visited your website? What do they want?
What do they think when they see your products?
4. Analysing Quantitative and Qualitative Data
1. Quantitative Data
Quantitative data is measurable and numerical information. It is crucial data that businesses can obtain with tools such as Google Analytics and session software. With analytics tools such as Google Analytics, you can focus on the major incoming traffic sources and monitor metrics such as bounce rate and conversion rate.
With the help of session software such as HotJar, we can see how website visitors interact with the web pages. These session tools present you with a heatmap of your website. This heatmap helps identify sections of the page ignored by the visitors. You can use this information to fix these issues, thereby improving your conversion rate.
Businesses should also consider segmentation data such as loyal customers, new customers vs returning customers, and the number of abandoned shopping carts.
Here's a list of quantitative data to collect:
Website bounce rate
Conversion rate
Number of most loyal customers
Number of abandoned shopping carts
Number of new customers
Number of returning customers
2. Qualitative Data
Where quantitative data can help you improve conversion, qualitative data can help you identify the issues with the conversion. It especially helps identify why visitors aren't converting. You can gather qualitative data through various means, including surveys, interviews, support tickets, and testing.
Invest some time in creating a survey, ensuring it covers all the necessary aspects. While surveys are great options to collect data for conversion rate optimization, you should also consider arranging a one-on-one conversation with your customers. These conversations could happen in person or through email or phone.
Basically, you gather qualitative data that helps you narrow down your target audience:
General demographic information
Biographic information
Customers' shared pain points
Common behaviour problems
Customer's goals
Customer's dreams and wishes
Suppose you own an electronics company. You can ask your loyal customers as well as new visitors questions such as:
What brought them to your website? Were they looking to purchase something?
Did they have a price range in mind? What did they like about your company?
What did they dislike about your company? What other electronic brands do they subscribe to?
After collecting the data, you have to put this data to work. Use the data to identify the issue in your current marketing campaign. Identify where it falls through and fix it to better deliver your users' needs.
5. Where Can You Implement CRO Strategies?
Your website offers numerous web pages and areas with great potential for CRO. We are sharing four high conversion areas where you can implement your CRO strategy:
Home Page: There's some truth to the saying that first impressions can last. A website's homepage is the first thing visitors see and therefore offers businesses an opportunity to convert these visitors.
Website Blog: While Blogs share a wealth of information with users, they have several other uses, such as offering numerous opportunities to insert a call-to-action, influencing people to sign up for newsletters with updates, informative ebooks, and discount coupons for products.
Pricing Page: The pricing page is visited by most prospective customers interested in a business's products or services. Offering visitors freebies and deals can build a rapport and also convince them to sign up.
Landing Pages: Since landing pages are usually created specifically for short-time events, they are designed to capture visitors' attention. Offering visitors free resources will invite them to join the event.
6. Conversion A/B Testing
In layman's terms, A/B testing is an experiment where two distinct variations of the same web page are compared to see which one converts more. These two pages are alternatively shown to a live audience to determine which one performs better.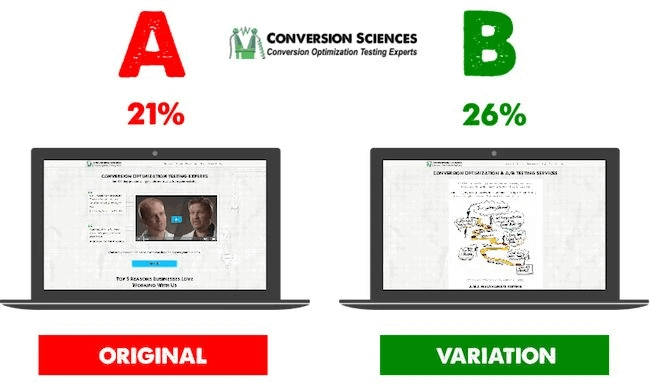 Image Reference: Conversion Sciences
In the above example, we compare two alternate versions of web pages. After calculating the conversion rates for both, it was found that the 2nd page had a higher conversion rate. And therefore, it passed the test.
You can use the data collected in the previous step to help you identify the problem web pages and fix them. Furthermore, you can also perform A/B testing on both your high-performing and worst-performing page to improve the conversion rate.
VII] CRO Strategies For Landing Page
According to Omnisend, landing pages have the highest conversion rate of 23%. So, we'll focus on how to improve the conversion of these landing pages:
When you create a copy, instead of telling your customer that your product does something, show them. Include a video of the product at work.
Here's an explainer video from Capsicum Mediaworks.
Being associated with reputed companies is better for conversion. It tells people that you run a professional firm. We have used this strategy on our home page, sharing the client we have worked with.

Make sure your headlines are relevant and offer value to the readers. Instead of immediately focusing on sales, in the beginning, you have spread awareness about your products and services.

Enrich your website with authoritative and easy-to-understand content. Write for your target audience. Your audience should be able to understand what they are reading.
8. Conversion Centric Website Design
Web design Company in Mumbai also plays a huge role in conversion. Let's see how you can refine the design for better conversion.
Include progress bars for your form submission. These motivate people to complete the signup. Many shopping portals use these in their order checkout process.
Here's an example from Valey Design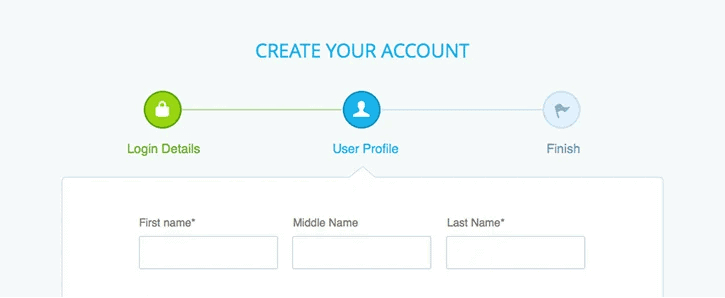 While progress bars are great for lengthy processes, email opt-ins or sign-up forms should be short. Design website forms that only require essential information. People do not have time to fill in every additional detail. So, consider eliminating a few unnecessary fields from the forms.
Here's an example of our short ebook downloads form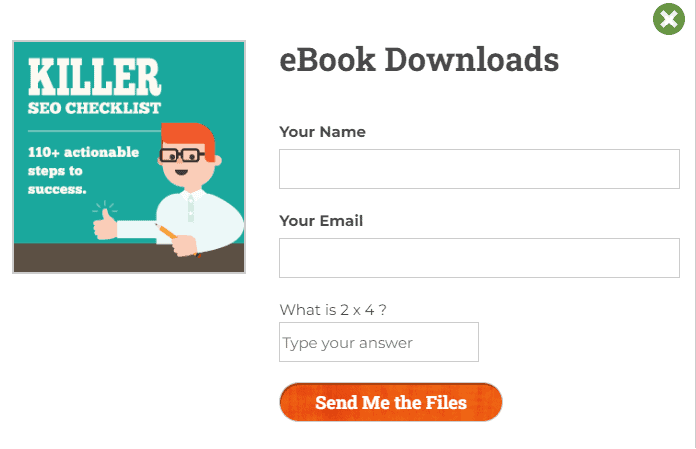 Businesses often overlook product captions and add the product name. In order to improve conversion rate, businesses can leverage image captions to convince visitors to procure their services and products.
9. Effective CTAs for High Conversion
First and foremost, a Call-to-action Button has a higher conversion rate compared to CTA Text and images. This aspect of CTA is often overlooked. Also, design a CTA button that stands out. Don't allow it to blend with your website.
Our Schedule A Call button on the top right side is instantly recognizable as CTA.
Many shopping portals use a clever conversion tactic to make it seem that they are running out of inventory. They let you know that only a few items are left.
They will also put a countdown timer on how long a deal will last. These add a certain urgency to the CTA.
It screams, 'hurry up, or you are going to lose the deal.' It is a great motivator for interested customers. It pushes them into purchasing the products.
10. Documentation
Our Conversion Rate Optimization Checklist includes steps where you have to gather data and run tests to identify the superior copy. Building a conversion rate optimization strategy with the help of this checklist should help you improve your conversion goals.
However, in time, a month or two down the road, you'll need to revamp the strategy for your updated websites and products. Furthermore, upgrading CRO strategies also ensures that visitors aren't bored of landing on the same page.
You'll need to document the data and a/b test results to create a better conversion rate optimization strategy for your future campaigns.
11. Ways to Boost Website Conversion Rates
We are sharing a few additional conversion rate optimization techniques that can boost your website's conversion rates, especially for eCommerce store owners.
Free shipping is a must for online stores. It is expected by the customers. Businesses can cover the shipping charges in the product prices. However, avoid pricing the product too much. Customers are always on the lookout for affordable alternatives.
The shopping cart should always be visible. Otherwise, users will be unable to find it.
Improve your conversion rates with shopping cart abandonment software. This software sends an email notification to customers who have abandoned items that are now just sitting in their shopping carts.
Be available to answer your customers' queries. Offer 24/7 assistance using chatbots or live chat software.
Add proper and easy navigation to your website. Your customers shouldn't struggle to perform simple activities.
Include filters that allow users to sort through your products to easily find what they need.
Nowadays, all websites want people to register, which can put people off, making them leave your website without making a purchase. Allow people to buy products without registration. Only collect names and email addresses.
How Can CRO Improve SEO?
CRO works in tandem with SEO. As you go through this conversion rate optimization checklist, you'll come across several factors that are essential for SEO checklist.
It includes factors such as determining a target audience, user-friendly website design, authoritative content, and effective CTAs.
With SEO agency in Mumbai, the goal is to bring in more traffic to the websites. With CRO, the objective is to convert that steady stream of traffic into returning customers. Businesses usually aim at a higher conversion rate. So, a well-researched CRO campaign can help boost these conversion rates.