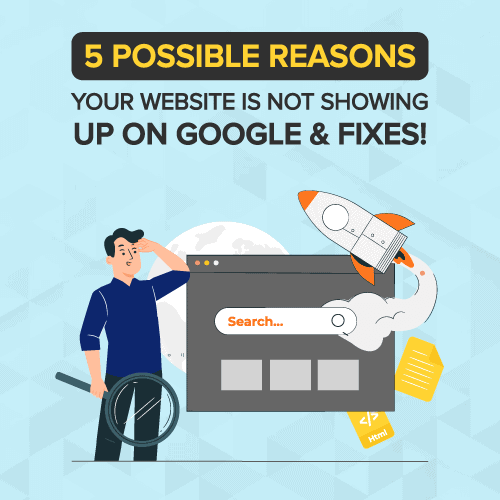 "Why is my website not showing up on Google?"It's a common question many of us ask ourselves when we search for our keywords, and our website is nowhere to be seen in the search results.
While this is a problem faced by many website owners, finding the cause can get a little overwhelming.
There could be more than one reason for this issue.
First one being your website is yet to be properly optimised, or it might have technical issues making it hard to find.
It's also possible that your content isn't resonating with search engine algorithms, leaving your site unnoticed by potential visitors. Fortunately, there are several ways to fix the issue and get your website up to the top of the search results.
To help you better understand why your website isn't showing up on Google, we'll start with a little overview.
Reasons Your Website Is Not Showing Up On Google
A] Why Does the Search Ranking Matter?
Search ranking is important because it determines how visible your website or content is in search engine results. Imagine you're searching for "best gyms near me" on Google or any other search engine and see a list of results appear.
The question is, how often do you click beyond the first page of those results? Chances are, not very often. That's where search ranking comes into play. Websites that appear higher in the search results are more likely to get clicked on, receive organic traffic, and attract potential customers.
So, if your website ranks lower, it gets found by lesser people online. On the other hand, higher search rankings mean greater visibility, increased brand exposure, and ultimately, more opportunities to connect with your target audience. To ensure that your website shows in the top search results, you may want to cross-check these factors:
I: Google knows your website is live and available for indexing.
II: You have a real page with relevant content, including the keywords you want to rank for.
III: You make sure that Google knows your page must be ranked better than your competitors for a certain query.
However, these factors are just the tip of the iceberg. Check out the reasons mentioned below to know what is stopping your website from showing up on Google.
B] 5 Reasons For Your Website Not Showing Up On Google
Getting your website to show up on Google may take some time and effort, but once you do, you may start seeing the results. Read on to know what is keeping your Google from reflecting your websites in the SERPs:
1. You have a relatively new website
Google may take some time to find new websites and pages. So, if you've only recently established your website or page, the most likely reason it's not appearing in search results is that Google hasn't noticed it yet. To see if Google has found your website or page, type the following into Google: site:yourwebsite.com.
If you get even one result, it implies Google is aware of your site. The absence of results indicates that Google has not yet indexed the requested page or site.
2. Google cannot crawl your website
Another reason why your website isn't showing on Google is because the search engine bots haven't crawled your website. To solve this problem, you can use a A "robots.txt" file. A "robots.txt" file indicates to search engines which pages they should avoid crawling. It's on every website. The purpose of this "robots.txt" file is to prevent Google from accessing any of the URLs of your website specified by you.
Problems with your "robots.txt" file can be flagged in Google Search Console as a part of your SEO Audit. To fix this, go to your Coverage report and search for "submitted URL blocks by "robots.txt."
3. A 'noindex' meta tag might be blocking search engines
The "noindex" element does what its name suggests: it prohibits search engines from indexing your website's content.Meta tags like meta name= "robots" content= "noindex"/> are common.
Well, this tag is commonly used by web developers to block Google from indexing a website while it is still under construction. Sometimes they neglect to take out the code, and it is likely that it is what is obstructing the search engines to make your website appear on the search engines.
4. Google might have penalized your website (AKA you've been hit!)
Google updates its algorithms quite often and all websites are supposed to comply with them. However, many changes can go unannounced that it is difficult to know whether your website is or is not adhering to a particular update. As a result, Google may pose a penalty on your website. To find whether your website is showing up on Google, try searching for "site:yourdomain.com".  If it is no longer showing up in the results where it once did, chances are it has been penalised.
It is also important to know that it is more likely for websites to suffer penalties when they engage in undesirable practices like link spamming, content scraping, or being hacked. If you fix the problem, Google usually removes the penalty, but if it's a major one, like link spam, you may have to start all over again.
5. You are using the wrong and highly competitive keywords
When trying to get high rankings in highly competitive search results,  it can be difficult for small businesses to compete against more well-known companies in the digital area. The truth is that your website has a fair chance of making it to the top of search results with long-tail keywords even though they have lower monthly search volumes. These keywords are often used in SEO Checklist by those with a more narrow focus when conducting a search.
With a broad search phrase like "chocolate", for instance, it's not easy to narrow down on the particular item the user has in mind. What kind of chocolate are they looking for? Do they want a specific brand? Are they searching for a type? These types of queries are often overlooked when it comes to short-tail keywords. The opposite is true for the long-tail phrase "buy dark chocolate", which indicates an intent to buy.
C] How To Get Your Website To Show Up On Google
Every website owner wants one thing – and it's their website to show up on the top page Google. To do this, you must check all the boxes on your SEO checklist in order to increase your search rating. Take a look at some of the methods to make your website show up on the SERPs:
1. Conduct a thorough SEO Audit
An SEO audit is like diagnosing your website – it reveals where your website is performing exceptionally well and where it needs improvement. Typically, an SEO audit includes:
Technical optimisation: ensures that your website runs properly and without technical issues.
'On site' optimisation: how the visible elements of the page (text and images) perform.
'Off site' optimisation: how link building and other off-site operations can be enhanced.
Keyword check: potential keyword gaps hampering your ranking.
2. Robust Keyword Strategy
Your keyword strategy can make or break your business. To help you in this, there are a myriad of keyword research tools that reveal their difficulty scores ranging from 0 to 100. Keyword difficulty score is a metric for assessing a specific keyword's ability to rank well on Google SERPs for a search query and it is relative for every business. We'll explain how.
Dark chocolate is a low-competition keyword if you have a brand like Cadbury since it has the authority and brand equity to rank for it. On the other hand, if you own a small bakery,dark chocolate becomes a tough term to rank for because you're not competing with the major companies that dominate the SERP.
Does this indicate that less authoritative and newer businesses can't outrank their bigger rivals? Not necessarily, but it'll just be more difficult, so try to be mindful of the low-difficulty keywords in your keyword strategy. For this, you can use Google Keyword Planner to identify popular search terms and their level of competition. This may eventually solve your problem of your website not showing in google search.
3. Meta Tags
Meta-tags are like secret codes that visitors cannot see, but search engine 'bots' can recognise them while crawling a page. These elements play a vital role in your SEO strategy, and can help your website to appear on search engines.
Simply put, Meta-tags are text snippets that explain the content of a page; you could call them data about data. They essentially inform search engines like Google about the content of a specific page.Meta tags are simple to implement; with a little HTML expertise, you can do it yourself.
4. 'Google My Business' Site Listing
Many underestimate Google My Business, but it is a goldmine for your online presence. Listing your website on Google My Business can not only help your website to show up but also improve your monthly traffic.
Google My Business is an essential local SEO tool, particularly for traditional businesses. You can easily use this tool to leverage your Business Profile by communicating with your consumers via reviews, queries, direct messaging, and other means.
5. Integrate relevant content
SEO and content go hand-in-hand. While prioritising your SEO strategy is a must, it is important to note that you cannot succeed if your content is not unique. For instance, if your content is full of jargon or doesn't motivate your readers to take action, it is high time that you focus on your content strategy as well.
Google is the people's search engine. It emulates human behaviour and constantly looks for websites that promote in-depth, relevant content. Following its E-E-A-T (Experience, Expertise, Authoritativeness & Trust) update can help you generate fresh, engaging content that matches your search intent.
D] How Soon Can Your Website Show Up on Google?
Usually, Google takes between 4 days and 4 weeks to crawl and index a brand new website. However, this is not the exact time frame taken by Google, and many other website owners claim to get their websites indexed in less than four days.
Google is a search engine that runs on algorithms. It could have taken less time, you may think. But the complexity arises on the nature and type of the website it is about to index.
So, the average time frame of 4 days to 1 month for all websites. Other factors like your SEO practices and website's age might cause Google bots to crawl your website, thus, impacting the speed of indexing.
E] Improve Your Ranking on Google With Proven SEO Strategies!
Still struggling to get your website to show up on Google? Leave it to an expert SEO Company in Mumbai. Capsicum MediaWorks is a full-service agency that specialises in SEO (so you don't have to!).
We've helped countless brands skyrocket their rankings through our proven white-hat SEO techniques. Explore our SEO packages in Mumbai to get a detailed view of our personalised SEO services.
F] FAQs