A] How Important is Content Length?
While the debate about ideal blog post length is fierce amongst most marketers, one can't argue with the fact that longer content, more often than not, correlates with higher search rankings.
Google values quality long form content that is relevant and backed by enough research and so it wouldn't be wrong to say that the chances of long form content ranking on the top of the search result are pretty high when compared to short form content.
There are also many studies done that corroborates this fact, listed below are few;
However, in most of these studies, you'll notice that the optimum blog post length varies – from some stating that the length of blog posts should be 1,800 words to those who support that writing a 2,000+ words blog post is a right choice.
These, however, still don't answer the question as to how long should a blog be or the ideal average length of blog post that one should focus on. As such, to help solve this dilemma, here's a graph on the comprehensive research that shows the average Content Length of Google's top 10 organic positions.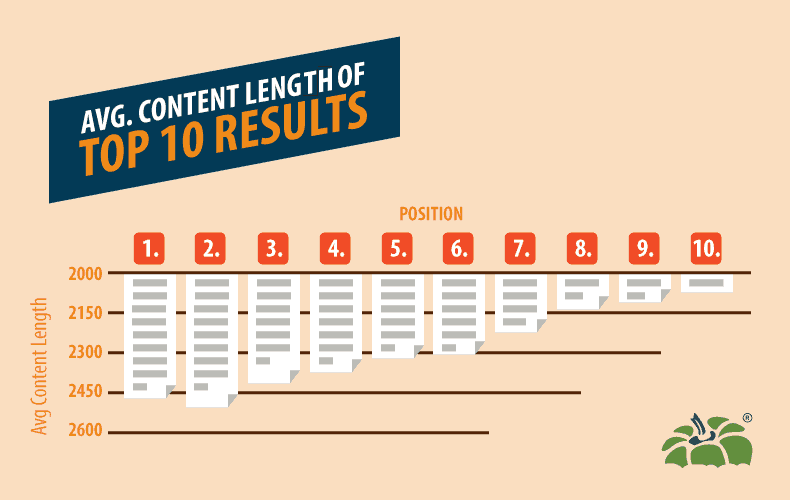 As you can clearly see, not one result of the analysis shows a content length below 2,000 words.
First position comprises of 2,400+ words
2,300+ for the 5th position
10th result has 2,000+ words
As such, backed by this data, we can safely say that the ideal average blog post length or the optimal blog post length can be anywhere from 2,000-2,500+ words.
However, one should take note that this data by no means says that Google ranks a page solely on the word-count. There are various other SEO factors that you need to get right, in order to rank on the top search result. Longer content is just one such factor that will take you a step further in this endeavour.
Just like the analysis for average blog post length, an analysis was done to check whether Content Length correlates with Domain Age. The findings of which you can read below.
Average Content Length by Domain Age
While well-established older domain names definitely have an edge over the newly registered domain, it doesn't, however, mean that it is given any special preference by Google in SERPs. This fact is corroborated by Google's Matt Cutts in one of his older videos, wherein, he addresses the same issue and states that; 'The difference between a site (domain) that's six months old v/s a one-year-old site (domain) is minimal.' Thus, while Google may use domain age to rank pages, it is quite often negligible.
Now to answer the question does Content Length correlates with Domain Age, here is what was found;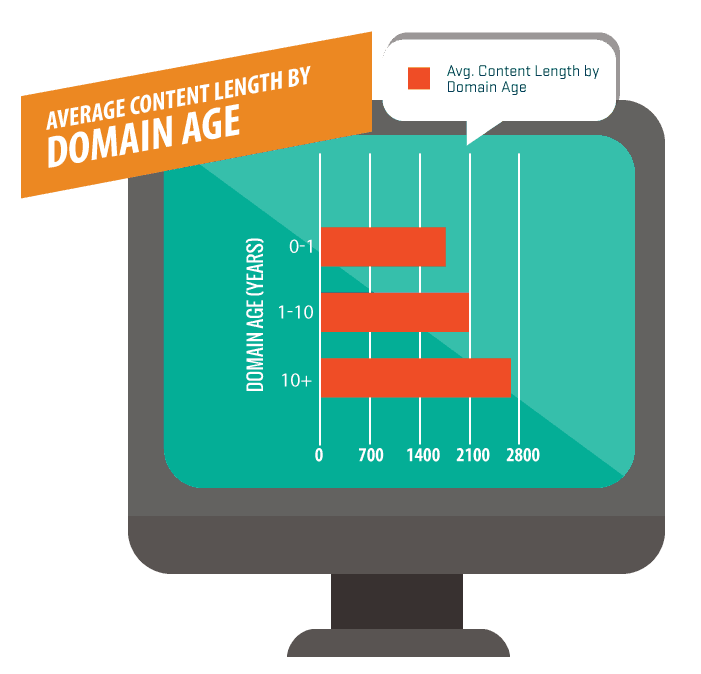 As you can see, older domains (10+) have an average content length of about 2,700+ words, while domains between 1-10 years have 2,100 words, followed by new domains (less than a year) which have less than 1,800 words.
So, this proves that there is definitely a correlation between Domain Age and Content Length. It is, however, important to note that there is a possibility that newer domains can outrank older domains by creating high-quality and relevant content alongside building natural backlinks. This would help new domains (sites) rank their pages higher, especially, if the older domains have not recently added any links or content on their website.
B] Long Form vs Short Form Content: Understanding The Basics
While the above analytical research clearly states that long form content is more effective than short form content, it is nonetheless important to note that this may not strictly apply to all niches. There are some niches, apart from online marketing, where short form content still rules. Thus, in the long form vs short form content debate, choosing between the two is entirely up to your marketing needs.
1. What Is Long Form Content?
Blog posts with an average word-count of 2,000 to 2,500+ words are typically considered as 'long form content'. Long form content is data-driven and insightful and is optimised with LSI keywords and phrases that help you rank better in the search result. This type of content includes statistics, videos, graphs, pictures etc and long form content examples are eBooks, Case studies, Listicles, and white paper.
Later in this guide, we'll discuss more about the advantages of long form content. We'll also learn more about the different content types and the ideal word count for each type, however, before that, we need to understand the basics of short form content.
2. What Is Short Form Content?
Articles with an average word-count of 500-1,000 or less are known as 'short form content'. Short form content is simple posts or articles. This type of content is intended for quick consumption and includes things like social media posts, short infographics, guest posts, Vine videos, Instagram photos and short blog posts, catering to readers with limited time and attention spans. Short form content is often concise, to the point, and laden with impactful messages.
Short form content is especially beneficial, if you are trying to reach a broad audience. While it is relatively inexpensive and less time consuming to create short form content, it doesn't provide any long-term SEO benefit.  In contrast, creating long form content can be hard, but it offers you a host of SEO benefits such as more backlinks, stronger brand signals, increased dwell time, better audience engagement etc.
You also have to note that short form content lacks the depth and value offered by long form content, making it difficult to effectively convey complex topics.
Long form content also performs well in the search result, as stated above, which can help you build your brand as well as increase its ranking. Plus, most long form articles are evergreen content that provides steady conversion over a period of time, long after its initial publication.
C] Different Types of Content Formats And Ideal Word Count For Each
As mentioned earlier in our post, deciding what content format you want to base your long form article on is important. Thus, mentioned below are a few of the popular content formats and their content frameworks that you can make use of when creating a long form blog post on your website.
1. GUIDES
Guides are an in-depth piece of content that provides a comprehensive overview of a particular topic. These include – beginners guide, ultimate guide, advanced guide, definitive guide and so on. This is an excellent format to write long form content as guides go beyond regular articles and can be provided as a free downloadable PDF, which can help you grow your email list.
Types Of Content Framework You Can Use:
Three major content frameworks for writing guides include;
What Is The Ideal Word Count For Guides?
For this we have to keep in mind that there are two types of guides, the first one is a shorter long-form guide with content length falling between 2000 to 5000 words. These shorter long-form guides are meant to be lead magnet, easier and quicker to read.
In contrast, longer long-form guides tend to be actual products that owners can sell online. These are very highly researched, detailed, and offer valuable insights. These longer long form guides typically cover between 5000 to 10000 words.
2. INFOGRAPHICS
Infographics are the most trending content format online. According to Unbounce, there has been an 800% increase in searches on Google for infographics in just the last two years. This stats is reason enough why you should consider creating an Infographic for your long form article.

As a means through which you can present information and data in a visual way that is easy to comprehend, infographics receive more social shares compared to other content formats. Also, since they are visually more appealing, the chances of an infographic going viral is quite high.
Types Of Content Framework You Can Use:
The two common types of Infographic that are widely used are – Gifographics and regular Infographics. Based on your content requirement, you can pick and use any one of these content frameworks.
What Is The Ideal Word Count For Infographics?
An infographic is often categorised as short form content as it typically has low word count. In an infographic, the visual elements tend to be the key focus, the words in an infographic should support and direct the reader towards the infographic. So, the ideal length of an infographic should be between 200 to 400 words.
3. ROUNDUPS
Another great content format to make use of are Roundups. Here, all you need to do is research and find the best content related to a specific niche and compile these resources to create a blog post.
Like this;
The Ultimate Guide: 101+ Kick-Ass 'Internet Marketing Guides' Roundup for 2023
By doing this, you are providing all the best resources at one place thus saving your audience time, which, in turn, will help you garner more traffic.
Types of Content Framework You Can Use:
You can do a weekly, monthly or yearly Roundup or you could create an Expert Roundup post on a specific topic like this;
What Is The Ideal Word Count For Roundups?
We are highly experienced in publishing expert Roundups and can say that Roundup is a type of content where content length is not as valuable as the experts who'll be providing answers to the questions. So, even if it is 1000-2000 words content sharing answers from experts in the respective field, the Roundup is highly valuable. However, based on our own findings, the ideal length of Roundups should be over 2000 words.
The more experts that answer, the higher the word count, better the quality of your Roundup. If someone else has done a Roundup with 2000 words with 30 experts, and yours is 7000+ words with better experts and also more experts, your roundup is already providing high value to the readers.
4. VIDEOS
The number of ways you can make use of a video to showcase your content is innumerable. When done well, a video can help improve visibility in the search result as well as boost traffic and sales. Moreover, here are some statistics on YouTube that throws light on how effective a video can be when it comes to content marketing.
Types of Content Framework You Can Use:
From How-to videos and explainer videos to whiteboard animation, tutorials, vlogs and more. There are plenty of content frameworks for videos that you can use as per your content needs.
Also, if you are looking for an explainer video company in Mumbai then we, at Capsicum Mediaworks, can help you create a compelling & engaging explainer and whiteboard animation video for your business website.
What Is The Ideal Word Count For Videos?
Video scripts are a completely different area, like infographics are more focused on visual content. However, the word count for videos can be quantified by minutes. Suppose you are creating a 1 minute video, it should have around 160 words. So, if you want to calculate the ideal word count, divide the length of your video (minutes) by 160 words.
5. EBOOKS
One of the best ways to break up long blog posts into digestible chunks is creating an eBook. With an eBook, you can offer information in a chapter-wise format making it quick and easy to read. eBooks can also help you establish your authority as an expert in your niche industry. Additionally, since an eBook usually comes in a PDF format, it can be a great lead magnet that can help you increase your email subscribers list.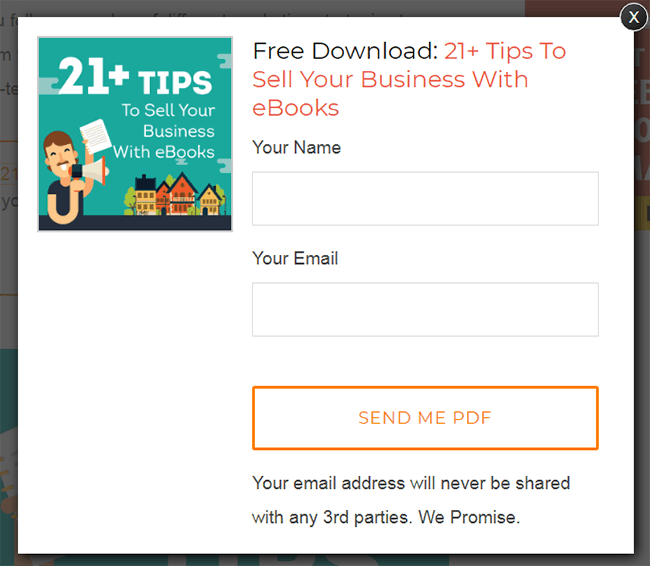 Source: Bigrockcoupon.in
An eBook is also a great content format when it comes to repurposing your older content in order to garner new traffic. Plus, once you've created an eBook, you can follow these amazing eBook marketing tips to boost conversions.
What Is The Ideal Word Count For Ebooks?
Since we are discussing marketing ebooks, which are often considered lead magnets, the ideal word count for ebooks should be around 2000 to 6000 words. The important thing to note is that you have to keep the information concise and crisp, ensuring that the reader is able to quickly access the information they need.
6. CASE STUDIES
A case study is a factual representation of a customer's experience after purchasing a product or a service. It is a step-by-step process that shows you how a particular goal was achieved and the results that followed. In short, the case study explains 'what was done, how it was done and the result of the experiment'.
Something like this that was created by NinjaOutreach;
How To Boost Organic Traffic By 40% | Internal Linking Case Study.
Here are some case studies published by Capsicum Mediaworks;
More often than not, case studies are the best resources as they provide actual results. Thus, this is yet another content format that can be used to create a long blog post.
What Is The Ideal Word Count For Case Studies?
Case studies are result-oriented and therefore generally shorter. The ideal word count for a case study is around 500-1500 words. It could also be shorter, around 350-500 words.
7. LIST POSTS
The most engaging and effective type of content format used by most marketers, List posts are a great way to capture your audience's attention. This is the easiest content format that you can work with and you can create a list post for just about anything.
Like this; 31 Ways To Promote Your Blog Posts & Get Blog Traffic
Types of Content Framework You Can Use:
One of the best content frameworks you can use for list posts is Expanded List Post (ELP). Made famous by Brian Dean, with ELP you create a master list of all the best practices available online such as – 101+ Actionable Blogging Tips, Tools and Shortcuts – and then offer a brief summary under each point.
By doing this, you are providing a brief overview to your audience of all the best practices out there for a specific topic. Plus, you are able to rank on the top search result for targeted keywords.
What Is The Ideal Word Count For List Posts?
The length of the list posts or listicles may vary based on the publisher's preferences. However, typically, the average word count for list posts is around 1500-2600 words.
8. RESEARCH & ORIGINAL DATA
According to the survey report by Social Media Examiner, 58% of marketers said, 'original written content' is the most important type of content, outdoing visuals and videos'.
Research and original data are one of the best content formats that will help you garner traffic, boost ranking as well as help you establish authority in your niche industry. An original data-driven post is also likely to generate more social shares. In addition, when your readers look at the effort that you have put into creating a researched based blog post, it helps build trust leading to a higher conversion.
These were the top content formats that you can use when creating long form articles. To know more about these in detail and for other such content types, check out this blog post by QuickSprout – 15 Types of Content That Will Drive You More Traffic.
What Is The Ideal Word Count For Highly Researched Blog Posts With Original Data?
Research driven, original long form blog posts should have an ideal word count over 2000 words.
D] How Does Content Length Affect SEO?
1. Longer Content Earns More Backlinks
The more in-depth your article is, the higher its chances of earning quality backlinks. Since marketers are always on the lookout for a comprehensive piece of content that they can link to in order to provide a better resource to their audience, a longer piece of content (2,000+ word-count) is likely to garner more backlinks then a short form content (500-1,000 word-count).
For instance, which of the following content would you rather link to?
Article 1: Top 10 Reasons Why WordPress Is the Best CMS
Article 2: 101+ Logical Reasons Why WordPress Is The (BEST CMS) In 2023
Of Course Article 2!
Long form content not only helps to effectively grab the attention of your target audience but it also helps to make your content more shareable as well as linkable.
This theory is supported by this research done by Hubspot, wherein they have found a direct correlation between content length and more backlinks.
Here's the graph;
Source: Blog.Hubspot.com
As you can see, articles with over 2,500 word-count have earned the most number of links compared to short-form content.
Long form articles also give you the opportunity for more internal link building. This helps pass the link juice to other web pages. Additionally, since all information is gathered in one place, a visitor doesn't need to leave your site to conduct separate searches on the same topic, which, in turn, leads to them spending more time on your website resulting in a higher dwell time.
2. Longer Content Gets More Social Shares
Another SEO benefit one can obtain via long form content is more social shares. Longer content, as mentioned above, attracts more audience as it provides them greater value. Thus, if the content is engaging and informative then a visitor is likely to share your content with others (friends, colleagues and networks), thus getting you more social shares.
To put things into perspective, here is a study done by BuzzSumo which clearly shows that long form content gets more social shares than short form content.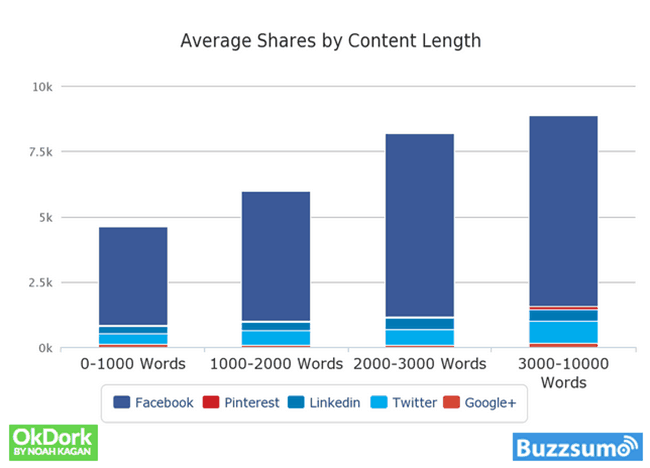 Source: Okdork.com
When it comes to triumphing the social media platform, longer content can help you stand out from your competitors. Also, long form articles help increase user engagement which results in improved click-through-rate.
3. It Provides Long-term SEO Value (Evergreen Content)
For the uninitiated, Evergreen content is a piece of content that is not time-sensitive and remains relevant long after it is first published. This type of content garners more traffic and attracts new readers over a long period of time.
To give you an example, here is an evergreen blog post – Killer WordPress Checklist: 101+ Easy Steps to Launch A Website in 2023 created by Capsicum Mediaworks that still drives traffic, leads and social shares.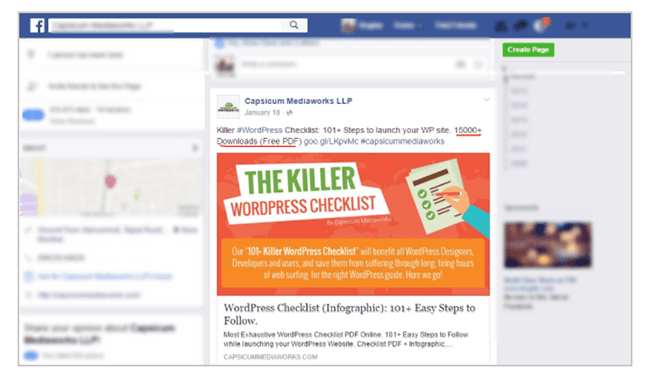 This type of long form content provides long-term SEO value and its advantages far outweigh that of a shorter content. Also, various analytic reports indicate that Evergreen blog posts, when kept up-to-date and fresh, help drive organic traffic and ranking over time.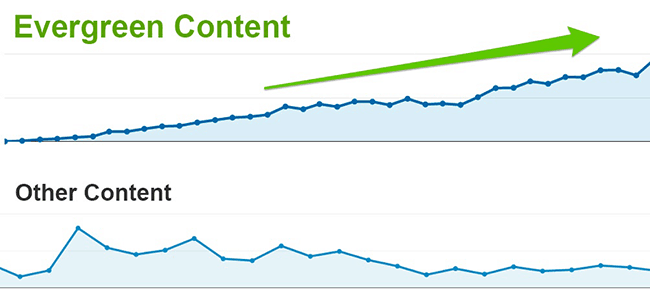 Source: Cognitiveseo.com
You can find good examples of Evergreen Content with the help of the BuzzSumo tool that recently added a new Evergreen Score Filter. You can also read this blog post by CognitiveSEO that has listed the evergreen content ideas that help boost organic traffic.
4. Long Form Content Create Stronger Brand Signals
One of the reasons why top websites like The Moz Blog, HubSpot, and Content Marketing Institute are considered strong authority figures in the digital marketing space is because they provide their audience comprehensive content that is in-depth, research-based and more often than not, comprises of original data.
Producing long form content is one of the key elements that are common to all these high-authority sites and as such, this has helped them develop stronger brand signals over time in the industry. Most of these websites usually cover a whole topic in its entirety which has helped establish them as knowledgeable experts, increasing their brand credibility.
5. Google's RankBrain Rewards Long Form Content
What is Google RankBrain?
Considered a significant ranking factor by Google, RankBrain is a machine learning (AI) algorithm that helps Google sort search results. It makes it easier for Google to understand long and complex search queries, thus enabling it to provide relevant results to users.
RankBrain uses co-occurrence, as stated by Steve Baldwin of Didit.com, to deliver the most relevant results to users. Co-occurrence, to put it simply, is the frequency with which related search terms appear in a given piece of content.
For example, if a user searches for blog posts on 'increasing click-through rate using SEO' then Google, with the help from RankBrain, will deliver results that contain similar terms (organic click-through rate, search click-through rate) and provide it as part of the user's query.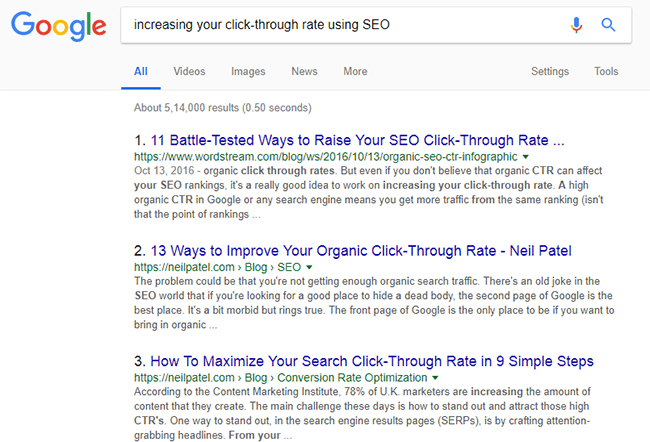 As such, when you write long form content, you are invariably using a lot of LSI keywords and phrases. This helps RankBrain to easily interpret what your content topic is about, which, in turn, ensures that your content ranks better on the search result for targeted keywords.
6. Long Form Content Helps Increase Dwell Time
Measured as the amount of time a user spends on a site before returning to the SERPs, Dwell time is another metric that affects your search ranking. This metric is measured by RankBrain when ranking your web pages. Thus, creating authoritative long form content is one of the key elements that can help you increase your site's Dwell time.
As mentioned above, long form articles make available all information related to a specific topic in one place. This ensures that a user doesn't have to seek out other similar resources, leading them to spend more time on your site. And this, in turn, ultimately increases your site's dwell time, providing SEO benefits like lower bounce rate and a higher ranking on SERPs.
7. Longer Content Helps Boost Click-Through Rate
A higher click-through rate is an indirect SEO benefit of long form content. Click-through rate is mainly influenced by optimised meta titles and meta descriptions. Thus, when you write longer articles, you are able to create descriptive meta tags with long tail keywords, which leads to better positioning on SERPs and attracts more eyeballs.
Also, since Meta tags appear directly in the search result, if it is engaging enough, it will help captivate your audience's attention leading to more visitors clicking-through and landing on your page. In addition, when more visitors read your awesome content, it leads to more social shares, backlinks and increase in dwell time.
8. Long Form Content Helps Boost Audience Engagement
Long form content can also help to engage your audience. When you create a well-structured long form article that includes research-based data, graphs, relevant images etc, it helps engender trust in readers leading to increased engagement and more social shares and conversions.
For example, in order to increase their on-page time and user engagement, WordStream incorporated long form content on their blog and this is what they discovered.

Source: Wordstream
As you can see in the above graph, by making use of long form content, they were able to increase their average on-page time from 1:35 to 4:33 with their most popular article for 2013 – Find Your Old Tweets: How to See Your First (Worst?) Tweet, having a word count of over 2,300 words.
This clearly shows that as a type of content that provides a detailed answer to any specific topic, long form articles help engage your audience interest for a longer period. And this, in turn, helps increase your site's dwell time and ultimately your search rankings.
9. Longer Content Helps Increase Email Subscribers
Long form content also helps grow your email list. How?
Well, most marketers when they write long form articles provide content upgrades in the form of PDF, infographic, cheat sheet etc that the visitors can download and use it for future reference.
Like this;
Download: Click Here to Download the PDF on How Content Length Affects SEO and Conversions and to know the Benefits that one can obtain by writing Long Form articles.
This helps them garner more leads, as users are willing to download a free resource if it is valuable in exchange for their emails. As such, by writing long form articles, you would be able to increase your list of email subscribers 10X faster.
To help corroborate this theory, here is how by offering a content upgrade Brian Dean was able to instantly increase the conversion rate of one of its blog posts – Google's 200 Ranking Factors: The Complete List – from .54%. to 4.82% which is a 785% increase in conversion.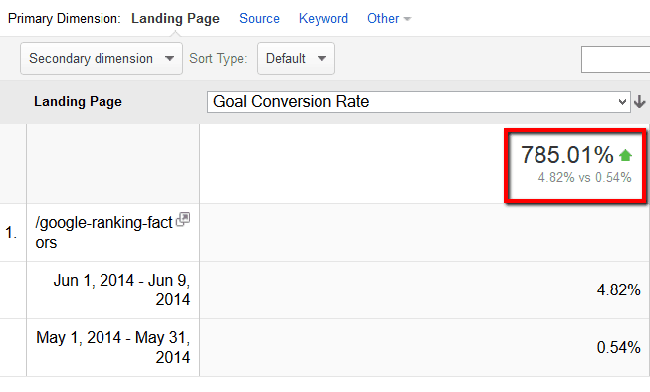 Source: Backlinko
Thus, if you want to increase email subscribers then creating long form content is the way forward.
10. Long Form Content Reduces Bounce Rate
When you combine all the SEO benefits that one can obtain from long form content – increase audience engagement, more backlinks, boosts in dwell time, increase in click-through rate, – it ultimately converts into lower bounce rate, which helps boost your SEO campaign.
One of the reasons for a higher bounce rate is poor quality content. When you create a longer piece of content, you are able to keep your visitors engaged for a longer time, as it provides them insightful information about a given topic without having to toggle back-and-forth on SERPs looking for similar resources and this helps reduce bounce rate. Thus, this is yet another valuable SEO benefits that you can obtain by writing long form articles.
Also, one of the other ways to reduce bounce rate is to make use of the best web hosting in India, which can help enhance customer experience.
E] How Does Content Length Affect Conversions?
1. Longer Content Helps Generate Valuable Leads
A study conducted by Neil Patel shows that 94% of B2B marketers make use of content marketing in order to drive more leads and increase click-through rates.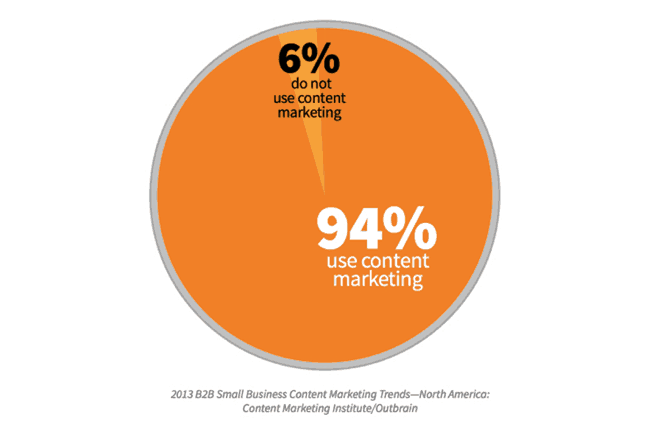 Source: Neilpatel.com
Thus, with the competition being so fierce, to stand out from your competitors you need to create EPIC content that resonates with your audience and this is where long form content can be a great help.
As seen from the above studies and observations, any type of content that contains less than 2,000 words is least likely to be ranked at the top of the search result. As such, by creating in-depth, data-driven content you will be able to position yourself better in the search result, leading to increased click-through rate, which will garner more valuable leads.
2. Long Form Content Drives More Referral Traffic
Most long form articles are evergreen content that provides great value to readers over time. Such type of content attracts more backlinks as well as garner more social shares and this helps drive more referral traffic from different sources.
High-quality long form content is one of the key elements that drive more referral traffic to your site. Also, since it opens up other avenues of networking such as via Guest blogging, it can further improve the visibility of your content, driving more search traffic and helping you build more natural links for your website.
3. Long Form Content Has the Ability To Go Viral
As we have clearly established above, longer content with 2,000+ words gets more social shares than short form content. This is because people prefer sharing long form articles that are thought-provoking and informative as opposed to those that don't provide much value. Thus, the more comprehensive your content is – filled with videos, statistics, graphs, infographic and original data – the higher its chances of going viral.
Making your content go viral includes many elements and content length is just one such element that you need to focus on. Also, it is important to select the right content format for writing a long blog post in order for it to make an impact.
4. Long Form Content Helps Increase Trust
According to a study of Wikipedia articles, increasing the length of an article helps boost trust and the reason for this is simple.
Since long form content includes a lot of research and analysis, people are more likely to trust it, as aside from original data, it contains a lot of relevant information from varied high-authority sources. This helps increase trust amongst your audience. Plus, it helps you establish yourself as an expert in your niche industry.
Also, individuals are more likely to share a piece of content if they trust the source. As such, by consistently writing quality long form articles you are able to create a niche for yourself. Plus, it helps you build a database of loyal readers, who are likely to seek you out in the future when they need a detailed answer for any particular query.
Download: Click Here to Download the PDF on How Content Length Affects SEO and Conversions and to know the Benefits that one can obtain by writing Long Form articles.
F] How Long Should A Blog Post Be? Determine It In 4 Simple Steps:
We have seen that numerous factors need to be considered to figure out how many words should a blog post be. We have broadly explored one of those factors, which includes type of content.
Step 1: Define Your Content Goals
Defining what you want to achieve can help you figure out the kind of content you need to create for that. This in turn can help you set a word limit for your content, however, if you are writing long form content, keep in mind the longer it is better, as long as it is crisp and doesn't include irrelevant information.
Listed below are some of the content goals that most individuals or businesses have. We have also shared the types of content that align with the goals. You can refer to this as a map to decide what kind of content would be ideal for your content goals and then determine the ideal word count accordingly.
| Sr. No | Content Goals | Suggested Content Type |
| --- | --- | --- |
| 1 | Provide valuable information and insights as an expert. | In-depth guides, tutorials, research-backed articles, case studies, expert interviews and Q&A sessions. |
| 2 | Establish your brand as an authority/leader in the field. | Thought leadership articles, trend predictions and future insights, original research and surveys, webinars and online workshops, and podcasts or videos featuring industry experts. |
| 3 | Drive traffic to the website to increase its visibility. | Engaging listicles, top-10 articles, infographics and visual content, interactive quizzes and polls, and content curation with valuable insights. |
| 4 | Gain a higher ranking on search engines. | SEO-optimised blog posts, long-tail keyword articles, link-building content, user-friendly content structure and formatting, and meta tag optimization. |
| 5 | Lead generation and conversions. | Downloadable e-books and guides in exchange for contact information, free trials, demo offers, call-to-action (CTA) focused landing pages, email marketing campaigns with valuable content and offers, and customer success stories and testimonials. |
| 6 | Building a community, fostering a sense of belonging among readers. | User-generated content and contests, community forums or discussion boards, regular newsletters or email subscriptions, live chat support and engagement, and exclusive membership or loyalty programs. |
| 7 | Selling or promoting a product or service online. | Product or service reviews and comparisons, product demonstrations and tutorials, limited-time offers and discounts, customer testimonials and success stories, shopping guides and gift lists. |
| 8 | Generating income from ads,affiliate marketing, or sponsored posts. | Sponsored content or sponsored reviews, affiliate product recommendations and reviews, display advertisements and banner ads, native advertising, and sponsored giveaways and contests. |
| 9 | Raising awareness about any social or environmental issues. | Informative articles on the issue and its impact, personal stories and testimonials from affected individuals, partnerships with relevant non-profit organisations, interactive content showcasing solutions and actions, and calls-to-action for readers to get involved or donate. |
| 10 | Creating a blog as a form of self expression. | Personal stories and experiences, opinions and reflections on relevant topics, creative writing, poetry, or short stories, artwork, illustrations, or photography posts, personal development, and growth journeys. |
So, suppose you set your content goal as: 'Drive traffic to the website to increase its visibility.' You should start a blog for your brand, publishing long-form evergreen blog content such as guides, niche specific list posts, and highly researched original content, that will keep attracting traffic and links for a long time. So, the blogs for this goal should fall between 1500 to 5000 words.
Step 2: Determine Your Target Audience
What relevance does determining your target audience have with the ideal word count for blog posts? A lot. In order to grasp this relevance, you need to understand that different target audiences engage with content in a different manner.
Listed below are two identifiable differences that can help you narrow down your audience.
Different attention spans: If your target audience is busy professionals, who only have enough time for quick reads, then you should keep your blogs short and to the point. However, if your audience is a researcher who requires in-depth information regarding a topic, you need to write well-researched, insightful, and original long-form content.
Different knowledge levels: If your target audience is familiar with the topic, then writing short content that provides the gist is enough. However, if you are trying to improve visibility and reach new audiences then you'll need to provide comprehensive guides that not only introduce them to the topic but also provide everything they need to know about it.
So, build a target audience persona that will help you identify the knowledge level and attention span of the audience, helping you narrow down the optimum blog length for your goals.
Step 3: Conduct Competitor Research
Competitor research can help you determine the ideal blog post length in numerous ways.
Identifying the length of your competitor's top ranking content: You can look up the length of your competitor's top ranking content. This content is already successful, so it signifies that the content with that length would perform well. Figure out the standard count for your specific industry or niche. This will give you a baseline to work with and help you determine the right word count for your own content.
Checking the level of details hired by a competitor: If the competitor has shared less detail, then your content can outrank that content by providing more details and therefore you should write an in-depth content that bridges the gap of information created by your competitor.
Don't forget to check the content format or type the competitor is using. Make sure to tailor your content length ensuring your content is at a position to perform better.
Step 4: Test and Analyse Performance
You should begin by publishing a few content pieces, such as long form blogs, case studies etc. Once published, you should  test and analyse the performance of these content with the help of Click Through Rates (CTR) metric.
Tracking CTR values will give you an idea of how engaging your content is.
Suppose you have published a long form content and it gets high CTR, this means your long form content is performing well and is quite engaging.
However, if the content has low CTR, then you need to pay attention to the content, it may be a sign that your content is too long or not engaging enough. It may be time to tweak it, shorten it, make it more concise, and test it again.
In order to determine how long should blog posts be, you simply have to follow the 4 steps.
Identify the goals
Determine the target audience
Conduct competitor research
Test and analyse content performance
Now that we have seen the various benefits of long form content and come to a conclusion about the ideal blog length for SEO, let's consider how you can get the most of your long form content.
G] Get The Most Out Of Long Form Content: 6 Tips To Create Long Form Content
Long form content marketing is by no means an easy feat. It is more time consuming and resource-intensive. This form of content marketing involves a lot of hard work as well as a substantial budget. Additionally, it requires months of planning, structuring data-researching and more, for it to provide you with your money's worth.
High-authority marketers like Neil Patel, Brian Dean and Matthew Woodward were able to create a niche for themselves because of the large amount of time, energy and money they have spent on creating every single detailed post. Thus, here are a few basic content writing tips that can help you write an authoritative long form content for your website.
1. Research For A Topic
While there are plenty of topics that you can write on, researching and choosing topics relevant to your niche is the first step you need to undertake. Without having a proper idea as to what your audience likes or what would resonate with them, you are just chasing false leads. As such, here are a few tools and techniques that can help you research and generate content ideas for your blog post.
Tool 1: Ahrefs Content Explorer
This is an amazing content research tool that offers you a list of popular articles for any keyword or website based on their performance metrics i.e. social shares, organic search traffic, backlinks, word-count etc. For example, you can enter your target keyword, let's say 'content marketing' and this tool will provide a list of articles along with their varied performance metrics.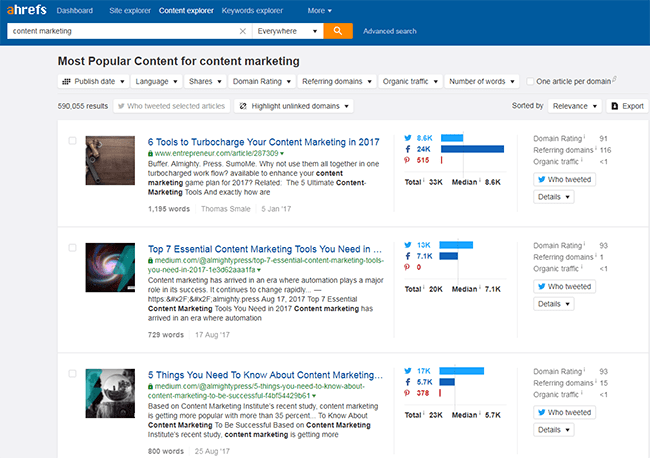 You can also use the many filters that are available to narrow down your search. After you get a list of the best and trending articles, all you have to do is pick a topic with most organic searches or social media shares, and just paraphrase it to create a new topic.
Tool 2: BuzzSumo
Another content idea generation tool, BuzzSumo provides in-depth statistics – the number of backlinks and total social engagement – of various articles based on the keyword you entered.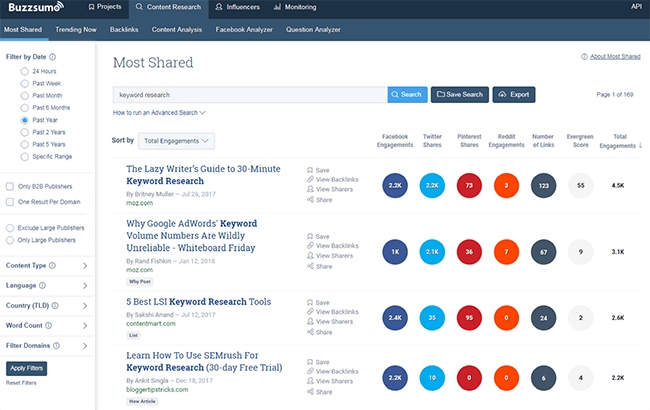 Here, you can filter the result based on the content-type, word-count, languages etc. It also offers you the 'Evergreen Score' that tells you which articles have consistently gained shares and links over time, thus providing good examples of Evergreen content based on which you can create a long form article.
Tool 3: Skyscraper Technique
Why create new content when you can enhance the existing ones and make it an Evergreen content? Made famous by Brain Dean, in the Skyscraper technique all you need to do is, first, find a link-worthy content already written and then create a comprehensive post by adding more information to it. Simple, isn't it?
For instance, if a topic – 50+ Best WordPress Plugins To Use has received a high number of backlinks and social shares, then to create a buzz, you take that topic and make it even longer and better such as 125+ Best WordPress Plugins Nobody Told You About in 2023. This will be a more comprehensive resource, which marketers would definitely be willing to link.
Tool 4: SemRush Content Idea Generator
With SemRush's content idea generator tool you can come up with topics that are relevant to your target audience. The tool helps you find topics that have the potential to rank well in search engines.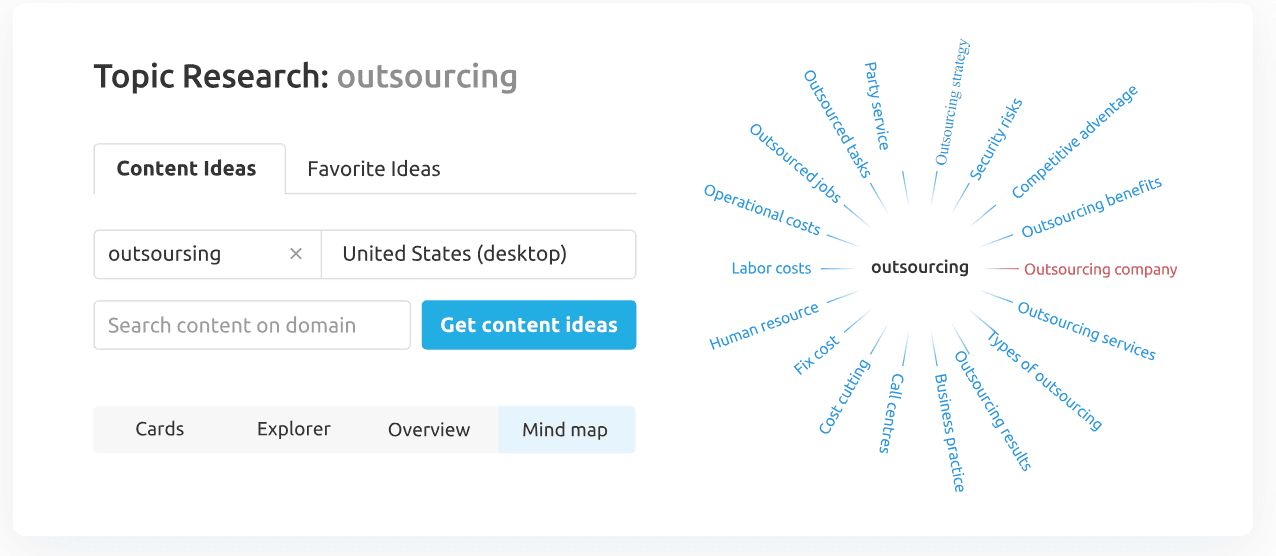 Tool 5: AnswerThePublic
This powerful tool can help you identify relevant content ideas and FAQs that you can add to your blog posts.  It also helps you identify trending topics your audience is interested in.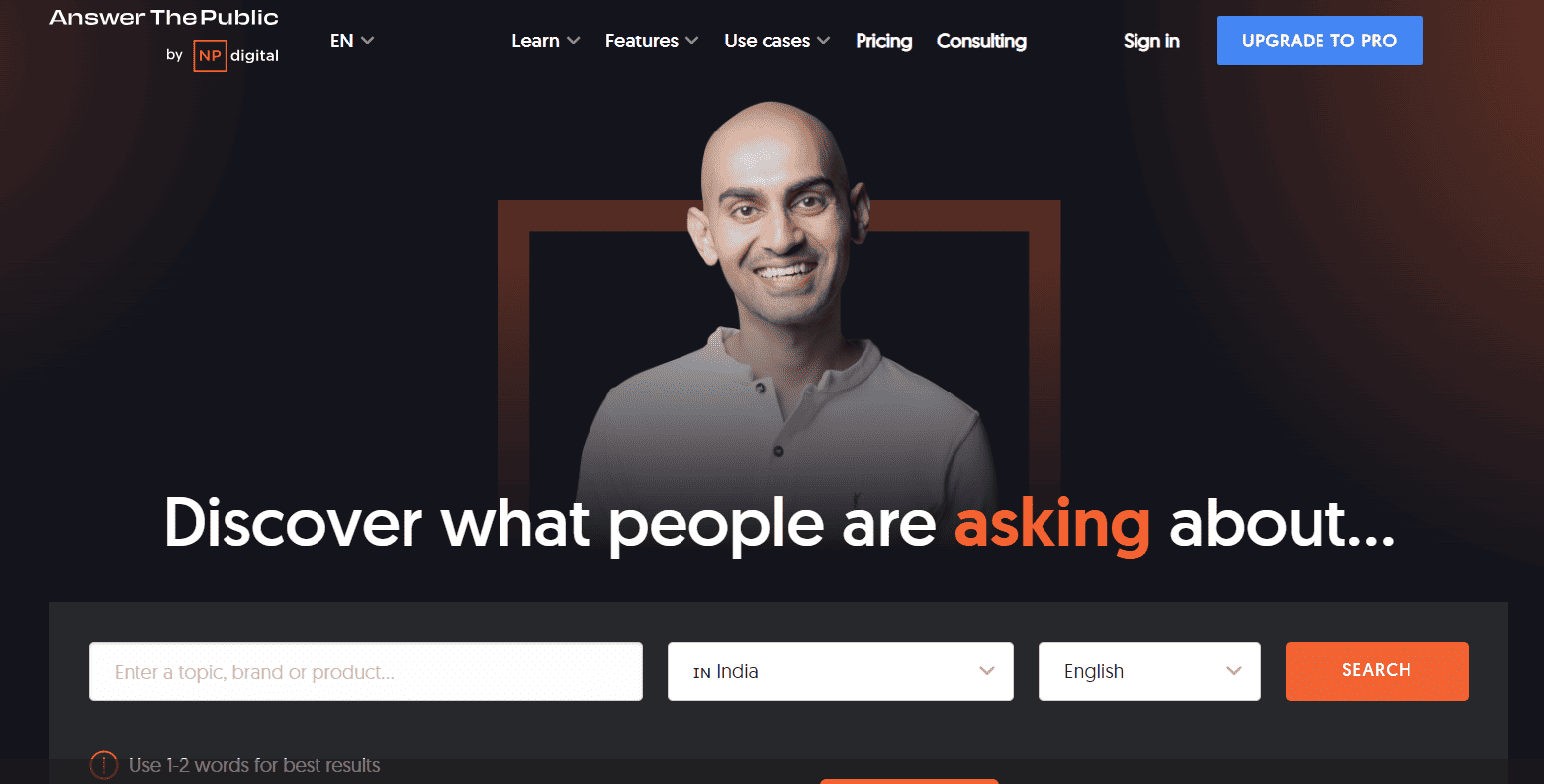 Tool 6: Google Trends
Google trends happens to be one of the most effective tools for identifying trending topics that you can cover in your blog. Furthermore, it also provides insights into what your target audience has been searching online.

Tool 7: Quora
Quora has always been one of the topmost resources for finding new topics in the niche. This can help you create content that users are actively searching for. When you provide your audience with useful information it builds relationships and establishes your brand as an expert in their eyes.  You can browse through the quora spaces, look up the ones in your niche and then discover the questions that are being asked and have not received proper answers or solutions.
Suppose, you are into lead generation and are looking for inspiration on topics that would do well on search engines and with your users. You can look up the term 'lead generation' in quora search box. It will give you ideas.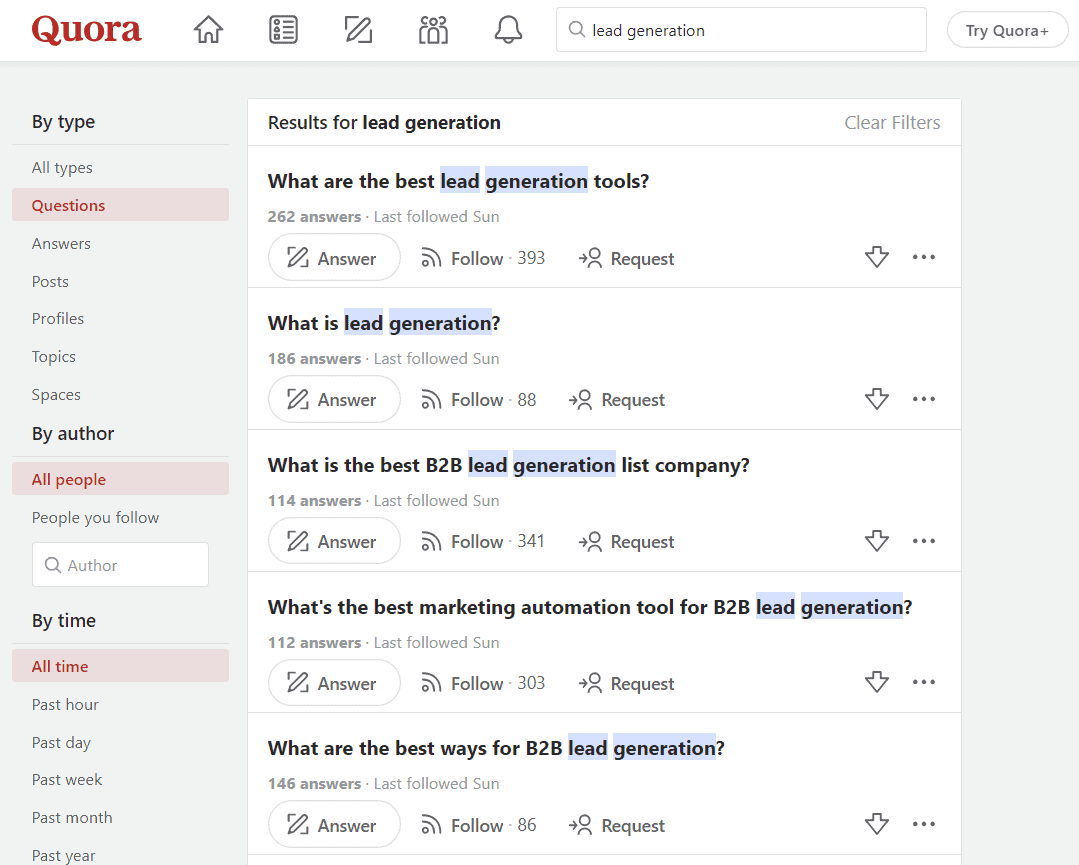 Tool 8: HubSpot Blog Idea Generator
This is a good tool to generate blog topics, especially if you have done your keyword research and are wondering how to convert them into blogs that would be relevant to the searcher's intent. It can help you come up with blog topic idea that are relevant and engaging.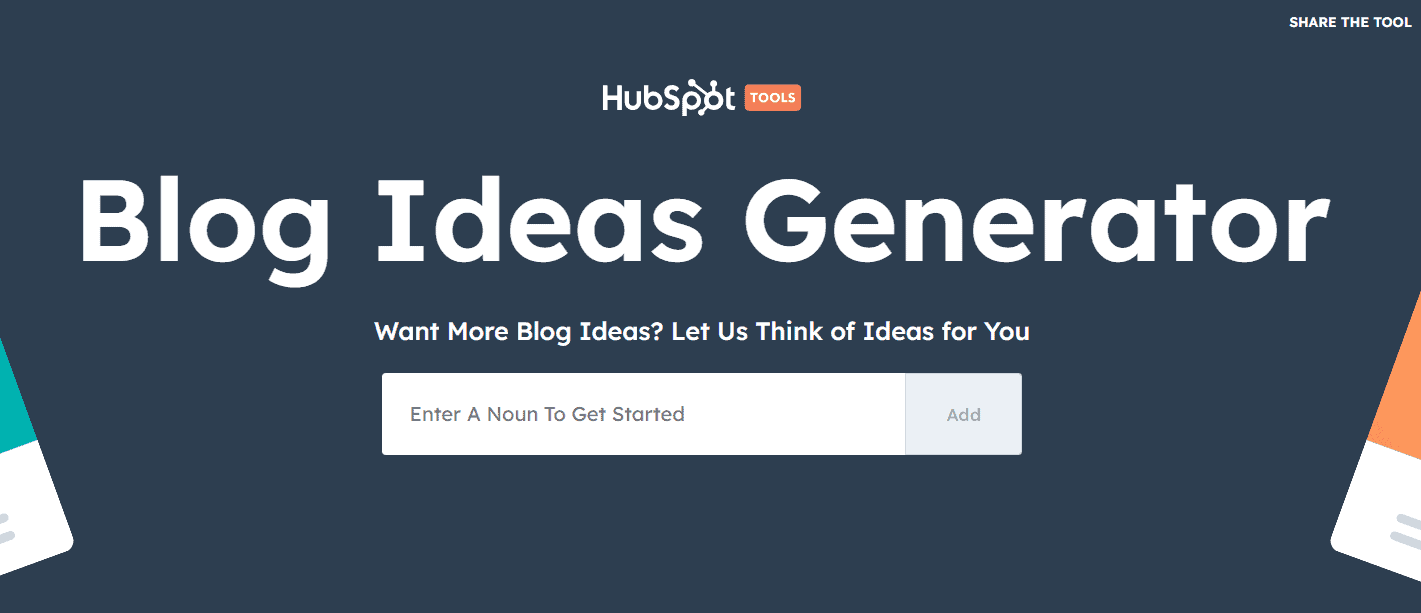 2. Create a Blog Post Structure (An Outline)
A proper blog post structure will aid in keeping distractions at bay and will help you remain focused when you start writing your content. Writing a long form article can be overwhelming and without an outline, chances of you deviating from the topic mid-stream is quite high. Thus, to save time and to remain focused on your goal, ensure that you create an outline for your blog post.
To begin with;
Step 1: Decide what Content-Type you want to write your long form article on:
Content types include – 'How-to articles,' 'Infographic,' 'eBooks,' 'Case Studies' etc. To help you make the right choice, here is a graph on the most popular content formats which users are most likely to share.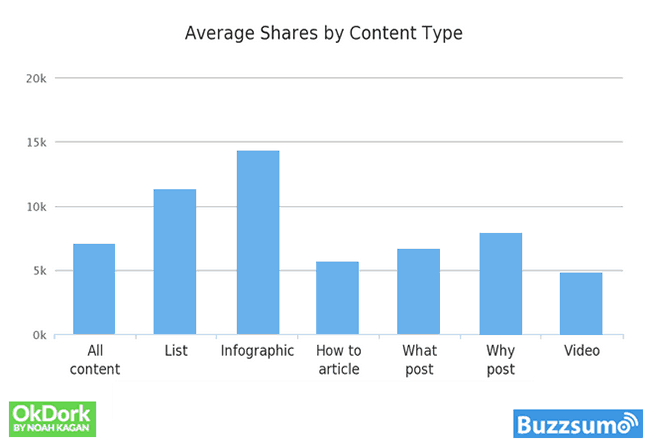 Source: Okdork.com
As you can see, infographic and list posts received more shares compared to other content types. The reason for this is because these content formats help break down huge information into smaller chunks, making it easier for the readers to read and comprehend.
Step 2: Cover Points that offer answers and solutions to your target audience's queries:
This might be a bit of an advanced step for a blog structure, but it is better to create a clear outline for everything that you are going to cover in the content. At this stage, you can leverage the data obtained from the research tools listed above to create a layout that offers readers the answers to their most pressing questions.
Step 3: Add Plenty of Headings and Sub-headings:
This will make your blog post look well-structured and it will make navigation easier for users. Headings and Subheadings add more value to your article by highlighting sections which are important. By structuring your content in this format, you are ensuring that your readers don't miss out on important data. Also, it helps reduce bounce rate, as an organised text is like a roadmap that will make your long form article shine.
Step 4: Use AI tools to create a blog outline for any topic:
While AI cannot be a substitute for humans, it still can be treated as a useful resource. You can use it to create a basic blog outline for any topic.
We used the following prompt to create an outline for a blog: Everything you need to know about Machine Learning in 2023

Here's the blog structure we generated with this prompt. This blog structure will guide you through the content. You can add more information if you think this one is lacking, you can continue asking ChatGPT to make it more detailed. And you can also request ChatGPT to create a different structure by tweaking the prompt.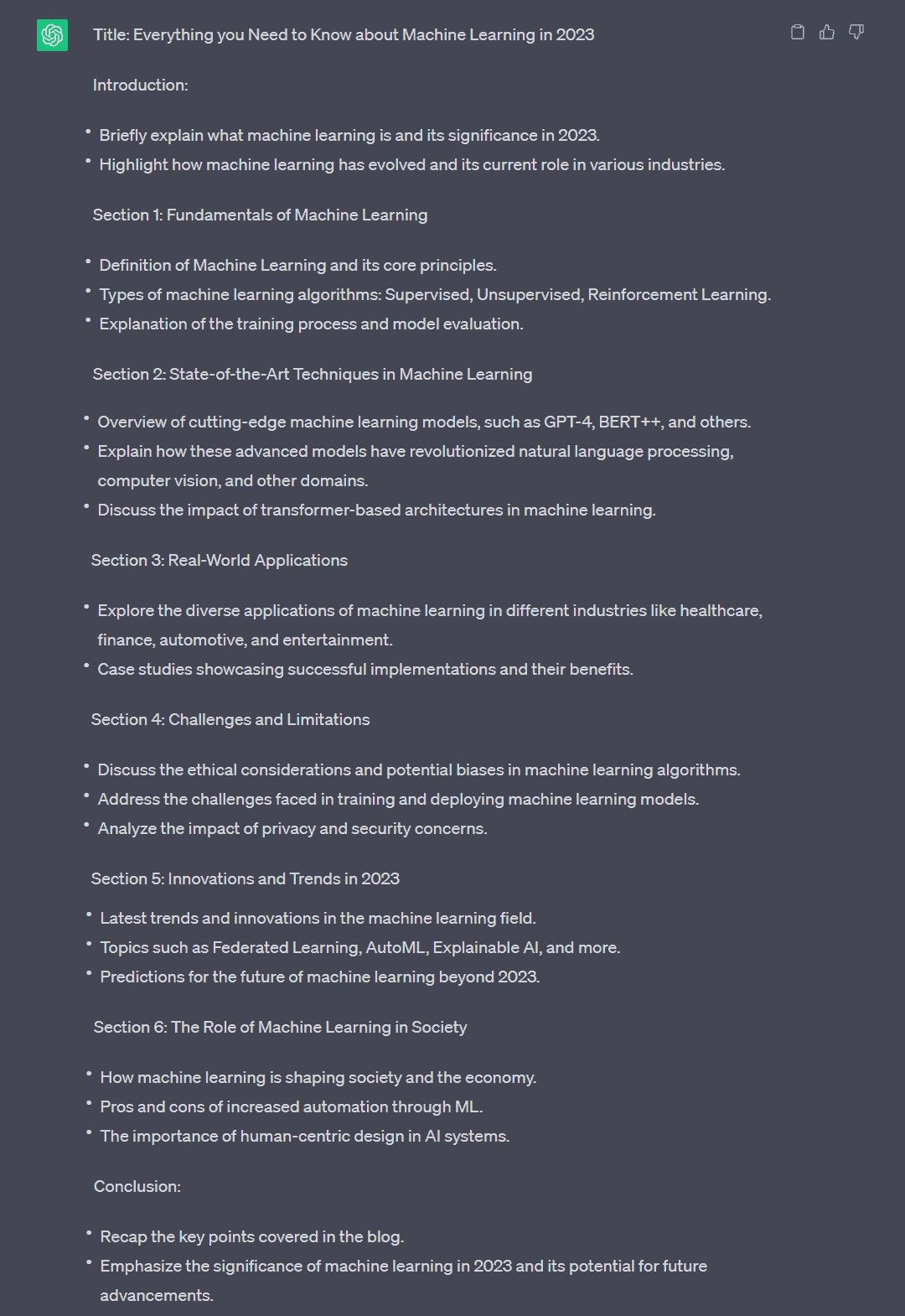 We used the same prompt on google's bard and got a slightly different blog structure. But it still covers the gist of the topic. While ChatGPT's free version might be limited, Google's Bard is much more versatile.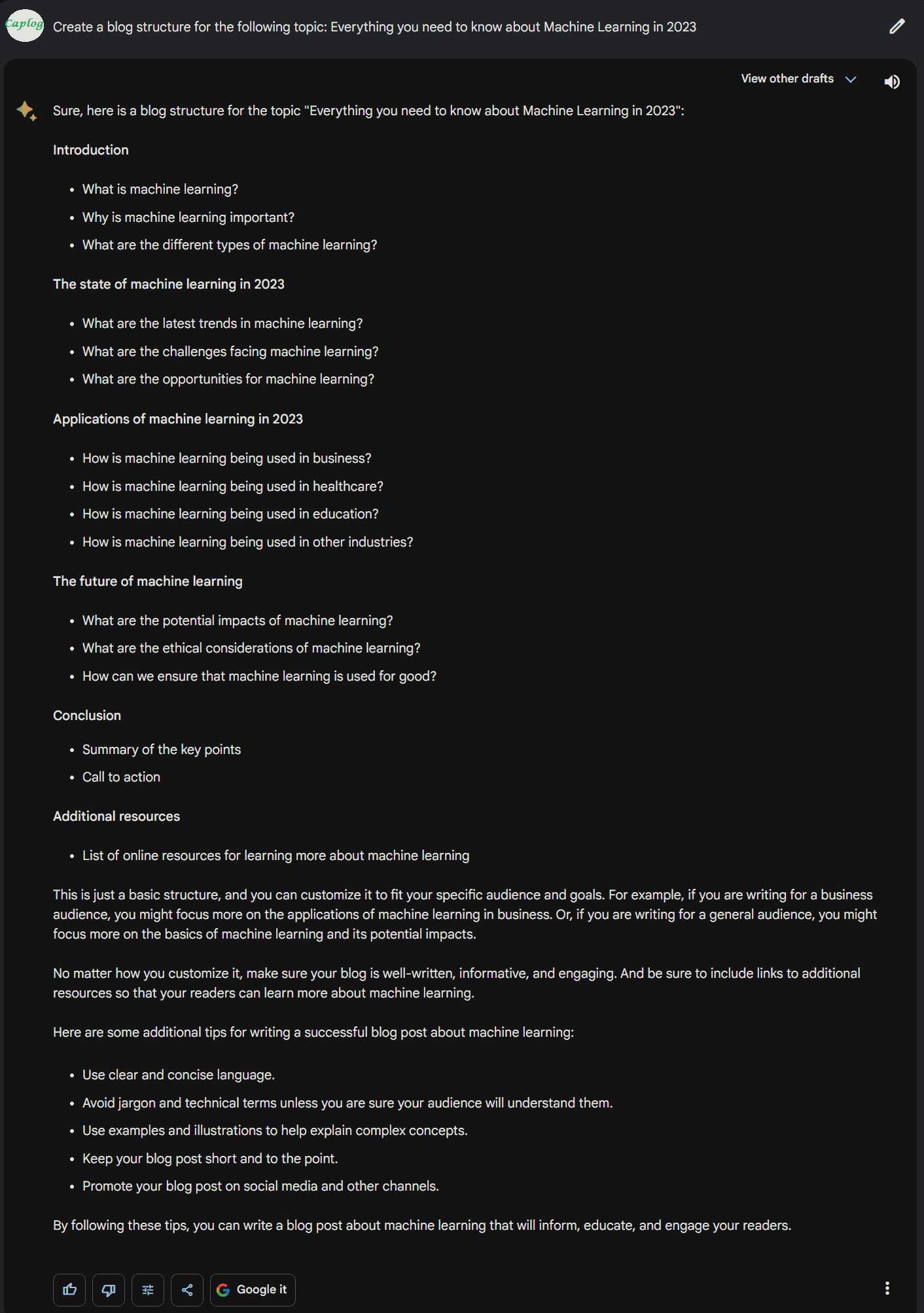 Blog Outline Generator Tools
ChatGPT and Google Bard are fairly new; prior to their emergence, we had a number of blog outline generators, including three popular names such as Jasper.AI, Simplified.Com's AI Writer, and Ryter.me. If you want to save some time on creating blog outlines look up these tools.
Step 5: Write an Engaging Introduction to your Blog Post:
One of the best ways to encourage readers to continue reading your entire article is to write an interesting and captivating Introduction. As a short piece of content that highlights what you are about to cover, this introductory part of your content should be able to hook your readers right from the start to make an impact. Here, follow the basic rule – keep it brief and simple yet interesting.
3. Choose The Right Keywords
Implementing the right target keyword is essential if you want your blog post to rank well in the search result. By doing appropriate keyword research you would be able to get a clear idea as to what your target audience is searching for and this would enable you to optimise your content accordingly in order to deliver the best answers for a user query.

While doing keyword research, it is important to pay attention to key metrics such as search volume and organic competition/difficulty. It is also important to find the LSI keywords that you can sprinkle throughout your long form content in order to provide relevant results to users and to improve your content reach.
Best part, there are ample of keyword research tools that you can use;
3.1: Building a Keyword List that converts:
3.1.1: Brainstorm relevant topics and search intent:
Begin by asking the following questions about your target audience;
What are their pain points?
What are their goals?
What are they trying to achieve?
And finally; What are the phrases they look up on search engines to achieve their goals? Once you have a good understanding of your target audience's search intent, you can begin brainstorming a list of topics relevant to your products, services, or industry niche.
3.1.2: Expand with long-tail variations: 
Once you have a list of relevant topics, you can start to expand your keyword list with long-tail variations. Long tail keywords are more specific and typically less competitive compared to short-tail keywords.  This means that they are easier to rank and can drive quality traffic to your website.
You can find long tail keywords with the help of keyword research tools such as Google Keyword Planner, Ubersuggest, Keyword Tool, Ahref, SemRush, and more. You can also look at the search results for the relevant topics and see what long-tail keywords are being used.
3.1.3: Prioritise keywords based on relevance and potential:
When you have put together a long list of keywords, including both long-tail and short keywords, you need to prioritise them based on relevance and potential.
For relevance, you need to check how closely the keyword matches your audience' search intent.
For potential, you need to identify how much traffic the keyword is likely to generate.
You can use a spreadsheet or keyword research tool to keep tabs on the data, identifying the most relevant keywords that are likely to generate more traffic.
For more tips about choosing the right keywords, you can go refer to our exhaustive Keyword Research Checklist.
4. Add Statistic Based Examples
According to Neil Patel, 'When you're writing your content, use numbers, data, statistics and quotes from other people to upgrade your content and make it more trustworthy'.
A long form content is written to prove or dispel a theory and as such, to give it credibility you need to cite relevant statistical based examples and facts. Also, while writing long form articles follow the principle of 'show, don't tell.' This will help make your content look more authentic. Plus, it will help readers better understand and visualise the message you are trying to convey.
5. Include Relevant Images, Graphics & Videos
According to marketer Jeff Bullas, articles with images get 94% more total views. This is reason enough why you should include images in your blog post. Visual content helps increase audience engagement by two-fold compared to only text-based content. Images are also a great way via which you can break up large chunks of text making your blog posts more interesting and quick to scan through.
Furthermore, from a social media perspective, articles with Images get more social shares as opposed to those without. Thus, this is yet another powerful reason why you should add images to your articles.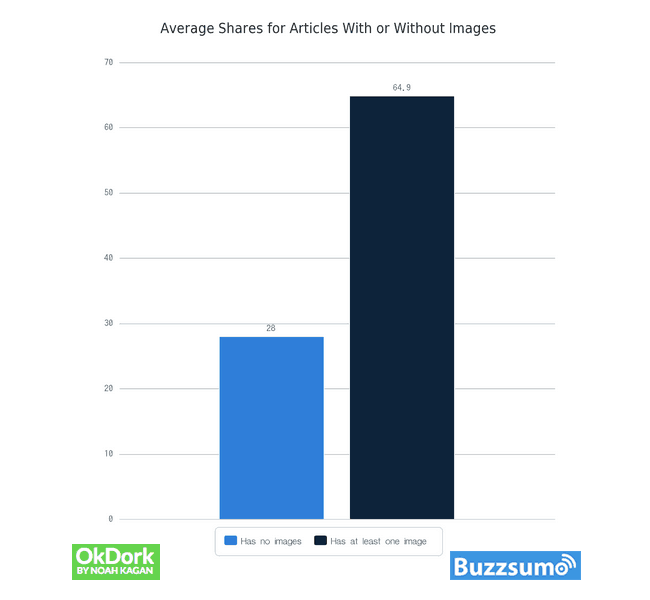 Source: Okdork.com
A well-researched and data-driven long form content naturally includes a lot of graphs, screenshots and other graphics. Thus, all you have to do while adding images to your blog post is to ensure that they are contextually relevant, so it doesn't stand out as a sore thumb. Also, make sure to optimized images for social sharing in order to boost conversion.
6. Link To High-Authority Resources
In order to corroborate the fact that indeed you have done enough in-depth research on a given topic, linking out to other high-authority resources is essential. Again relevancy plays an important part here.
Furthermore, take time to link out to the exact web page from where you have sourced charts, statistics, images etc. This shows transparency. Plus, you are giving a heads-up to your contemporaries by naturally linking their content within your blog post.
Download: Click Here to Download the PDF on How Content Length Affects SEO and Conversions and to know the Benefits that one can obtain by writing Long Form articles.
Conclusion
The difference between marketers who are doing extremely well in the digital marketing space and those who are struggling is the amount of energy, time and money they are spending on creating a blog post for their website.
Content length affects not only your SEO campaigns but it also affects your conversion as established via various statistics above. Also, the benefits one can obtain by writing long form articles are innumerable.
As such, moving forward, one needs to focus on creating quality long form content as opposed to short form content whose value diminishes over time. Furthermore, when writing long form content ensure that you follow the tips mentioned here and pick the right content format in order to make an impact.
Was this content length guide useful? Did we miss out on anything? Do let us know in the comment below!
Also, if you need help creating high-quality content, then we as a Content Marketing Agency in Mumbai can help!
Copyright © 2023 Capsicum Mediaworks LLP
The Importance of Content Length article is the copyright of Capsicum Mediaworks, LLP. All rights reserved. This checklist, or any part of it, may not be altered or reproduced in any format without a written permission from the writers.
Affiliate Disclosure
Some of the links in the post above are 'affiliate links.' This means if you click on the link and purchase the item, We will receive an affiliate commission. Regardless, We only recommend products or services We use personally and believe will add value to our readers.
Disclaimer:
All the information in this checklist is error-free and reliable to the best of our knowledge. However, Capsicum Mediaworks, LLP shall not be accountable for any loss or damage suffered as a result of following these instructions.
We are not liable for any malfunctioning in the referenced software or services stated in this work.
Unless clearly mentioned, we receive no commissions or payments from the respective suppliers or owners of the software and services mentioned in this checklist.
We only publish information about the workings of certain third-party services, but we do not endorse or support third-party services or products and are not responsible for the functions or authenticity of these services.