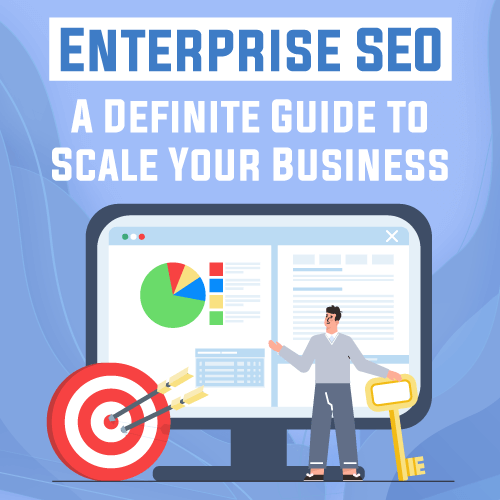 Enterprise SEO has carved a niche for itself in the Enterprise SEO offers a SEO industry.
It helps large-scale organisations strengthen their positions on search engines, improving their visibility and reputation.
It is a large-scale undertaking that requires constant monitoring by a professional with a deep understanding of the workings of SEO. So, we'll get right to defining Enterprise SEO.
Quick Overview of Enterprise SEO
1. What is SEO For Enterprise?
Enterprise SEO is dedicated to enhancing the search experience for large-scale enterprise companies. Enterprise SEO offers a comprehensive and strategic SEO campaign that aligns with the company's business goal.
With Enterprise SEO at the helm, businesses gain the upper hand and enhanced visibility, earning a brand reputation to be envied. Typically, a well-equipped Enterprise SEO campaign consists of strategies such as evergreen and scalable content and continuous SEO management. Some enterprise SEO services also include automation.
1.1 Which Companies Require Enterprise SEO Services?

A. Large eCommerce websites with over 10,000 pages

Example: Amazon.com
Amazon has 10,10,00,000 pages indexed in Google search.

B. Large businesses with franchises in multiple locations

Example: McDonald's
McDonald's is one franchise that has reached all corners of the world.

Image Source: Wiki

C. Fortune 500 companies

Example: 2022's leading Fortune 500 company, Walmart
Walmart has 30,000,000 pages indexed in Google search.

1.2 Why Enterprise SEO?

We have given you three examples of leading enterprises with thousands, if not millions of web pages. To optimise these pages, the traditional SEO approach will not be enough. That's where Enterprise SEO comes in. It builds on the traditional SEO creating a solid campaign that would enclose its large number of web pages.

2. How Does Enterprise SEO Differ From Traditional SEO?

One of the differentiating factors between traditional and Enterprise SEO is the level of complexity. Working on Enterprise SEO is easier said than done. It is highly complex.

Amazon.com and Walmart.com are two enterprise websites with an extensive number of web pages and content. To craft an SEO campaign for such organisations, SEO agency in Mumbai will have to build on traditional SEO concepts.
Content Strategy

Let's consider a user-generated content website: Wikipedia. It is an enterprise-level content-sharing platform, wherein website visitors rely on the information updated by users.

Informative websites such as Wikipedia grow continuously and require constant moderation. Wikipedia ensures that the community updates unbiased information about every topic.

Similarly, consider Walmart's custom cake service page

Take a look at the content on this page alone. It is precise, informative, and cleanly represented. Walmart likely has to create hundreds of such pages dedicated to specific services and events. In order to create such content, they need a team of graphic designers and content/copywriters and content/copywriters to enrich their page. So, their SEO agency will have to factor in all these constraints before building an Enterprise SEO Campaign.

Interlinking Strategy

Content is one aspect of the SEO enterprise. You also need to consider other SEO factors such as Interlinking. For small-scale or medium-level businesses having 10-100 web pages, the SEO team can easily interlink content. However, websites that have a higher number of web pages require a different approach, specifically, a structured website that ensures all web pages are interlinked naturally.

Dealing With the Enterprise Hierarchy

Typically, in traditional SEO, the companies heavily rely on their SEO agency to make important decisions regarding the site's digital reputation. Even then, the SEO agency has to closely work with the client, deliver them timely reports, consult them about changes that will affect the entire website, and get approval for the said changes. It takes less time, and SEO experts face fewer challenges.

In contrast, working on Enterprise SEO can be very challenging. Even the small changes have to go-through appropriate or top-level people assigned to the task.

For instance, suppose an editor partnering with an SEO team notices a certain flaw within the content and informs the developer to correct the error. The developers may not have permission to make those changes. The developer will then have to speak with his superiors, someone higher up the hierarchy, who is allowed to make such a decision. This process will be more time-consuming if the superior isn't available. Meanwhile, the error will continue to exist.

Enterprises have an Headstart

A free backlink check for amazon.com on Ubersuggest Backlink Checker leads to the following results:

One can easily notice the high number of domains referring to the conglomerate eCommerce platform. The high domain authority of 96 combined with over 6 billion backlinks puts Amazon.com far ahead of the other eCommerce enterprises.

Amazon already ranks in the top search results for relevant keywords. While there is always a scope for improvement, it won't take a lot to get it to the top for a particular search query.

On the other hand, a startup or even mid-scale company has to put forth a lot of effort to achieve even a fraction of these results.

Since the enterprise works on a large scale, SEO agencies will have to use Enterprise SEO solutions that help these digital marketers run an audit, obtain data, monitor their campaigns, and generate detailed reports. These go into improving the brand's authority on search engines.

3. How to Find the Right Enterprise SEO Solution?
Innovation and Upgrades

As the Google search algorithm grows, it affects the search engine results by refining them for relevancy. So, your team will have to work with an Enterprise SEO solution that incorporates these changing aspects into their product, releasing updates whenever necessary. Also, consider the technology used to build the platforms. Some SEO platforms are powered by AI, allowing enterprises an edge over their competitors.

High Availability

Enterprise SEO solutions depend vastly on advanced technologies. To open the application, users have to use an internet browser. There are very few downloadable SEO software. The downloadable SEO tools require constant updates. SEO Spider Tool is a prime example of a downloadable website crawler.

However, users who sign up for website SEO platforms such as SemRush need a decent internet connection. Before investing in such platforms ensure that it offers at least 99.99% uptime. Ahrefs is another enterprise SEO platform with high availability.

Project and Workflow Management Resources

Enterprise-level organisations have large websites with thousands and millions of web pages. Manually sorting through all the web pages is near impossible. So, you need to find Enterprise SEO solutions that have project and workflow management resources. It should have basic features such as allocating and managing tasks for all team members.

The SEO agencies handling a brand's Enterprise SEO usually determine and recommend the SEO solution that aligns with the business's goals.