Google's Search Generative Experience has been an intriguing part of the current AI landscape. As SGE becomes available to more users with the early access program, people begin to experiment to measure its capabilities and limitations. 
The Rise Of AI Based Search Engines
While Bing may have been first to capitalise on the AI technology, incorporating it into its search engine, the tech giant, Google, is not far behind. The SGE incorporates AI in the Google search engine, which is different from the common chatbot-based UI. The SGE aims to provide information to the user more efficiently and accurately than the usual results provided by Google SERP. 
In early tests, SGE has been able to simplify complicated topics and provide comprehensive information to users who did not have prior knowledge about those topics. Google SGE provides an AI-powered snapshot which combines multiple sources of information to provide a comprehensive paragraph at once. This reduces the number of blogs and website pages a user would have to go through, to find the complete information.
The AI-powered snapshots can also provide detailed information on products, enriching the online shopping experience. If the user searches for a product such as an electronic device or clothing item, Google's SGE will not only provide you with the list of products available but also give you guidelines on important considerations for the product and the requirements. Here's how it looks: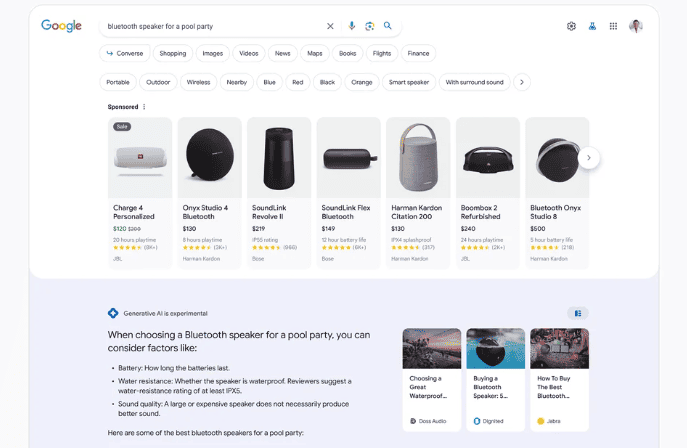 Image source: Google Blog
However, with all this progress, there are also some limitations to Google's SGE. Some users noticed that the information provided by SGE was either outdated or outright not factually correct. There are some things that are holding SGE back, such as its exclusivity to USA-only users. Hopefully, Google will release SGE for worldwide audiences soon, which would greatly help its popularity.
Other than this, SGE also does not seem to provide information on sensitive topics such as jokes about Jews, women and men, which is a good thing in the bigger picture. It was a good decision on Google's part to install filters about sensitive topics. Considering everything, Google's Search Generative Experience seems to be on a good start, these early experiments will only help to identify potential problems so Google can fix them before a worldwide release.