Users interested in purchasing new products such as phones, laptops, hair care products, and skincare products always look for product reviews. Genuine reviews left by verified purchasers and subscribers can help users understand if the product or service is the right fit for them.
Product reviews tend to follow a typical format. It starts with a short intro and then goes on with an in-depth review of various aspects of the product. In the end, the reviews share a list of pros and cons that help people who aren't interested in going through the entire piece and are only looking for specific features and how they fare in real life.
The location of the pros and cons on a product review page is different and dependent on the publisher or website structure. Generally, it is either at the top or bottom of the product review. So it is either the first thing a visitor sees when they click on the website or a quick highlight of the detailed review.
Let's talk about the mid-budget Android phone brands that excessively advertise their products, flaunting their wealth of features available at an affordable budget.
To create mid-budget phones, the companies may have to cut a lot of corners, and sometimes they may use inferior technologies that may end up spoiling the user experience for the buyers.
Genuine reviews help users differentiate between the marketing hogwash and the actual performance of the device. The pros and cons section of product reviews can help simplify the technical information, providing quick and easy access to such data.
Grasping the significance of such product reviews, on 5th August 2022, Google rolled out a new search engine update for structured data, focused on the pros and cons section of product reviews.
Here's an example of the pros and cons snippet results people are likely to come across when they search for product reviews.
A search for the term: iPhone reviews led us to the following search results. Prior to the new update, the results for such searches showed either meta description or the beginning text of the content in the snippet. Now, the search results for the product reviews will appear with pros and cons snippets.
The view full list link displayed below the snippet actively influences people to open the page to read the list, giving them access to the information requested.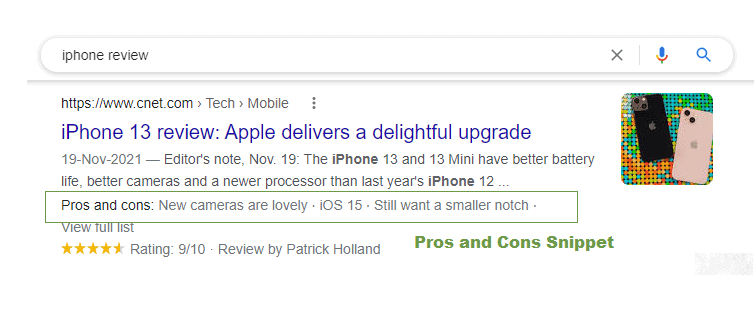 Websites that update the product review page for structured data will gain priority in such results. Websites that haven't provided structured data will have to rely on the search engine algorithm to identify, extract, and display the data on search results.
To add structured data for product reviews, publishers and SEO agency in Mumbai will have to refer to and follow Google's official Pros and Cons Structured Data guide.
For more details about the structured data, check out this guide.