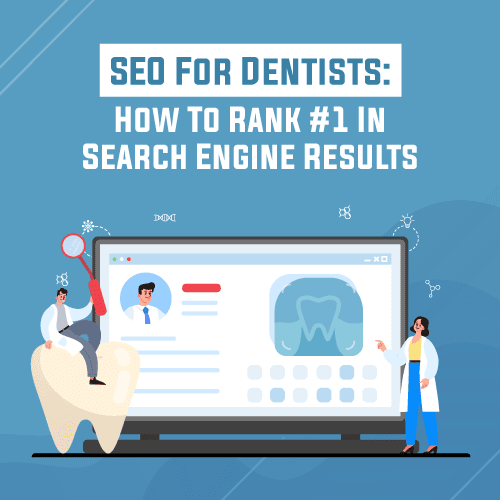 Success matters in every profession, and as a dentist, we know you take your career seriously enough to succeed. For you, success may mean serving as many patients as possible, building a name for your profession and becoming the doctor that everyone looks up to. Did you know that SEO for dentists can help you achieve just that? Let's know-how.
The digital landscape is already quite competitive. In order to cut through the competition, you will eventually have to embrace digital tools and use them to your advantage. In today's world, marketing your dental business online has become more important than ever.
Search Engine Optimisation, or SEO, is one of the most significant parts of Internet marketing. In this post, we will delve into dental SEO marketing and explain how it might assist your clinic. We'll also walk you through the process of optimising your website for optimal traffic and patient footfall.
SEO For Dentists To Rank #1 In Search Engine Results
A] What is SEO?
Search Engine Optimisation is a technique, or rather a process, that helps a website appear in search engine results like Google, Bing or Yahoo. The whole point of SEO is to rank your website higher, thus making it more visible to people searching for relevant information, thus increasing the chances of them visiting and clicking on your site. This, in turn, drives more organic (free) traffic to your website.
The ranking of a website is determined by two factors – relevance & authority. Here's what they both mean:
Relevance focuses more on how well your website's content aligns with the search intent of users. For instance, if you run a local orthodontics centre, optimising your website for keywords like "orthodontic centre" helps patients needing orthodontic care find you easily.
Coming to authority, it relates to how credible and trustworthy your website is, from the visitors' perspective. Google considers various subfactors to assess authority that includes but is not limited to backlinks, domain age, and social signals.
Relevance and authority are the pillars that can help improve your website's search engine rankings while garnering more organic traffic – which is the best of both worlds.
B] Why Do Dentists Need SEO?
Let's explore the crucial role of search engine optimization (SEO) for dentists and how it can enhance online visibility, attract more patients, and ultimately grow your practice. However, before we start on this journey, it is necessary to conduct an SEO Audit of your website, which will help identify areas of improvement. This is necessary as it helps the SEO expert fine-tune their strategies, tailoring them to your dental services or practice. It also contributes to a variety of factors that are discussed below:
1. You get more queries online
Nearly a third of people search for local businesses online every day, and 50% of all searches on Google are for local information. When you have an SEO-optimised website and a Google Business Profile, it makes it easier for your patients to find you. By improving your website's SEO, you attract more valuable leads, resulting in a higher conversion rate of potential patients.
2. It helps you get more traffic to your website
Ranking higher in search results makes it easier for potential patients to find you online. Picture this: someone is searching for dental services, and with a simple query, your website pops up right at the top. They're more likely to click on your site because it's easily visible and captures their attention. So, the higher your ranking, the better your chances of attracting those eager patients who are actively seeking dental care.
3. Builds trust and credibility
Most people tend to click on one of the top 5 suggested results in Google for a reason. They believe that the dentists appearing in those top positions are superior, and Google shares that sentiment. It creates a kind of cycle, a loop that can be both beneficial and challenging.
The higher you show up in the search results, the greater the likelihood that potential patients will trust you and visit your website. As more people click on your site, Google recognises you as a reliable and credible source, leading them to continue pushing you towards the top of the search results.
4. Compete with other dental service providers.
SEO might seem like uncharted territory to you, but your competitors are already using it. In today's digital landscape, where competition is fierce, sustaining a business without SEO is difficult. Dental SEO allows you to not only keep pace with your competitors but also soar above them and become the preferred choice for patients.
Imagine someone in need of braces searches for "Braces treatment in Mumbai" on Google. The search results would present multiple reviews, dentist directories, and websites from your competitors. By getting your SEO game right, you can truly make a difference in standing out from the crowd and attracting potential patients.
C] Local SEO for Dentists: Here's Why Dental Practice Should Have An SEO Strategy In Place
Local SEO for dental clinics is considered to be one of the most prominent ways to make your business stand apart. So, what is it that makes local SEO important for dentists? Let's dive into the key reasons:
1. Targeted Exposure
With a local SEO, you can specifically target potential patients in your area who are actively searching for dental services. By incorporating location-specific keywords throughout your website and content, you get to increase your chances of appearing in relevant search results.
2. Increased Website Traffic
A well-executed local SEO strategy drives more organic traffic to your website. When your practice ranks higher in local search results, it becomes easier for potential patients to find you and learn about your services, ultimately leading to an increase in website visits.
3. Enhanced Online Visibility
Local SEO helps you establish a strong online presence within your community. By optimising your Google My Business profile, listing your practice on online directories, and encouraging patient reviews, you can boost your visibility and build trust with local patients.
4. Competitive Edge
With more patients turning to the internet to find local services, having a solid local SEO strategy gives you a competitive advantage. It allows you to outshine your competitors and position your dental practice as the go-to choice for patients in your area. In order to make your mark amongst these competitors, you have to carefully choose from the best dental SEO companies, because their expertise and experience in dental SEO can help you succeed despite competition.
D] How Can Your Dental Practice Rank #1 in Search Engine Results?
Getting on the top of search engine results is a goal that every business aspires to, as they should. So, what does it take to rank #1 on the top search engines? Let's explore the key factors that can help your dental practice dominate the search engine rankings:
1. On-page SEO factors
On-page SEO is all about getting your website on the search engines. Start by researching keywords or terms that your potential patients are searching for, such as "best dentist in [your area]." Incorporate these keywords naturally into your website's content, meta tags, headings, and image alt tags. Ensure your visitors find it easy to navigate your website, i.e. it is user-friendly, loads quickly, and is mobile-responsive to provide a seamless experience for visitors. Optimising your website's structure, internal linking, and navigation also helps search engines understand and crawl your content effectively.
2. Off-page SEO factors
These criteria focus on building a strong online presence beyond your website. Encourage patient reviews on reputable platforms, as positive reviews signal credibility and trustworthiness to search engines and potential patients. Seek opportunities for guest blogging or collaborations with other dental professionals or local businesses to earn quality backlinks back to your website. Engaging in social media marketing and sharing valuable dental-related content can also boost your online visibility and drive traffic to your site.
If you want to learn more about these SEO factors read our comprehensive guide "SEO Checklist". It can help you understand the efforts that are put into boosting your rankings.
E] How To Know If SEO Is Working For Your Dental Practice?
It's crucial to evaluate the outcomes of your marketing initiatives when implementing local SEO for dentists. Let's take a look at the key metrics you should focus on:
Conversions: These are the desired actions you want potential patients to take. You could use tracking calls, form submissions, online queries and bookies, chatbot assistance, and directions.
Website Traffic: The volume of website visitors isn't enough. Analyse both the quantity and quality of your website visitors along with the sources. Knowing where your traffic comes from can help you optimise your marketing efforts.
Keyword Rankings: SEO is a continuous process and you need to maintain your position to get better results over time. Keep an eye on your website's position. Monitoring changes in rankings can foretell how effective your digital marketing strategy is.
Feedback & Reviews: Ensure that the number of reviews you receive is steadily growing. Additionally, don't forget to respond to patient reviews, as it shows your commitment to their feedback and enhances your online reputation.
F] Get More Patients For Your Practice With Leading Dental SEO Services!
Now that you know how SEO plays an essential role in the success of dental practices, it can be overwhelming to apply the concepts all at once. Executing SEO requires a comprehensive and meticulous approach that demands significant time and expertise.
You don't have to handle this alone. Your main focus should be on providing exceptional patient care. That's where the best dental SEO services in Mumbai come in. At Capsicum Mediaworks, we have a team of SEO experts with years of experience dedicated to keeping your practice ahead of the competition and ensuring that new patients can easily discover you online. We are well-versed in SEO for dentists that yield the best results for the dental industry.
So, don't hesitate, partner with the top dental SEO agency to ace your dental SEO strategy!
FAQs