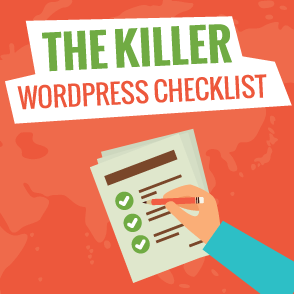 So, You are working on a New WordPress Website? Awesome!
It's a big struggle in remembering the steps involved in setting up a WordPress website.
As a specialised web development company in Mumbai, we soon realized that there were hardly any checklists that covered all the aspects of WordPress together!
That's when we decided to create 'Killer WordPress Checklist" that would cover everything from the pre-launch directions and development process, to WordPress SEO, WordPress maintenance, and WordPress security.
We would also like to thank everyone who has translated this checklist in various languages, Here are the version in other languages, Chinese | Japanese | French
Honestly, this checklist has worked wonders for us and hope it does for you too!
Bonus: Download free WordPress Checklist PDF that will show you how to tap into the 7 most important WordPress items listed here. It also includes 2 Bonuses, 1. People Worth Reading & 2. Handy Tools

Want to share this on your site? Just copy the code below!
We are a leading WordPress services provider in India. To this end, Our 'killer' checklist is conveniently divided into 7 detailed checklists, each of which covers every aspect of launching, developing and then maintaining a WordPress website successfully.
All you have to do is follow each step carefully and we guarantee you'll have the WordPress website of your dreams, ready within no time!
Quick Overview on Killer WordPress Checklist
#1. Getting Started
We all know the importance of starting right.
As the digital marketing agency in Mumbai, we believe that if you understand the basics, right from the beginning of the process, the rest of the exercise becomes as smooth as silk.
So make sure you make a perfect start by following these steps systematically to get the best end results.
#2. WordPress Pre Development Checklist
So where do you actually start?
That's the first question that's probably popped in your head. This checklist is the answer to that very question.
Regardless of whether you are a beginner or a WordPress expert, this particular checklist will benefit anyone who is in the process of developing a new WordPress website.
#3. WordPress Development Checklist
Now comes the most important checklist.
There are a million settings and changes you need to make during the WordPress development process, in order to build a website that meets all your requirements.
That's why, we have included even the minutest of steps that are important during development so that you never miss out on anything crucial to your website.
#4. WordPress Launch Checklist
Congratulations! You're finally done with the tricky development process!
Now, you must be ready to launch it successfully, without any glitches.
Mind you, there are lots of steps to follow before you actually launch your website. So, we have put in every little thing you need to have in place, before you go live.
Just follow them all and have a hassle-free launch!
#5. WordPress SEO Checklist
You may have the most alluring and well-developed WordPress website, but if you don't have proper SEO in place, then it will all be for nothing.
With our comprehensive 75+ Actionable Steps SEO checklist, you will not have to go anywhere else to learn about SEO. You can also check out our article on why Content Length is Important for SEO in order to boost your site's ranking in SERPs. For now here are some of the important steps listed below,
Follow each step carefully and you'll have a fully search engine optimized website ready in a jiffy!
So, here we are done with the WordPress SEO Checklist. If you haven't managed to implement yet or need help with the above then do let us know. As a SEO Company in Mumbai, our team is hands-on with this process and can help you implement most of them in the quickest time, possible.
#6. WordPress Security Checklist
Now let me tell you, security is a very important aspect of website development.
Hence, before you present your WordPress website to the world, it is imperative that you have tight web security in place.
Through this checklist, you will get to learn which plugins and additional settings are required to safeguard your precious website from malicious threats.
#7. WordPress Maintenance Checklist
There! You've finally taken care of everything for your WordPress website.
Now, you need to know how you can maintain it efficiently.
This maintenance checklist will give you stepwise information on how you can run your website smoothly and conduct regular checks to make sure it functions impeccably.
Hope you liked our WordPress Maintenance Checklist. If you're looking for such services for yourself or your clients, do have a look at our WordPress Services page and contact our team for further help.
Bonus: Download free WordPress Checklist PDF that will show you how to tap into the 7 most important WordPress items listed here. It also includes 2 Bonuses, 1. People Worth Reading & 2. Handy Tools
Pheww! That was long, right?
But that's exactly how we wanted it to be! An exhaustive WordPress checklist that will come in handy to all you WordPress designers, developers and users out there!
You can download one or all of these checklists, depending on your requirement and follow it every time you work on a WordPress website.
We have shared all our WordPress knowledge through this checklist. Now, its your turn to tell us;
Which checklist did you find most helpful?
Do you think we should add something more to any of them?
If you have anything to add to these lists, your suggestions are more than welcome! Just drop in your ideas in the comments section and we'll be delighted to extend this list with your helpful suggestions.
Copyright © 2020 Capsicum Mediaworks LLP
The Killer WordPress Checklist is the copyright of Capsicum Mediaworks, LLP. All rights reserved. This checklist, or any part of it, may not be altered or reproduced in any format without a written permission from the writers.
Affiliate Disclosure
Some of the links in the post above are 'affiliate links.' This means if you click on the link and purchase the item, We will receive an affiliate commission. Regardless, We only recommend products or services We use personally and believe will add value to our readers.
Disclaimer:
All the information in this checklist is error-free and reliable to the best of our knowledge. However, Capsicum Mediaworks, LLP shall not be accountable for any loss or damage suffered as a result of following these instructions.
We are not liable for any malfunctioning in the referenced software or services stated in this work.
Unless clearly mentioned, we receive no commissions or payments from the respective suppliers or owners of the software and services mentioned in this checklist.
We only publish information about the workings of certain third-party services, but we do not endorse or support third-party services or products and are not responsible for the functions or authenticity of these services.