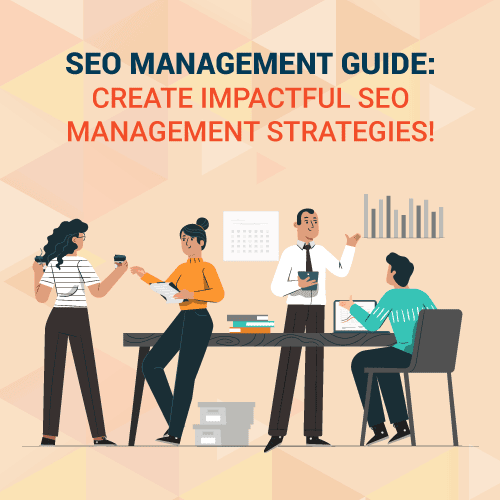 SEO  is a force to be reckoned with. Every day, search engines constantly evolve their algorithms, thus making it hard for SEO mavens to keep up with the latest trends and techniques. While there may be a number of techniques that new-age marketers may follow, it is difficult to say which techniques will work and which won't.
As unpredictable as SEO can get, having a sound knowledge of basic concepts and a little bit of organisation can bring wonders to your results. With effective SEO management strategies, one can not only ensure exceptional results for their campaigns but also lead to achieving one's desired growth in the form of more clicks, conversions, and, thus, more revenue.
Thus, there's no room for guesswork in SEO. Rather, it's all about planning and executing your strategy well enough that it pays off in the long run. Whether you are a seasoned marketer or an aspiring business owner, this post will guide you through SEO management and how you can make the best of your SEO strategy.
SEO Management Guide
A] What is SEO Management?
SEO management is the planning of SEO activities to boost a website's rankings and organic search traffic. It's like a to-do list that will help you focus on the items that will increase your SEO traffic and revenue. All in all, an SEO strategy for managing SEO prioritises one thing – to rank higher in search results and fetch organic traffic (and hopefully conversions).
But here's the thing – as Google algorithms evolve rapidly, you are expected to comply with them in order to maintain your search rankings. This is achieved with an ideal SEO strategy. Such a strategy not only defines tasks to be performed but also forecasts results and alternative approaches to attain desired results.
B] Why is SEO Management Important?
SEO management is a fundamental aspect of any successful digital marketing strategy. By implementing a well-rounded SEO plan, businesses can benefit from increased brand exposure, expanded reach, and higher website traffic.
Since SEO is no longer an obscure subject and is being pursued even by brick-and-mortar stores, more and more emphasis is being laid on streamlining SEO operations. Knowing everything about SEO is itself an advantage, but knowing how to manage SEO activities can help you stay ahead of your competitors by adapting to your industry. This proactive approach ensures that your website remains optimised and maintains its visibility in search results, driving sustained organic traffic and maximising the potential for conversion.
Hence, with an organised Search Engine Optimisation management strategy in place,  you can make your results more predictable and lucrative. It can also complement your PPC activities, ensure your compliance with Google Core Web Vitals, boost your organic traffic, and leave your customers hooked to your website.
C] How to Create a Successful SEO Management Strategy?
Although managing SEO efforts necessitates a complete approach, it may be broken down into several simple steps.
1. Research Your Audience
Primarily, you will need to research to discover your target audience. Why should you do this? The point is that not everyone is interested in your products or services. When you narrow down your SEO activities to those searching for your offerings, there are higher chances of converting.
This is critical in SEO since you must guarantee that your keywords and approach are geared to fulfil the demands of your target audience. To determine the ideal keywords to help drive content, focus on assessing what they search for and how they search.
 
2. Analyse Your Competitors and Industry Trends
The cut-throat competition across all industries and businesses has fueled the growth of SEO as a powerful marketing tool. It is why you need to carefully analyse your competitors. You must remain aware of what your competitors are doing to rank higher on the search engines.
You must also figure out who is outperforming you and come up with a plan to deal with the competition. For this, you can rely on churning out the most competitive terms and your chances of tapping on them. This also includes analysing the backlinking activities and site structure of your competitors so that you may optimise your site for the greatest potential search ranking.
3. Create a List of Keywords for Your Website
Google algorithms determine search engine rankings by analysing a variety of characteristics to evaluate how well a website responds to a certain search query. Keywords play an important part in this. These keywords, which may range from single words to complex sentences, tell search engines about the topic of your material. However, it's more than just stuffing keywords into your website.
To integrate the keywords properly in your website, you must do research, which includes examining the following:
Search Intent
Relevant keywords 
Keyword Expressions
Keywords with Long Tails
Search Volume
Funnel Keywords
4. Analyse Google's First Page and Top Searches
So you discovered a few keywords for your website. Now, it's time to see what competitors of yours are already ranking for these particular keywords. You can enter the terms on Google or any search engine and look at the top ten results. While you're at it, take note of any trends you see.
If you intend to cover that issue on your site, you should be aware that the first page results are primarily made up of list posts. You should also consider writing a list article on your blog.
5. Optimise Your Website for On-Page SEO
It is important to diagnose your website before bringing in the big guns i.e. full-fledged SEO management strategies. You need to make sure that your website's SEO is on point – including the keywords, meta tags, titles, and descriptions.
Consider scanning your website through a professional SEO tool which only takes minutes to point out problems that are keeping your website from ranking. If there are any anomalies, put your resources to get them on track without delay.
Yes, it can be tad overwhelming, but not if you have a team of SEO experts by your side. Our  SEO Services in Mumbai are all about helping businesses ace their SEO strategy and boost their online presence. Take a look at our SEO packages in Mumbai and see how we can assist you with your SEO woes.
6. Optimise Your Website for Search Intent
English is a versatile language. Most of the SEO activities, including search intent and keywords, are based on English, which can be a trouble in itself. There are many words that have similar meanings, but there's a good chance that you don't want the wrong attention on your website. So, it is important to take search intent into account so you get relevant traffic apart from visitors who had something else in mind before visiting your site.
Monitor the positioning of your blog posts and the keywords they are achieving after a few months. This can assist you in modifying subheadings and text to take advantage of recent search intent that your audience might be searching for.
7. Improve and Update Your Content Regularly
In certain firms, you may find yourself in conflict with the content marketing staff. This is because corporate structures are not necessarily designed to get the greatest digital marketing outcomes. Understanding content marketing is essential since it is a practice that works in tandem with SEO and will assist you in writing SEO-optimised articles. Demonstrating your ability to handle both can help you. 
The ultimate being of the digital marketing universe is an SEO Manager who can manage keyword research, campaign planning, quality content oversight, content distribution, and analysis.
8. Fix Your SEO KPIs for Monthly Reporting
Setting objectives and SEO KPIs (key performance indicators)  is critical in developing an SEO Audit strategy. It allows you to assess your success and determine whether you need to make any changes.
SEO KPIs are measurable values that help you measure your progress toward your objectives. For instance, your SEO objective may be to grow organic revenue by $10,000 over the following eight months. Organic impressions, organic traffic, and rankings might be your SEO KPIs for this purpose. The correct SEO KPIs to measure are dependent on your goals and approach.
Here are five key performance indicators to keep an eye on:
Organic traffic 
Rankings for keywords 
Backlinks 
CTR (click-through rate) average
D] Get Ahead of Your Competitors Using an Effective SEO Strategy!
Having robust SEO management is just the beginning, but once initiated, it can make the whole process a smooth ride. Unorganised SEO activities can create havoc and lead to the unexpected downfall of your website.