Both Icons Fonts and SVGs have their place at the top of the ladder, but many web designers prefer the quality, effectiveness, and efficiency offered by Icon Fonts. As a web development company in Mumbai, we have brought you a curated collection of 15 free icon fonts designed by industry experts. As you go through the list, remember to read the licence details of each icon font to avoid getting in trouble. Many of these websites offer direct downloads, while others redirect to a download page.
Before we get to the Free fonts, we'll take a look at a few clear advantages of Icon fonts.
What are the advantages of Icon Fonts?
More Appealing: One of the primary features of Icon fonts is they look good in all sizes, including on a high pixel density display. Since these are vectors, the file can be resized without losing clarity.
Better Performance: Since the Icon font file is small, the server isn't bombarded with requests. It receives just one HTTP request.
More Effective: The process of implementing icon font is quicker and more efficient than manually positioning icons of different sizes. It improves the efficiency of the website or app project.
1. Linea.io's Minimalist: Outline Icon Font Collection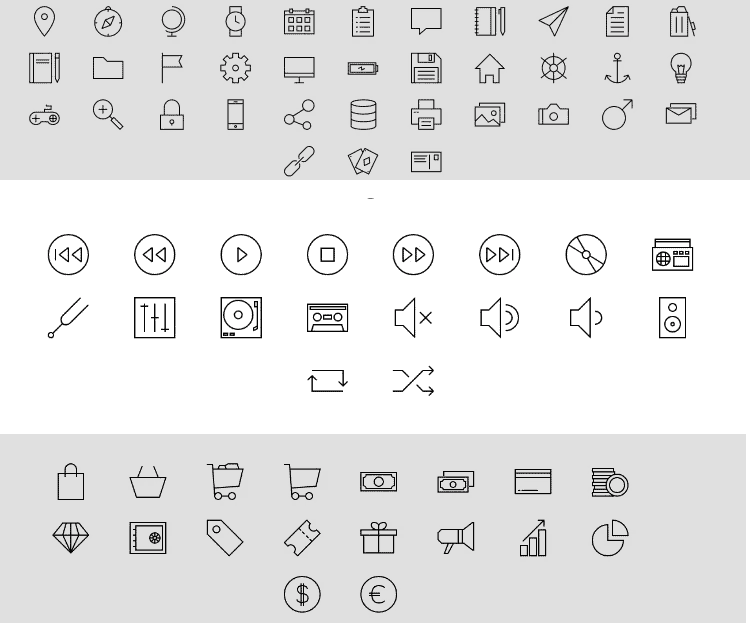 Linea's collection of these line icon fonts are lightweight icons preferred by designers and developers for better performance. The collection includes several icon packs. The free basic icons pack includes general icons such as location pin, compass, watch, attachment, etc. Next, we have a free music icons pack that aptly includes fast forward, play, pause, and several music icon fonts. The collection also features e-commerce icon fonts, software icon fonts, basic elaboration icon fonts, arrow icon fonts, and weather icon fonts. This beautiful collection is a creation of Dario Ferrando, a talented Italian Designer.
Formats: Icon Font, PNG, SVG, SVG expanded, PSD
Download Page: Lineo.io, Outline Icons
Licence: (CC BY) Free for personal and commercial Use (attribution required).
2. Ionic.io's Dynamic Ionicons Icons Collection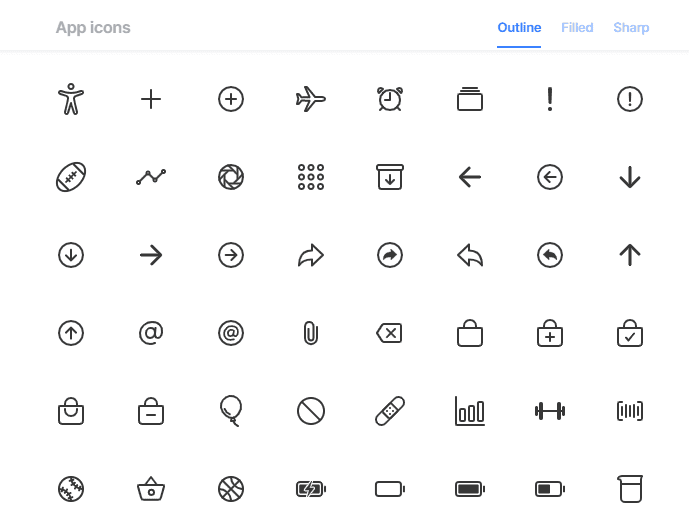 Ionic's handcrafted font, ionicons, offers clean line fonts that can be downloaded and added via web component code.
For example, if you want to add the following american-football-outline to your website.

Add the following code. You can either copy the web component code shown below or download the SVG:

The format remains the same for each code. You can click on the Usage link to find out more about how to use these dynamic fonts.
Ionicons aren't just line fonts. It has two variations of the same fonts – filled and sharp.
Ionicons Filled Fonts Example

Ionicons Sharp Fonts Example

Formats: SVG, Web Component Code
Download Page: Ionicons
Licence: (MIT) Free for Personal and Commercial Use
3. Themify's Inspirational & Hand-Crafted Icon Set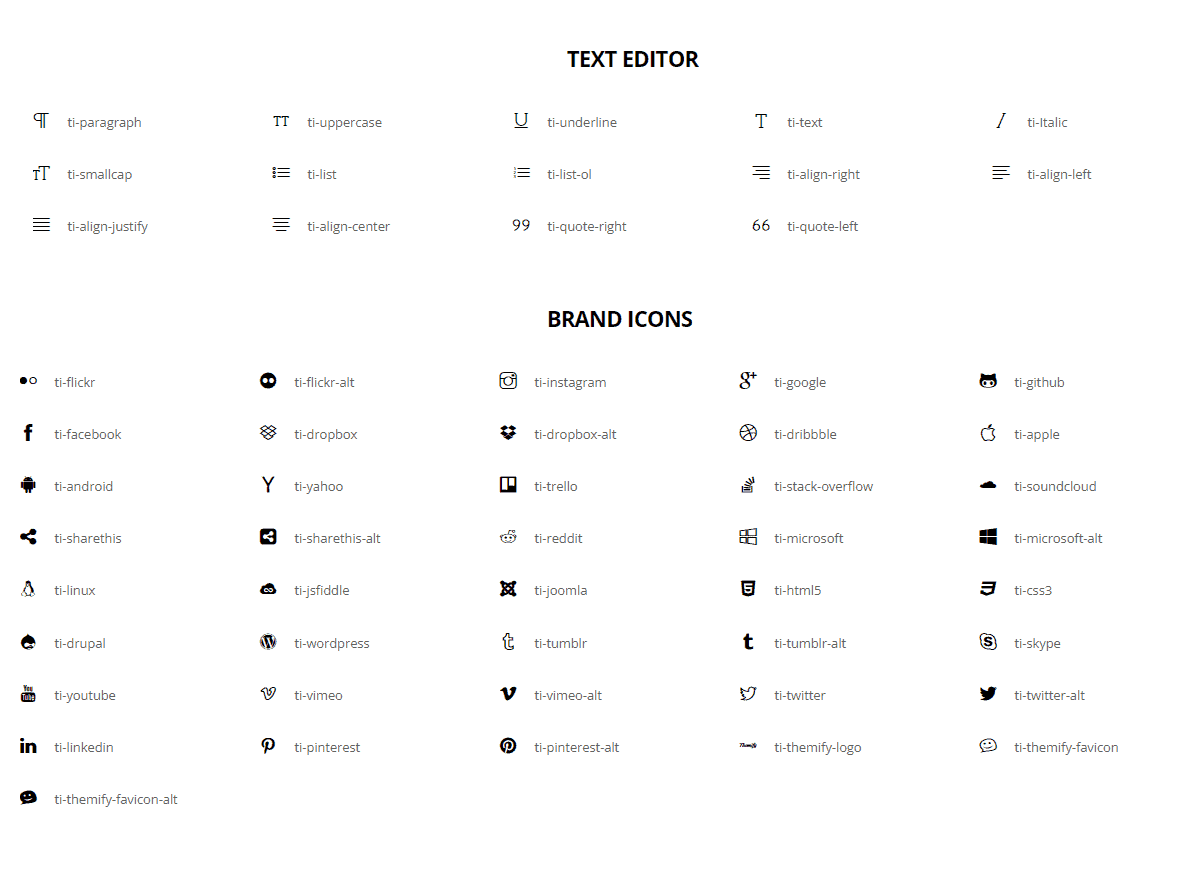 This extraordinary collection of free icon fonts includes more than 320+ font icons. This massive icon collection has different icon sets, such as arrows & direction icons, web app icons, layout icons, control icons, brand icons, and text editor icons. A designer can utilise them in several ways by using the icon fonts, SVGs, or the WordPress plugin that allows you to add Themify icons.
Formats: SVG, Icon Font
Download Page: Themify
Licence: Free for personal and commercial use
4. Amit Jakhu's Modest Dripicons Icon Font Collection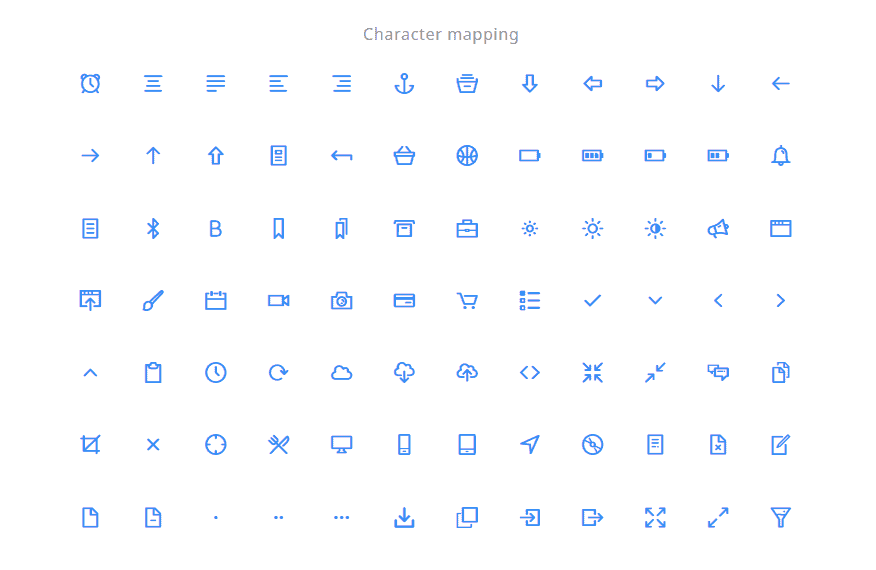 Amit Jakhu, the gifted creator of this blue-themed modest icon font, has created two variations – Character Mapping icon fonts and CSS Mapping icon fonts. The extensive collection accounts for 95 icon fonts beautifully crafted with acute attention to detail. It offers several download formats, including web font and AI.
5. Pixenden's Weather Icon Font Set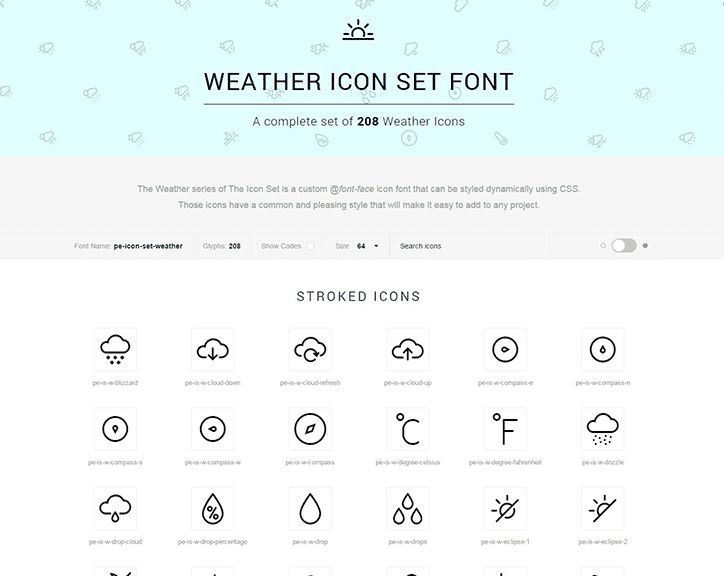 The weather icon set from Pixenen has pleasing line icons that are available for download in several formats. These scalable vector icons look crisp at any size and are compatible with most screen readers. This charming icon set features 208 weather icons that can be dynamically styled using CSS.
Formats: CSS, HTML, Font, SVG
Download Page: Weather Icon Font Set
Licence: Free for personal and commercial use
Read: Comprehensive Guide To Digital Marketing Strategy
6. Pixenden's Social Icon Font Set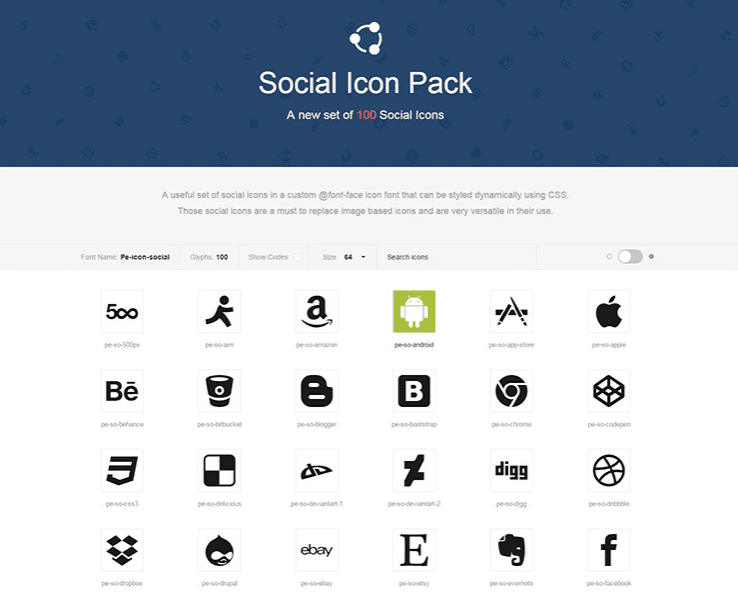 Compared to other icon fonts, social icons fonts are the most in-demand. This pack features social icons fonts for the majority of the popular social media platforms such as Facebook, Apple store, Behance, Blogger, Chrome, and Deviantart. Brought to you by Pixenden, this icon collection contains 100 social icons that can be styled using CSS.
Formats: CSS, HTML, Font, SVG
Download Page: Social Icons Font Set
Licence: Free for personal and commercial use
Read: The Ultimate Guide to Social Media Marketing
7. Pixenden's Stroke 7 Icon Font Set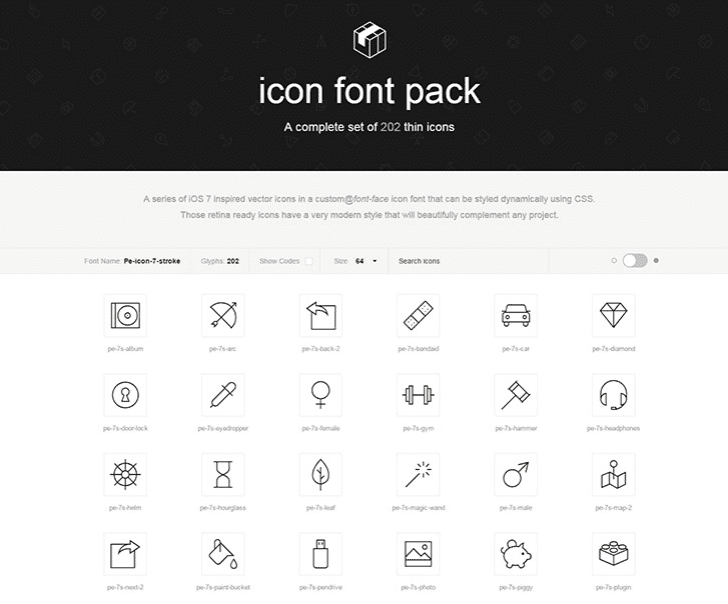 Stroke 7 Icon font set contains 202 finely designed icons featuring thin strokes. Inspired by iOS7, this modern design will work seamlessly with any website or branding project. It is also available in several formats, giving designers the option to use the respective icon formats wherever necessary. It is one of the few icon fonts available on Pixenden.
8. Elegant Themes' Extensive collection of Elegant Icon Font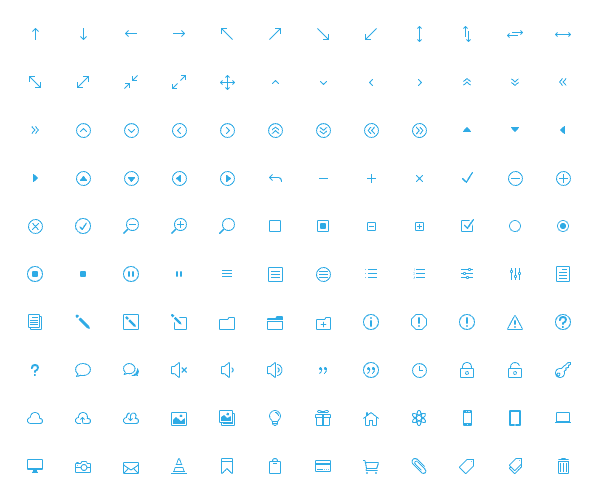 Elegant Themes, a treasure trove of freebies, offers this bundle of elegant icon font collections for free. A stunning vector-based font icon can be scaled in any size without loss of clarity. It gives designers a crimp and beautiful icons to use. Elegant themes have optimised this collection to the pixels (16x and its multiples such as 32px, 64px and so on.)
Elegant Themes has also provided direction on how to implement and use their free icons. After you hit the download button, scroll down and read the guidelines on the download page.
Formats: Icon Font, CSS, SVG, PNG,
Download Page: Elegant Themes
Licence: (GPL and MIT) Free for Personal and Commercial Use
9. Zurb's Vast Foundation Icon Font Collection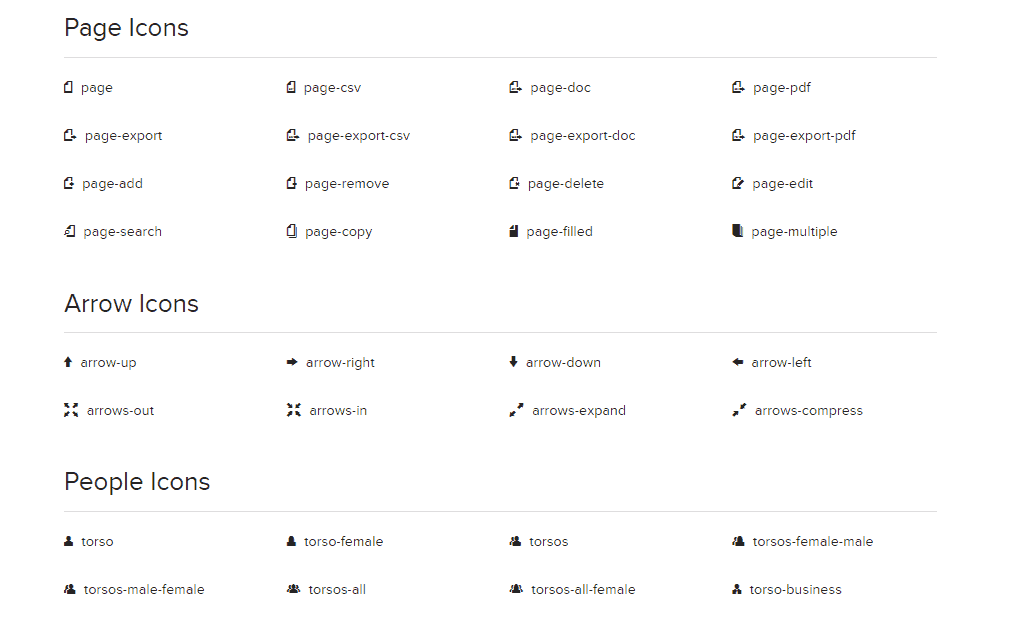 An offering from one of the largest open-source platforms, Zubr, the foundation icon fonts, is a collection of 283 icons. It means the icons are stored in a vector file that can be scaled in any size without degrading the quality. It is possible to style these retina ready icon fonts with CSS, which will let you customise the icons to match your website's theme.
Formats: Icon font, SVG
Download Page: Foundation Icons Font
Licence: (MIT) Free for personal and commercial use
10. Font Awesome's Dynamic Icon Collection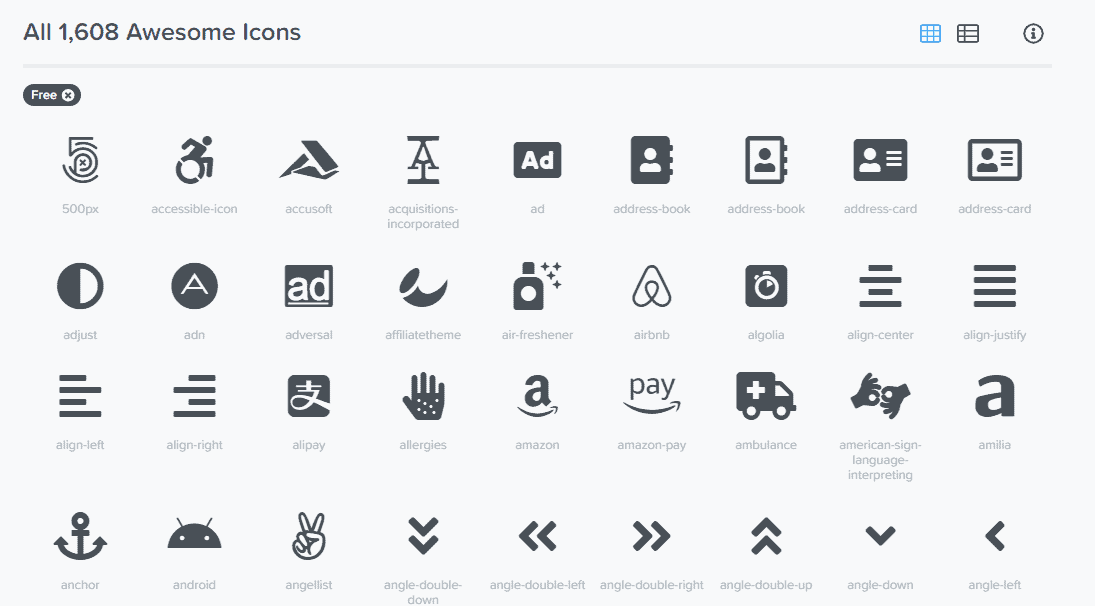 Font Awesome is the go-to font icon library on the internet. It offers both premium and free font icons for use. The website boasts a collection of 1,608 free font icons that can be added to your website with a code. Let's see how you can do that.
Suppose you want to use the icon for Ad:
When you click on the Ad icon, you'll be taken to the download page: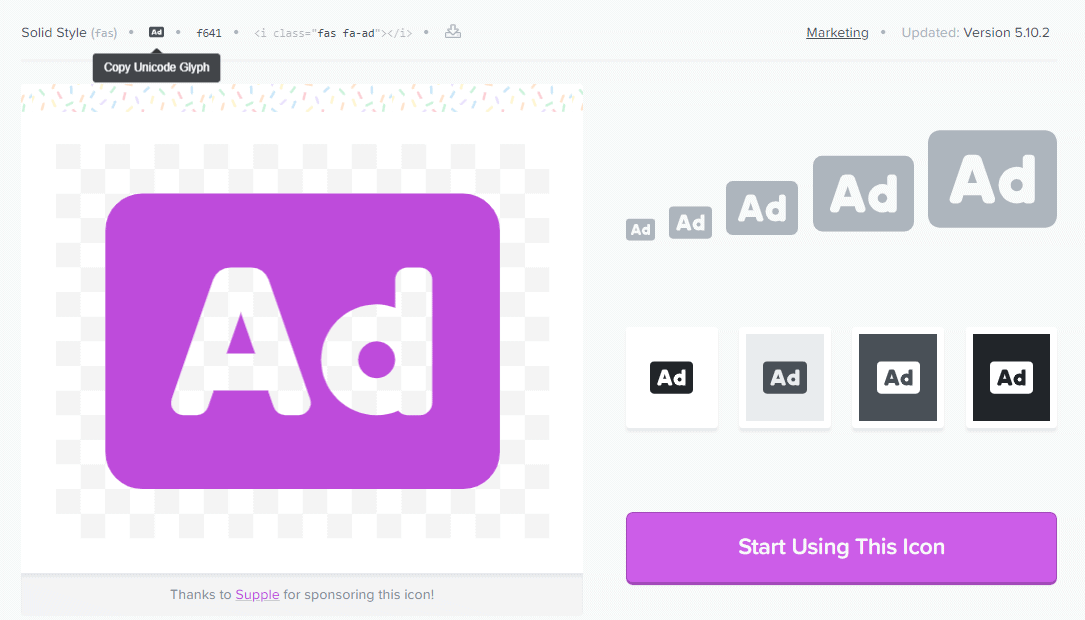 Hit the Start Using This Icon Button. Then, you'll see the following code, copy it and start using it.

Formats: Web component Code
Download Page: Font Awesome Icons
Licence: Free for personal and commercial use
11. Icomoon's Substantial Collection of Icon Font
The IcoMoon's free collection of icon fonts offers 490 vector icons that retain their quality after they are resized. It features filled and crip, beautifully designed icons that look very professional. You can download these from Github, where you can download all available formats.
12. IconWork's Beautiful Collection of Font Icons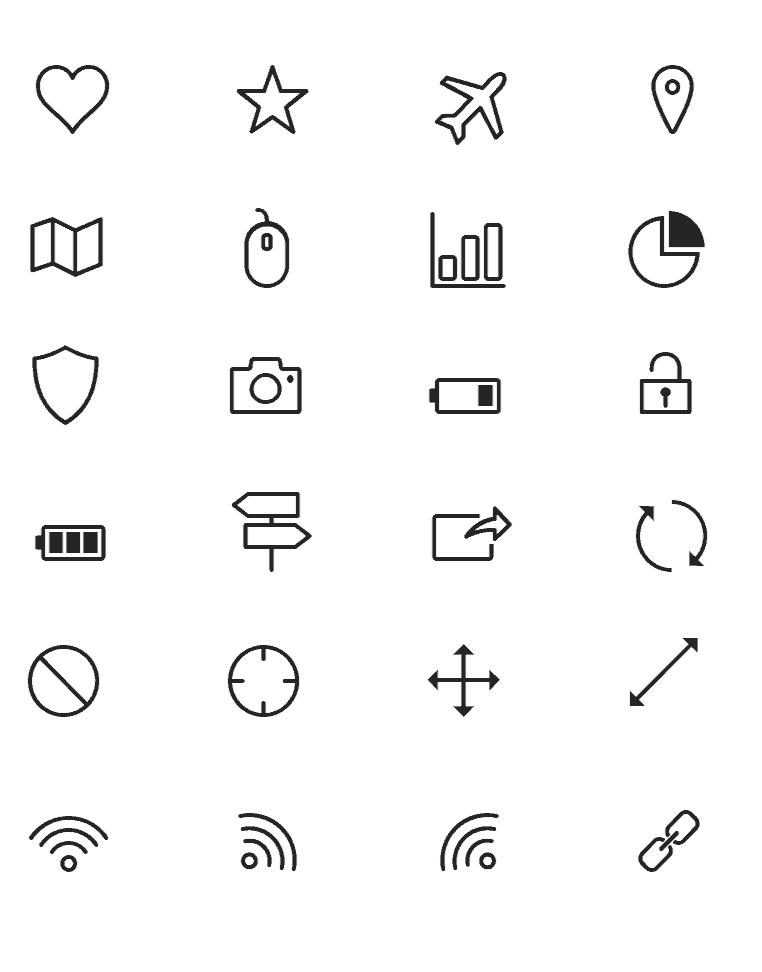 IconWorks, a website dedicated to free fonts, offers a vast collection of exquisite icon fonts. The icons are available in two formats, SVG and Webfont. The clean and crisp design of this free icon font is a credit to remarkable craftsmanship. IconWorks has also provided a license that has no room for misunderstandings. The license iterates that the work can be used for professional and commercial use. The icons are not to be sold by themselves.
Iconwork's guidelines should help you properly implement the icon fonts in your web design.
13. Meteocons Sharp Weather Icon Font Set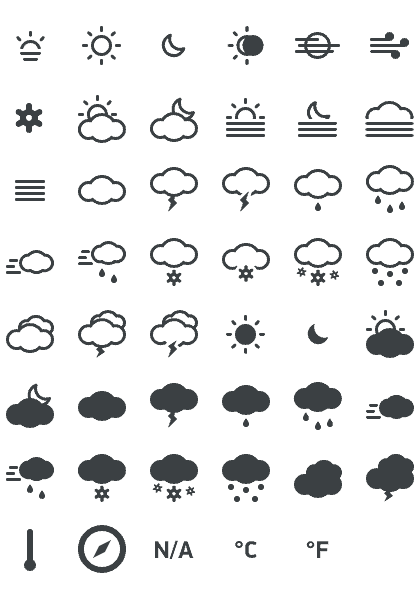 Meteocons were designed to blend in beautifully with web projects, including applications and websites. This sharp collection of weather icons contains over 40 font icons. These icons are also available in several different formats. Meteocons font icon implementation guidelines should help you properly blend these fonts with your website projects.
Formats: EPS, Desktop Font, Web Font, PSD, CSH,SVG
Download Page: Meteocons' Icon Fonts
Licence: Free for personal and commercial use
14. Jelio Dimitrov's Stunning Social Media Icon Font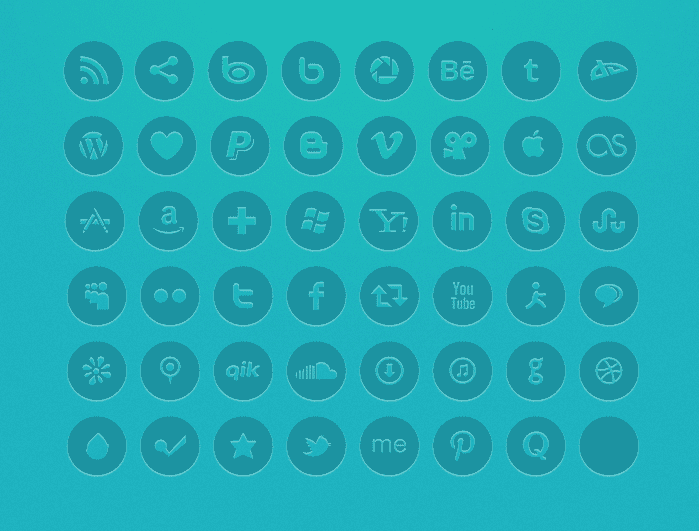 Fontfabric Social Media Icons Pack offers a variation in social media icons. So far, we have seen at least one Free font collection dedicated to social media. Designed by Jelio Dimitrov, who is also known as Arsek, Font Fabric's collection has 74 social media icons. These spectacular icons are great for web design as well printed branded media. As of now, it is available for download in one format, the icon font.
15. PW Design's Remarkable Icon Font set
Created by Peax Webdesign, these free icons are hand-drawn sketches that will make your website stand out, even as it retains a sense of familiarity. It is the most ideal for eCommerce websites but can also work for personal blogs. Remember that it is one of the few font collections on the list that require attribution to the owner website.
Formats: Font
Download Page: PWDrawn
Licence: Free for personal and commercial use (attribution required)