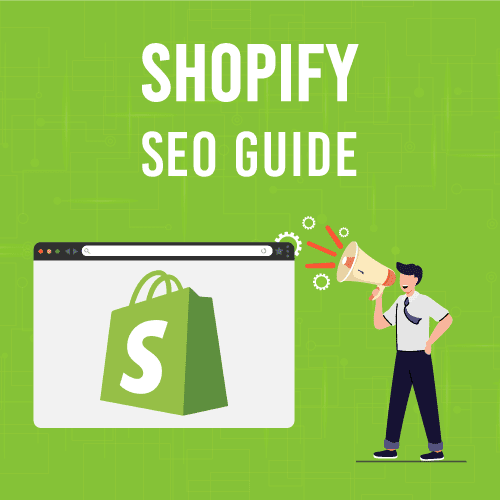 Wendy Piersall, a published author, aptly stated: "Google only loves you when everyone else loves you first."This powerful digital marketing quotes" highlights the significance of ranking high on Google. To rank higher on Google, store owners need to optimise their website for the search engine. SEO is especially important for eCommerce sites created with platforms such as Shopify.
Shopify has an extensive range of in-built SEO features that help store owners gain a foothold. With Shopify, store owners don't have to make additional efforts to create a sitemap or robots.txt file. Shopify automatically creates those.
Sitemaps help search engines understand the structure of your website and make it easier to crawl.
With the robots.txt file, you can control the pages that search bots crawl.
In addition to these features, Shopify automatically generates canonical tags to prevent duplicate content, except for a few instances that we'll discuss later. But first, let's start with an SEO aspect that can make or break your Shopify store, keyword research.
Quick Overview On Shopify SEO Guide
How To Improve SEO On Shopify?
Step 1: Keyword Research
The first step of every SEO campaign is understanding audience behaviour. Keyword research, a crucial part of SEO, can help you do that.
With keyword research, the first step is to identify the right keywords. To find the right keywords, you have to step into your customer's shoes.
You need to focus on finding high-converting keywords. High-converting keywords are keywords that not only bring visitors to the website but also help convert them into customers or perform an action on your Shopify site. High-volume keywords can be competitive, which means you need to invest some time in finding low-competition but high-converting keywords.
Suppose you have just opened an epoxy flooring business. You can start your research by simply entering epoxy in the keyword tool. In this example, we have used Ubersuggest to find keywords:

Let's take a look at the metrics for the keyword epoxy:

Search volume: The number of times the keyword epoxy has been searched for a month. In this case, it is 90,500.
CPC: A business using Google ads will have to pay $1.19 for every click on their ad.
Paid Difficulty: The paid difficulty for epoxy is 100, which means the keyword is highly competitive.
SEO Difficulty: SEO difficulty shows how competitive the keyword is in organic searches. For epoxy, it is 62 and also very difficult to rank.
Since epoxy is a highly competitive keyword, you could try looking for other keyword ideas listed in the keyword research tool. However, the top 5 keyword ideas are highly competitive, making it harder to rank them.

In Ubersuggest results, we can see that most people looking for epoxy search for furniture and flooring.
If the SEO difficulty for a keyword falls between 0-29, it would be easy to rank for it.
The range between 30-49 is slightly more competitive but still offers a decent chance to rank for the keyword.
SEO difficulty above 50, it can be harder to rank for. Not to mention, it is also more expensive and time-consuming.
In these free results, we did not find keywords with difficulty 0-29, but we found a few for 37-49. Pick a relevant keyword from the available list and try to rank for those keywords.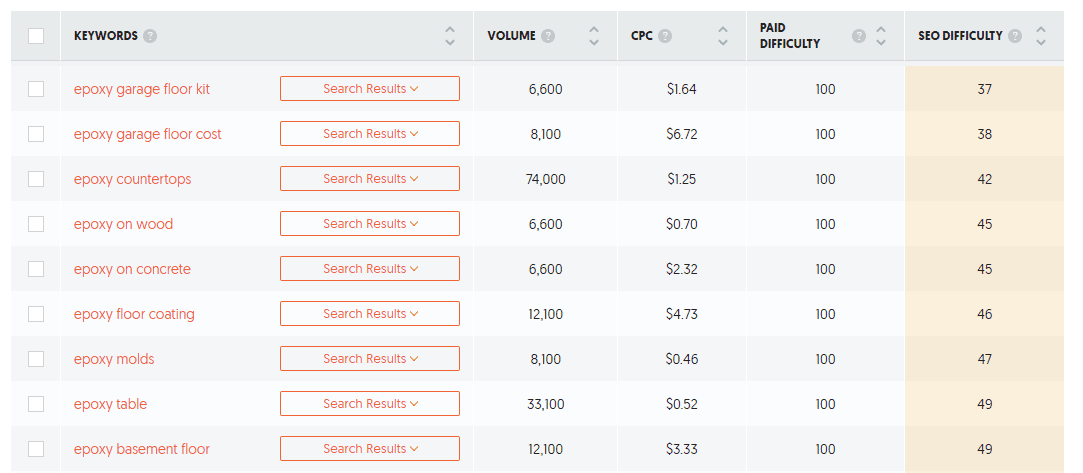 To learn more about keywords and how they work, you can refer to Shopify's Beginner's Guide to Keyword Research for eCommerce.
Step 2: Optimise Shopify Website Structure
When you visit a supermarket, it has directional signs that help you find products quickly without wasting time. Everything is well-organised, and there is no mix-up with one product being shelved into another. Supermarket workers ensure that everything is well within reach.
Your Shopify website is an online supermarket that needs to be just as organised. An unorganised Shopify store will instantly make the visitors leave. A high bounce rate can result in a poor SEO score, which means lower ranking.
Therefore, you should consider following the standard SEO-friendly online store structure.
Home page=> Categories=> Subcategories=>Products
Don't forget to include the basic About us, Contact page, return and replacement policy page, and a search bar to find the necessary products by name.
Step 3: Build a User-Friendly Shop
Optimising the Shopify website structure is a great start at improving the user experience. According to the latest web design statistics, around 90% of visitors won't come back to a site because of a bad web design.
So, your Shopify web design has to be customer-centric. It has to be easy to use and appeal to your audience. One of the major turn-offs with websites is slow loading speed. Based on the statistics shared by WebsiteBuilderExpert, 1 in 4 visitors will leave the website if it takes longer than 4 seconds to load. Furthermore, a seconds delay adversely affects customer satisfaction by 16%.
To fix the slow speeds, start by optimising your website's images. Also, consider removing unnecessary content and features weighing down your website's loading speed. The majority of store visitors come from mobile devices, so it is essential to install a mobile responsive theme on your Shopify site. Responsive designs load faster and also make your Shopify site look great on any device.
Step 4: Content Optimisation and Backlink Building
Use the keywords obtained through your research to enrich your Shopify website content. Adding relevant keywords to your product descriptions can improve your search ranking.
Updating products is just part of the content journey. You'll also have to create content targeting your prospective customers. You can create a listopedia listing your top products or informative content that will bring traffic to your website.
Most Shopify stores regularly publish high-quality content with both informational and promotional intent.
We'll start with a simple example to explain backlinks:
Suppose Mr. Diggory owns a Harry Potter merchandise store on Shopify. Ms. Woodsley is a Potterhead and a well-known blogger in the community.
Ms. Woodsley purchased a Harry Potter figurine from Mr. Diggory's store, and she loved it so much that she wrote an ecstatic review about the store and the figure.
She also provided a link to Mr. Diggory's Shopify store. Now, Mr. Diggory has one more backlink, which tells Google that he sells quality merchandise and deserves to be ranked higher than stores with similar authority.
When other websites link your Shopify store on their website or blogs, you get backlinks.
How can you get quality backlinks for your Shopify Store?
Write guest blogs for other websites with high-authority and earn a backlink.
Get links from manufacturers of your products. Ask them to include you as a retailer in their directory.
Get an influencer or reviewer to do a review of your store. It could be paid or organic review.
Create high-quality and shareable Infographics design and offer visitors a link to share them.
Step 5: Optimise Shopify URL
The online stores for BBC Shop and Decatholon.com were created using Shopify. We'll share URLs for collection and product as an example of optimised URL.
URL for BBC's collection, Books

BBC shop's URL for the book, The Official Peaky Blinder Cookbook

Example 2: Decathlon Store
URL for Decathlon's collection, Cycling Shoes

Decathlon's URL for the cycling shoes, Mountain Bike shoes XC 100

SEO strategies clearly state that you have to optimise website URLs so that they are easy to understand. Shopify, by default, allows you to build clean URLs for your products. However, naming your collection and products falls within your purview.
The URL structure follows a clear partner:
ShopifyStoreDomain.com => Collections => Collection Name
ShopifyStoreDomain.com => Collections => Collection Name => Products => Product Name
To ensure that you have clean URLs, provide a clear and intelligible collection and product names while creating your shop.
Generally, in Shopify, when you associate a product page with a collection, it results in duplicate content as follows:
ShopifyStoreName.com/products/yellow-sling-bag
ShopifyStoreName.com/collections/womens-bags/products/yellow-sling-bag
Whenever you associate product pages with collections, Shopify automatically creates an extra URL. Now, you have two pages displaying the exact same product. It can be eliminated through canonical tags. Ideally, you should get an eCommerce Development company in Mumbai to fix the code to stop the automatic creation of duplicate pages.
Step 6: Optimise Products Pages
When we searched for ray ban black round sunglasses, we came across these optimised pages from Ray-Ban:
As you can see, the URL for collections is well-optimised. However, the product URL seems quite complex. Regardless, the product page has been well-optimised with SEO-friendly meta description, meta title, and natural use of keywords that tell Google this page is a highly relevant answer to the query: ray ban black round sunglasses.
Ray Ban Collections URL

Ray Ban Product URL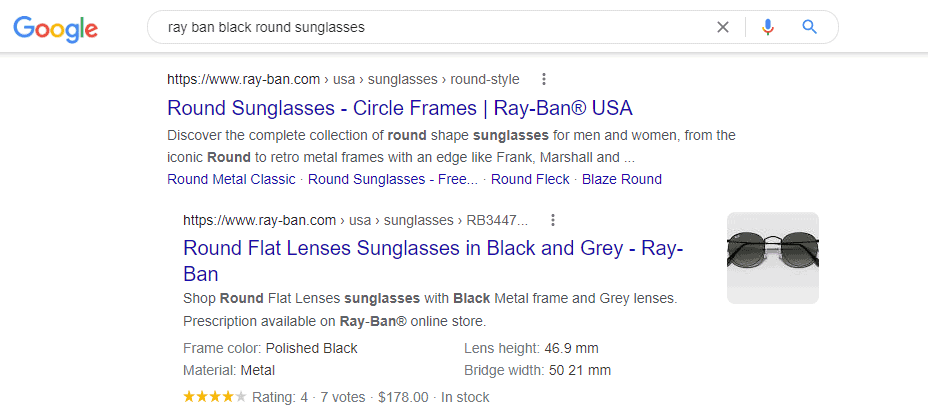 You can optimise your Shopify product pages by incorporating Target Keywords in the meta description and meta title. But make sure the keywords fit naturally and don't interrupt the flow of your content.
Step 7: Enable Shopify Markets
Before the unveiling of Shopify Markets, Shopify store owners had to rely on other marketplaces and retailers to sell their services and products internationally.
Shopify Market is a cross-border management tool that helps Shopify store owners optimise their online store for international markets. These tools ensure a seamless shopping experience for the customers. With Shopify markets, store owners don't have to worry about things such as language, currency conversion, and import taxes.
Learn how to enable multiple currencies with Shopify.
Step 8: Use Shopify SEO Tools
Plug in SEO: This plugin detects Broken Links and provides guidelines on how to fix them. Additionally, it offers instructions for fixing other SEO-centric issues on your Shopify store. With the tool Plug in SEO, store owners can identify and fix errors in their meta titles and descriptions. They can quickly update their image alt texts. It also provides detailed SEO Reports.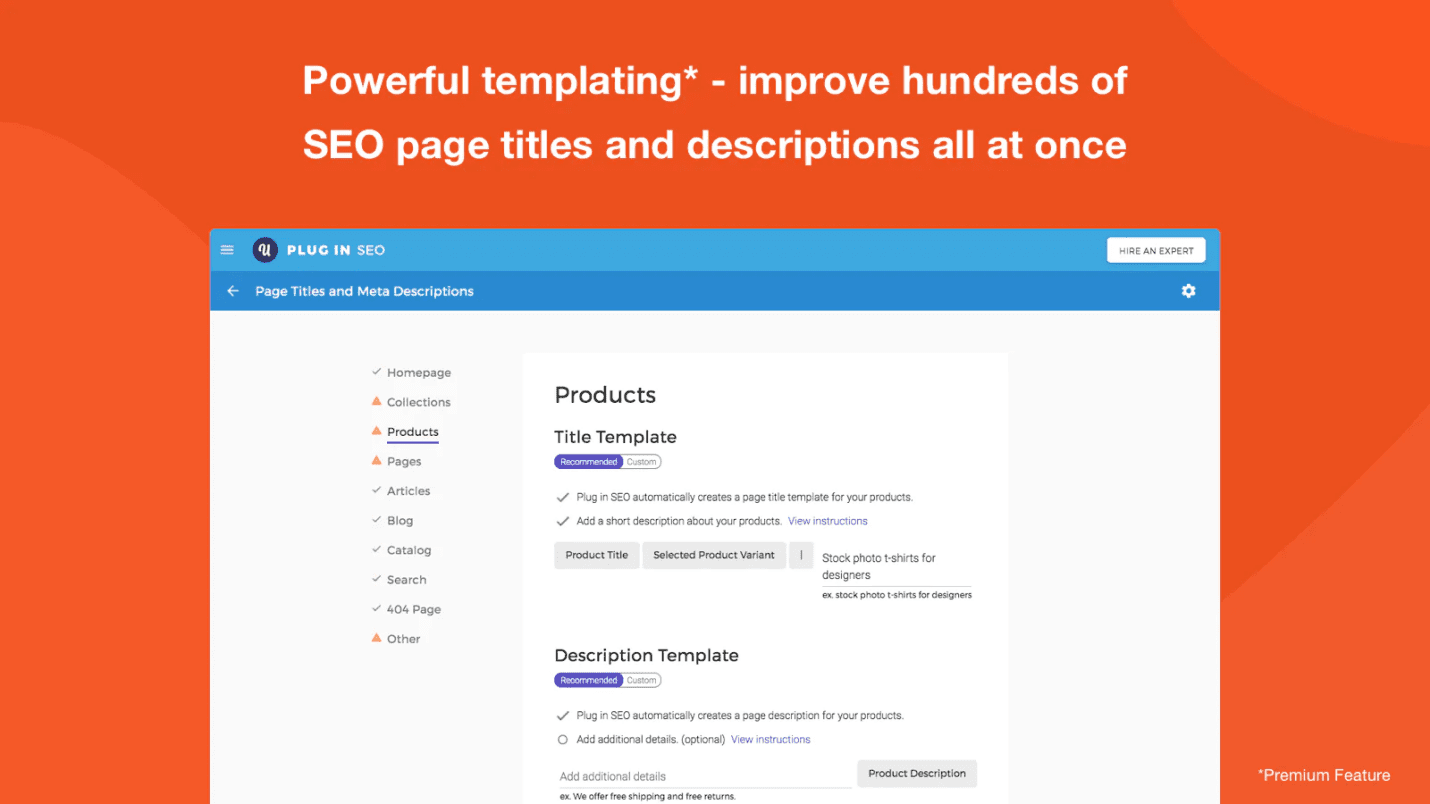 Schema Plus: While Plug in SEO is a complete SEO tool, Schema Plus focuses on indexing. Designed by a former Google software engineer, Schema Plus ensures that your Shopify store gets indexed quickly.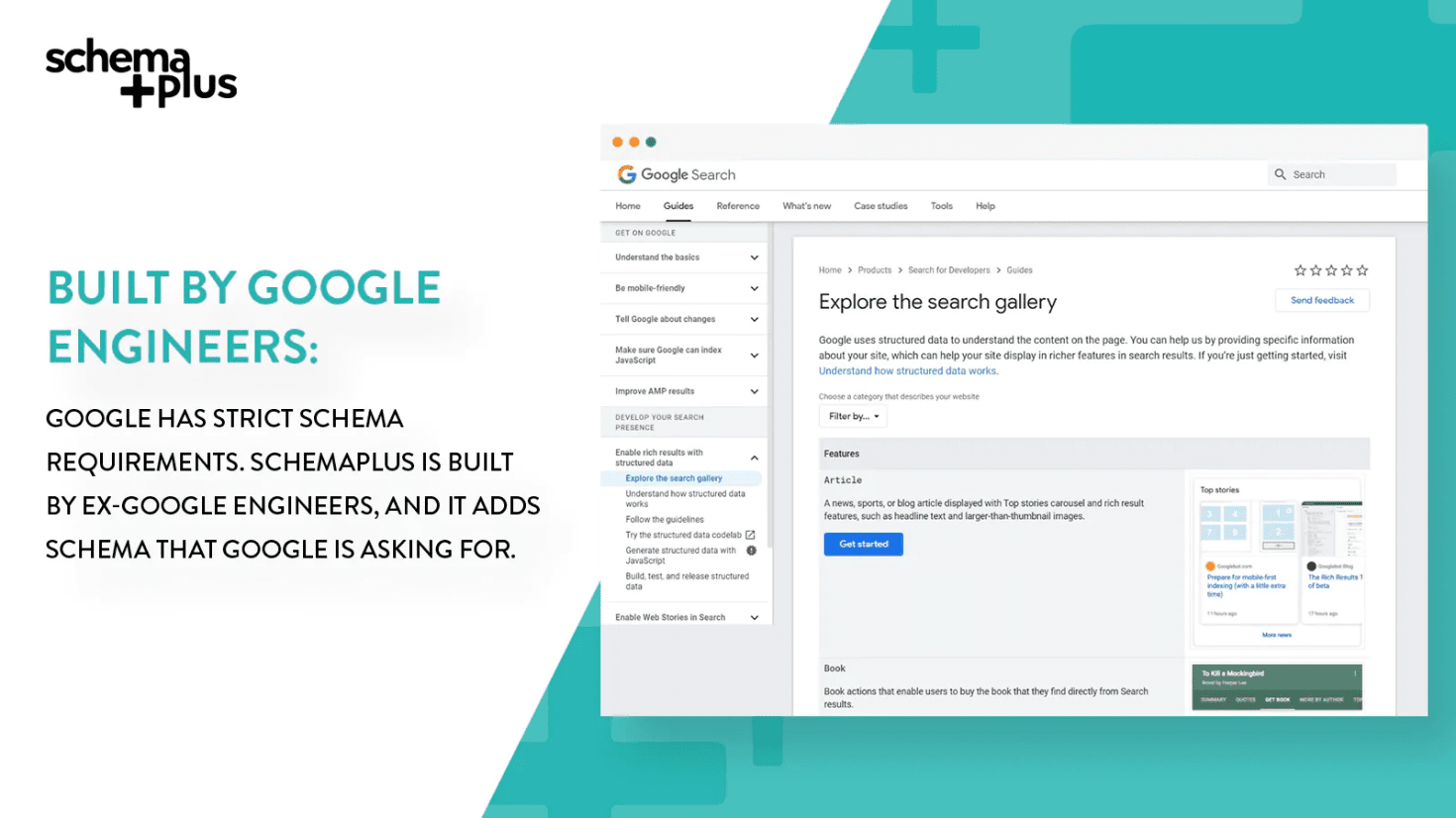 TinyImg SEO and Image Optimizer: One effective strategy to improve your website speed and aid your SEO effort is to optimise the images on your website. TinyIMG SEO tool can help you achieve that and also offers other vital SEO features such as site audit, easy addition of metadata and alt text, fixes for broken links and JSON LD.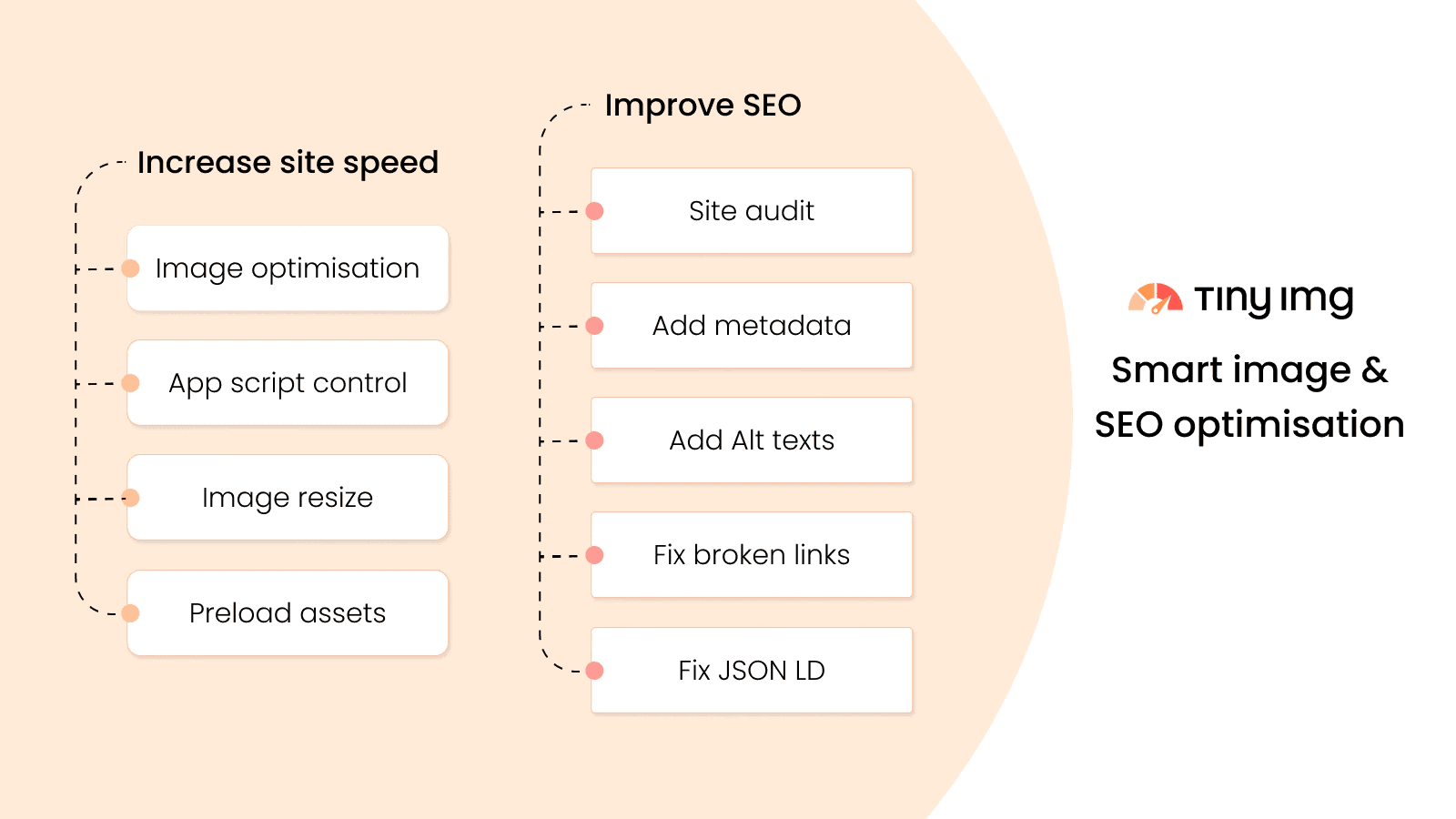 Based on statistics shared by Intergrowth, around 70% of online marketers prefer SEO over PPC for generating sales. While both SEO and PPC have their merits, if you are interested in long-term benefits, you should rely on SEO.
With SEO services in Mumbai, a Shopify store can get steady clients that could turn into loyal returning customers. Intergrowth also shared that around 86% choose to click on organic search results over paid ads. For this reason alone, you should follow all the steps to optimise your website for SEO.